Last summer, my sister and I spent a week traveling throughout Italy and another week exploring the Greek islands. I liked Rome and Florence just fine, but I absolutely fell in love with the small hill-top town of Perugia, which is located right between the two major cities. With stacked stucco buildings and stellar views of lush, green rolling Italian countryside, it's the Italy I had dreamed of.
Perugia lies in Italy's Umbria region near the Tiber River. It is a walled-in medieval town that was originally a Villanovian settlement dating back to the 9th century BC. Its fortification took place between the 6th and 3rd centuries BC. Pretty incredible. The city still has some of its ancient aqueducts, some of which are now walkways.
Perugia made news in recent years for the Amanda Knox murder trial, and it's a shame that it cast such a shadow on the town. It is home to both an Italian university and a school for international students (like Americans studying abroad), so it is thriving with young people. Perugia is home to an annual chocolate festival, delicious authentic Italian food (I almost died over my truffle risotto), unique shops, and stunning views across Italy's valleys. Piazza IV Novembre, Perugia's main square, is packed with people at night, sitting on nearby church and building steps and eating gelato. It is small enough to be very walkable and cozy, but large enough to leave plenty of exploring. It is also a great home base to explore other nearby hill towns like Assisi.
Observing architecture is one of my favorite aspects of traveling, and Perugia really captured me when I began noticing how many arches were within the city. They came in all shapes and sizes, some old (like the famous Etruscan Arch from the 3rd century BC) and some newer. I hope you enjoy my photo essay of Perugia.
The main town of Perugia is located on a hill, so you must ride the MiniMetro to the top.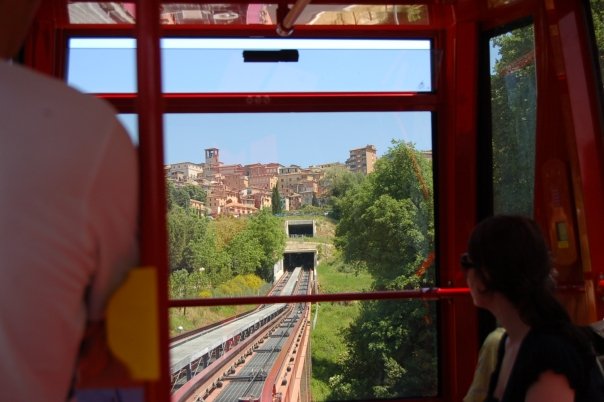 Perugia is full of stacked stucco houses and apartments. The walkway you see at the bottom is actually an ancient aqueduct.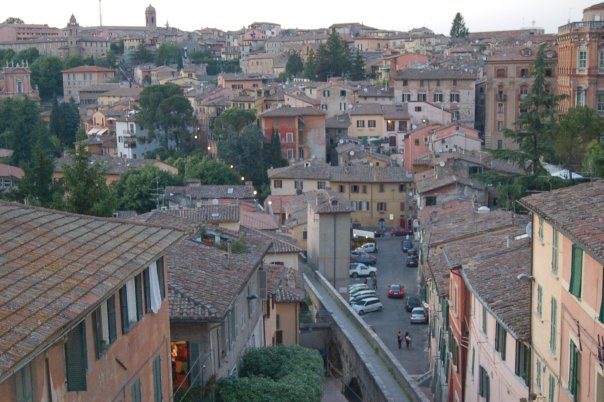 Arches we walked through every day to get from our hotel to the main square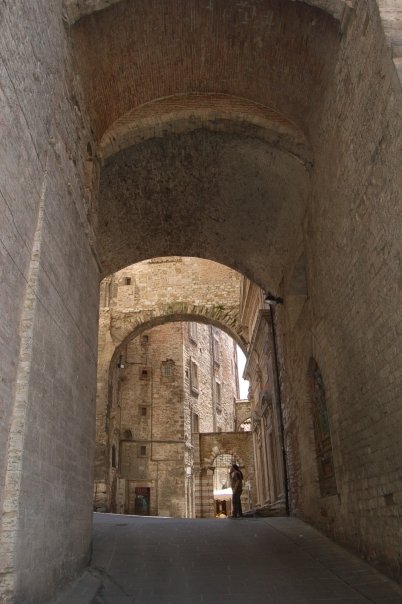 The fountain in Piazza IV Novembre, Perugia's main square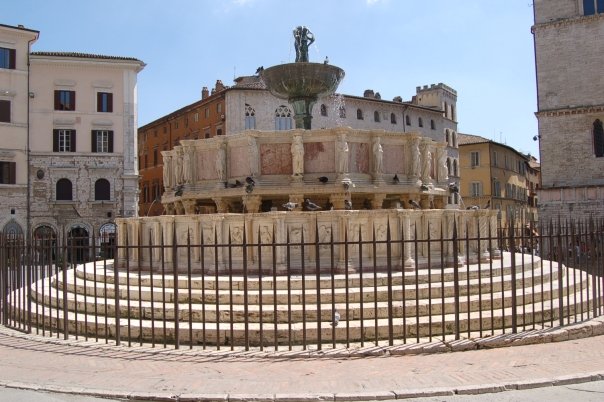 The famous Etruscan Arch; this was originally one of the gates to the city, and dates back to the 3rd century BC.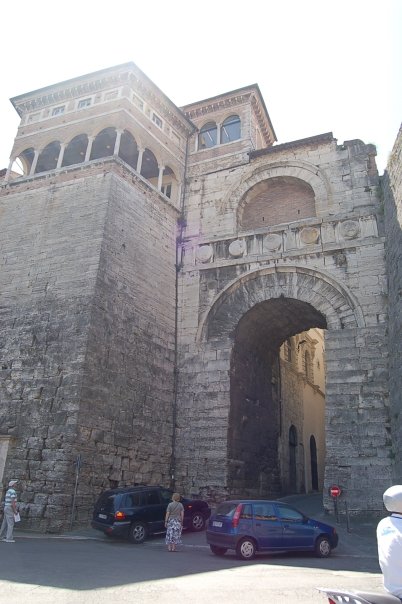 It appears that this arch was made so cars can pass underneath.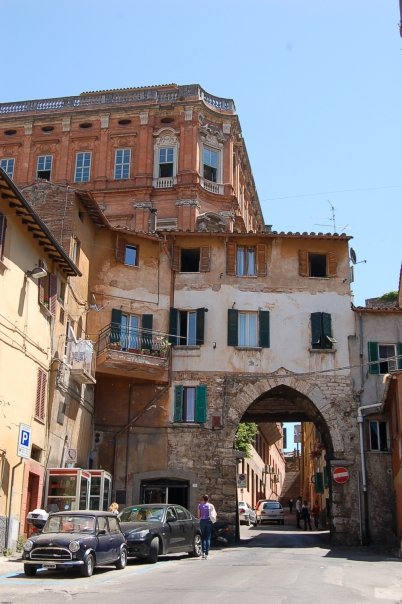 Perugia's main streets are lined with tall, beautiful buildings.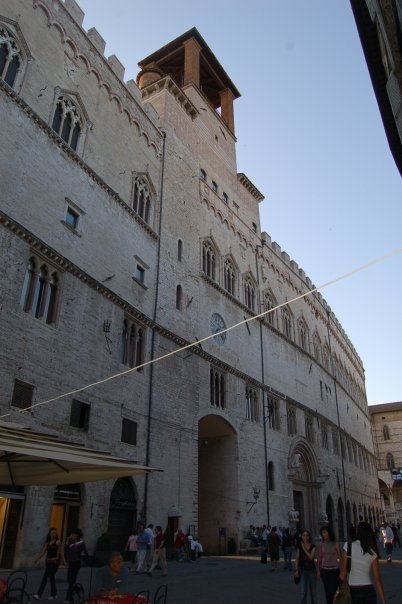 This walkway leads you from the main square area to a more residential area. The smaller arch–the one covered with ivy–is an ancient aqueduct.
The same aqueduct from the other side.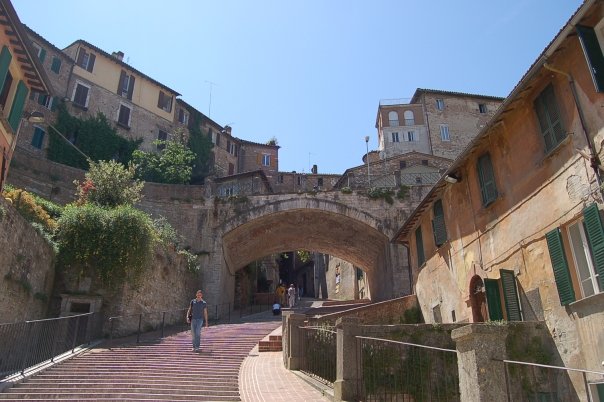 Arches, arches, everywhere.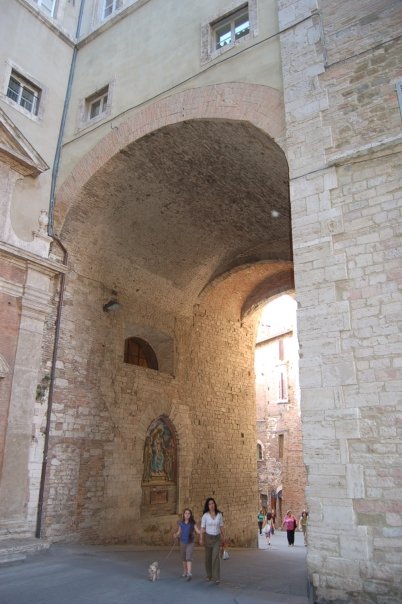 You have to pass through arches to go anywhere in Perugia.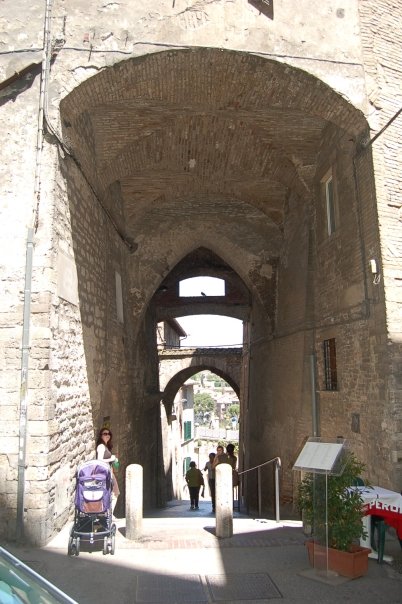 An unusual-looking church in the main town square.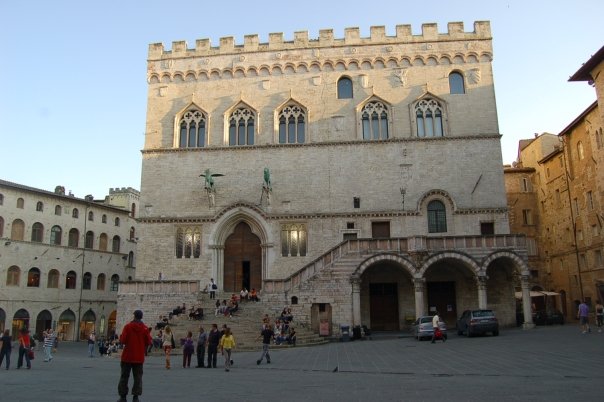 The only one I didn't take: My sister took this photo of me at a restaurant balcony near Perugia's main square that overlooked the Umbrian countryside. It was painful to leave.