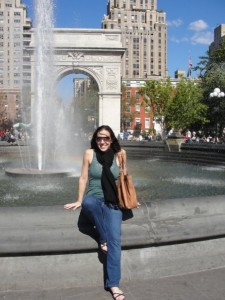 Earlier this week, I wrote about my upcoming trip to NYC and how I planned to save money while there. Well, the trip was a blast — I rode a yacht through the Hudson River and around the Statue of Liberty, attended a conference for About.com in the incredible New York Times building, shopped in SoHo, strolled through Greenwich Village, wandered around Times Square, dined in the East Village, and more.
I succeeded in saving money in several ways:
I did a healthy amount of walking, which reduced the need for paying for cab rides or subway tickets.
I stayed in a studio apartment instead of a hotel, and because it had a kitchen I was able to save some leftovers and eat them later.
I used a travel backpack that is carry-on compliant so I didn't have to pay to check luggage.
I did most of my shopping at H&M, which has fashionable clothes that are inexpensive.
I took the New Jersey Transit trains to and from the airport, which only cost me $15 each way. While not a posh way to travel, it was $25 cheaper than Amtrak and $50ish cheaper than a taxi. I also was seated next to a cool barber who told me he had just cut Nick Cannon's hair.
As we all know, things don't always go as planned when traveling.  Here is where I failed:
I didn't take the subway once. I did a lot of walking, but did take quite a few cab rides. Fortunately, I was with friends for most of these, so we split the cost. I did take some alone, though they were either when it was at night or when I was with my luggage. I think those were worth the money.
I did some shopping at stores other than H&M and spent more money than I planned to on clothes. But I didn't buy any one thing that was too expensive (nothing over $100), I only bought very unique items, and only shopped at stores that we don't have here in Texas.
I didn't do enough research on where we were staying in. While the studio was a decent size, had free Internet, had a mini kitchen, and was close to my conference, the location was awful. It was right next to the Port Authority Bus Terminal and a highway overpass nearly touching the building. There was also a massive construction site right across the street and many sidewalks were shut down. Not a very fun or pretty area to walk around. The first night, I had trouble falling asleep due to the sound of jackhammers.
By the way….
My blog post "How to Ski Breckenridge Without Going Broke" made it into the 10th Edition of the Anywhere, Everywhere Travel Blog Carnival.  I hope you will check out all of the awesome blog posts in the carnival!
How good are you at sticking to a travel budget? What do you do to keep costs down when traveling?

Fall Sale: Save up to 40% on New York Hotels! Expires 10/12/09