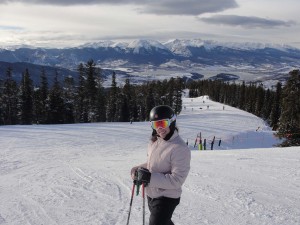 When I was younger, I went skiing, camping, hiking, white water rafting, and more. I had a good sense of adventure. Then my youthful fearlessness wore off, and I began to have concerns about breaking a bone, getting lost, or being eaten by a mountain lion.
For some reason, I recently decided to try to get ballsy again. In December, I went skiing for the first time in over 10 years. I was completely freaked out at first, but ended up having a great time. Now I want to go skydiving–something I previously said I would never do (sorry Mom and Dad).
This is why I was interested to find out about Kumutu.com, a new website that helps you find and book adventure sport experiences. It's essentially an aggregator of outdoor activities around the world, much like hotels.com is for accommodations. They don't host the adventures themselves–tour operators list their offerings on the site. Some activities last just a few hours, while others are week-long tours. I hadn't heard of anything like it.
Here is what an adventure page looks like: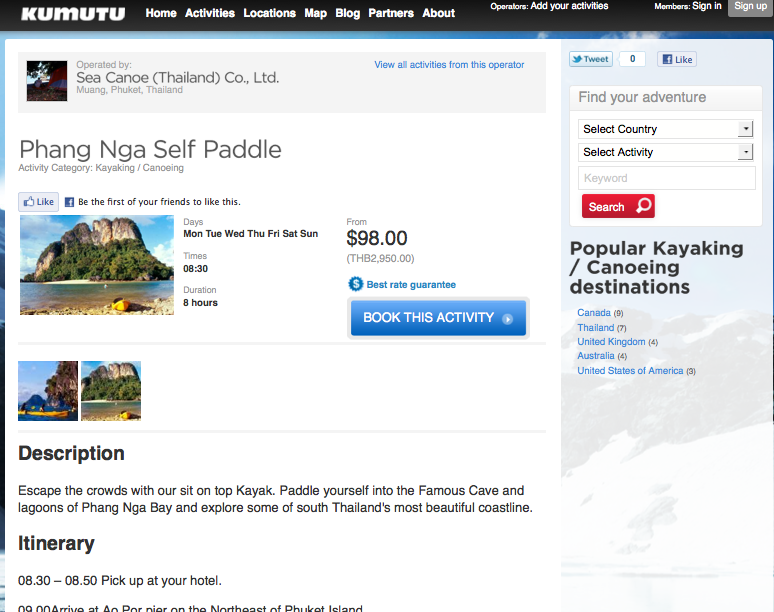 CEO Ryan Off created it after being frustrated at the convoluted way of trying to find and book adventure activities. According to a press release, he "set out to modernize the industry, bringing it up-to-date with other online industries, enabling more choice, greater discernment (from customer reviews and rating), more safety information and instant booking rather than the current 'vouchers' system commonly used by similar companies."
Perhaps you know you want to go scuba diving somewhere in the Caribbean, or you know that you want to do something adventurous in Auckland. You can search either by activity or country. You can also search by map, as you can see below.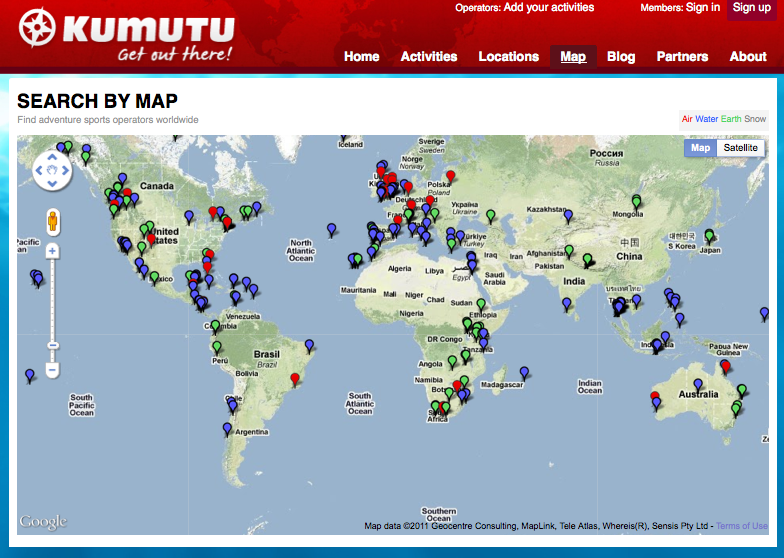 They already have over 900 adventure companies signed up. The press release says they hope to have 5,000 operators listed by the end of 2011. If you love travel and adventure, this site is definitely worth checking out. They offer a best price guarantee on many of the activities, so it's nice to know you don't have to spend more time searching for a better deal elsewhere.
Here are some of the cool adventures I found on the site:
4WD Eco Tour in Australia
11-Day Cultural Trek in Nepal
Kitesurfing lessons in Vanautu (starting at just $50)
Paragliding school in Scotland
Skydiving in South Africa
Glacier hiking in Alaska (starting at just $65)
Whale watching in Iceland
Snorkeling in Thailand
Whitewater rafting in Chile
Would you use a site like Kumutu?