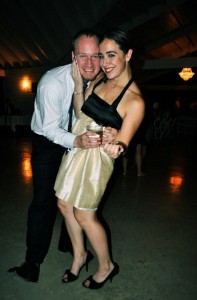 I can't believe it–my wedding is less than a week away. I've been ready for it to get here for a long time now. It has been a very stressful and emotional process, but it will all be behind us on Saturday when Bryan and I get hitched after 5 1/2 great years together.
We're tying the knot in Austin–his hometown, and my home for the past eight years. The night of the wedding, we'll be staying at a suite in a nice downtown hotel very close to the venue (people are staying at our house, in case any robbers were wondering). Then we are escaping to a fancy B&B nearby for a two-night mini-moon (real honeymoon might have to wait until he's done with law school). I will blog about my experiences after we get back.
I have family and friends coming in starting on Thursday, and then we'll be off on our mini-moon until early the next week, so I'm not going to be blogging for a little while. Instead, I will run a few guest posts that I've had on reserve. I hope you enjoy them. I'll be back soon as a married lady, and I hope to be blogging much more frequently.
Blogdash