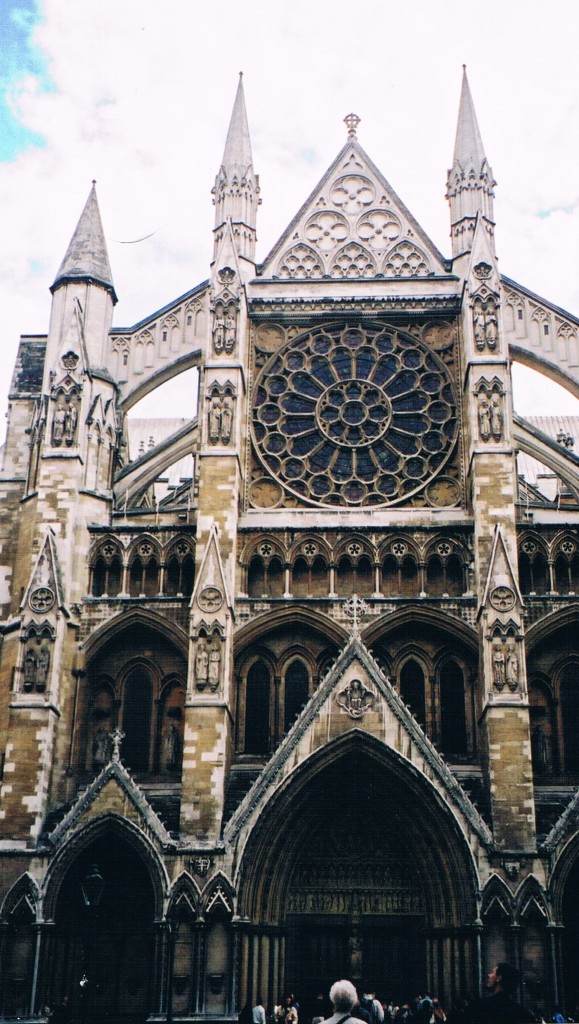 I have been to England three times, but London just twice. Both times, I really enjoyed it. The city is so rich in history, literature, and royal culture. I've been missing it lately and wanting to go back, so I thought I would write about some of my favorite things I have done there. I took the accompanying photos on a 35mm camera a long time ago, which is why they look a little vintage.
Westminster Abbey
I loved this place long before Kate and William tied the knot here. It was just magical to me. The front seems impossibly tall, and the amount of history within it is astounding. It's been the coronation church since 1066. Seventeen monarchs are entombed here, as are many other famous figures, such as Sir Isaac Newton. I also walked past a stone in the ground that said 26 Westminster monks who died of the Black Plague in 1368 were buried below it. The inside is ornate and beautiful. I was in awe the whole time I was there.
The London Eye
Say what you will–I know this is often looked at as a cheesy tourist attraction. But it provides unparalleled views of the sprawling city of London. It's like a Ferris wheel, but you are in an enclosed capsule, and the ride takes 30 minutes. I rode it during the day, but I've also heard that it can be really cool at night.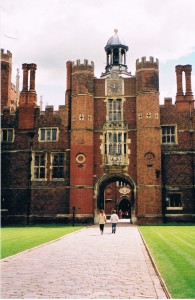 Hampton Court Palace
Sure, Buckingham Palace is fabulous, but you can't go inside several months of the year. Kensington Palace is beautiful, but I was truly fascinated with Hampton Court Palace. It was built in the early 1500s, and due to some flukes over time, some of it is built in Baroque style and some of it is built with Tudor architecture. The palace played a major role in both the Tudor period and Stuart period. It was owned by King Henry VIII for a long time, and he had it massively expanded. I loved walking around the grounds and learning about the centuries of history it was home to. It's a short train ride away from Central London.
Globe Theatre
The original Globe Theatre was constructed in 1599, and William Shakespeare owned a share of it. Many of his plays were performed here. It closed in the 1600s, but a very similar reconstruction was built several hundred yards away in 1997, coined Shakespeare's Globe. Many Shakespeare plays are performed here, and I went and saw one. Seeing a Shakespeare play in a close remake of his very own theater in London is pretty incredible.
The British Museum
This acclaimed museum is full of historical treasures from civilizations all over the world. The Rosetta Stone is here–something I'm very glad to have seen in my lifetime. The museum has over 8 million items, ranging from Egyptian mummies to Ancient Greek statues to medieval Japanese samurai armor. You don't have to be a history buff to get a thrill from seeing these treasures from the past.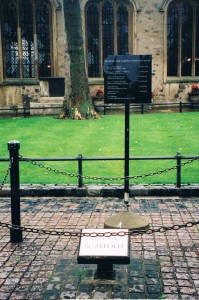 The Tower of London
This castle was originally founded in 1066, and it was home to incredible amounts of royal history. Some of it was quite gruesome; many executions and beheadings took place here, including that of Queen Anne Boleyn, King Henry VIII's second wife, and Catherine Howard, his fifth wife. The photo to the right is the site of one of the former scaffolds. Some of the Tower of London's dark history played a role in Shakespeare's play Richard III (it's where he held the two princes captive). But it is also home to the Crown Jewels, where you can see ornate crowns, bejeweled scepters, and massive diamonds. They also have other exhibits, such as armor.
Shopping!
You can't go to a big city without checking out the shopping scene. I loved exploring the fun clothing shops on Kensington High Street, one of the city's most popular shopping streets. I also enjoyed getting off at the Sloane Square tube stop and walking along Sloane Street (a great recommendation from my dad!). Some of the stores are high-end fashion houses, but others are fun boutiques with regular prices. Even if you don't have the budget to buy anything, be sure to stop by the famous Harrod's. This ornate department store consists of seven floors that span 4.5 acres. The food halls on the ground floor are a sight to be seen.
Other random things I enjoyed:
Climbing to the top of St. Paul's Cathedral (not for those scared of heights) and testing out the whispering gallery
Taking a Jack the Ripper tour (morbid, I know, but fascinating)
Touring Kensington Palace
Tour the wild Saatchi Gallery (free)
Seeing Buckingham Palace from the outside
Visiting a strip club London is also one of those fun things it's good to do with your mates.
The only thing I can say I truly didn't like was The London Dungeon. It was beyond creepy and disturbing. I actually left early before seeing it all.
London is a massive, sprawling city, so it can definitely be overwhelming your first time. London sightseeing tours can be a great way to get an initial grasp on the city and learn more about its history and culture. It is of course possible to do it on your own–that's what I did both times–but some people may find it best to tour London with a guide their first time there.