Love is in the air, as they say. Valentine's Day is fast approaching and I'm willing to bet that there are lots of guys and girls out there, struggling to think of good places to take their significant other. Fear not, as I've devised a list of the best places for you to woo your date and have them falling for you in no time… If you're in Tokyo that is.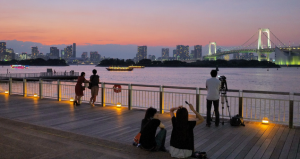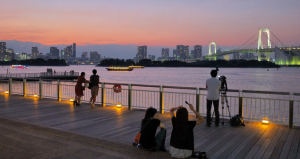 1. Odaiba
Odaiba is one of those universal, year-round date spots that young, nervous Japanese guys take their first-time girlfriends to. There's a really good reason for them to do this – it's fantastic fun. This famous shopping and entertainment district was build on one of the largest man-made islands in the world in the Tokyo Bay area.
Head over to 'Decks' a huge mall for some shopping or to take a spin on some of the rides at the various indoor theme parks situated in this area. One of particular interest is Joypolis as it's the biggest and best of them all. There are many restaurants and even a huge ferris wheel if you really want to wow your date.
2. Tokyo Tower
As with Odaiba, Tokyo Tower is a classic date spot. Though it seems to be the case that, broadly speaking, the only people that venture into the tower itself are either non-Japanese or Japanese who don't live on Tokyo. Inside you'll find all sort of interesting curiosities that you and your date can enjoy.
The curiously named 'foot town' is where it's at. There's an aquarium, a Guinness World Records museum, a less-than-convincing wax museum and a floor full of different restaurants serving a plethora of world-cuisine to refuel at the end of the the evening.
3. Kokyo Gaien Park
This beautiful park, filled with magnificent gardens is a very nice place indeed to go on a date. The Imperial family once owned this garden and kept it privately, but in 1949 at the end of World War II, the gardens were made open to the public.
Attached to the imperial palace itself, the park houses some of the world's most beautiful flora and fauna, including the ever majestic, Japanese 'Black Pines'. The palace, surrounded by impressive stone walls and moats is home to the current emperor of Japan, but he is rarely seen and the palace itself can't be entered, so staying in the gardens and perhaps, taking a picnic with you is the best way to enjoy a day out here.
To get the chance to go to Tokyo, you'll need to fly into either Haneda or Narita international airports and then get on one of the many train or coach services that run into the city. Getting to Tokyo by air is really quite simple too, as flights are taking less time, all the time. It would be wise to make use of the very convenient Stansted airport parking facilities as driving to the airport rather than relying on public transport means less hassle.