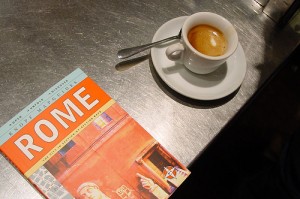 It has happened to all of us: When excitedly planning for a trip, we buy a stack of guidebooks help us to learn more about our destination and get tips for planning our journey. But after your trip, unless you plan on returning to that city or country within a year or two, the guidebooks become practically useless. They just take up space on the bookshelf because they are usually outdated,  as hotels and restaurants close and open, prices change, and events and hours can shift.
A new website I have recently learned about, GuideGecko.com, allows you to sell your used travel guidebooks. Interested travelers can buy used guidebooks for discounted prices and you can make some cash on books that are no longer useful to you. It makes sense — why not pass on the books to people who can actually use them, and make some money in the process? I like that idea.
It is free to list your guidebooks, and according to a press release, it takes less than 20 seconds to do so. You only pay once the book sells, and you receive 85% of the sale price, which really isn't bad. You have several options for how you get paid, including PayPal, check, or bank transfer. It also doesn't cost anything to remove titles if you change your mind about selling them.
The press release also says that GuideGecko.com features guidebooks for more than 2,000 guidebooks in more than 70 categories and 169 countries. They have books from ranging from big names, such as Lonely Planet, to lesser known companies, such as Trailblazer.
One feature I like is that there are many ways to find a travel guide; you can filter by city, country, type of destination, length of journey, activities, budget, type of traveler (ie women, backpacking, gay and lesbian) and more.
In addition to selling used guidebooks, GuideGecko also lets what they call "casual" writers, bloggers and established authors to publish and sell their own guides on the site for free. If you write a guide, they can make them as PDF downloads and as printed books or booklets. For each copy of the guidebook that is sold, the authors earn 50-75%.  I'm somewhat intrigued by that concept, then again, if casual writers are allowed, it could be hard to tell who really is an expert and who isn't and the writing quality may not be stellar.
Would you ever use a site like GuideGeck,o, either as the seller or the buyer?