Travelling is all about propelling yourself out of your comfort zone and discovering new places, meeting new people and learning about new cultures. It's only natural to want to see the big attractions for yourself, but once you've ticked these off your list why not explore the quirky side of cities such as London?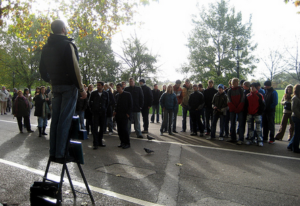 Making the move from the well-trodden tourist path to lesser known trails not only means you'll get to see things that not everyone gets to but is also one of the best ways to really get to know a city and discover it in full.
London is so vast and has so many curiosities round every corner that just wandering around without any particular direction means you will stumble across hidden treasures that you might have missed by making a beeline for the most iconic attractions.
Speaker's Corner
If you're in London on a Sunday afternoon, head to Hyde Park and keep an eye out for Speaker's Corner, where talks by anyone about anything are actively encouraged. From the latest alien invader news to political spiel, you are guaranteed to hear something interesting.
Roman Baths
Not only are they an oddity in central London but they are also quite difficult to find, meaning that very few tourists have actually seen the Roman Baths. One of Britain's best loved authors, Charles Dickens, refers to the baths in his novel David Copperfield, so you will be immersing yourself in both the history and literature of the city.
Unique museums
Ancient Egyptian mummies and a life-size model of the blue whale make the celebrated British Museum and the Natural History Museum well worth a visit, but if you want to escape the hubbub, head to the Horniman Museum which boasts unique displays, an aquarium and live farm animals. Don't forget to pencil in the National Army Museum and check out the three sections of the Berlin Wall that stand just outside.
Quirky markets
For a shopping trip with a twist, head to Camden for an experience like no other. Walk down dark staircases into shops lit up with glowing merchandise, bop along to booming music and watch a dance show while you browse funky products and sample the vast array of gastronomic delights on offer.
If you are planning a trip to the UK's thriving capital city, Superbreak London hotels are a great place to stay as you unearth the hidden gems it has to offer.
Sources
http://www.secret-london.co.uk/Welcome.html
http://www.visitbritainsuperblog.com/2011/04/top-10-offbeat-things-to-do-see-in-london/