Vail Resorts kindly hosted me for three nights in Keystone, Colorado. While lodgings and some activities were covered, these opinions are my own. Check out my posts from day 1 and day 2!
This morning, the PR team picked us up and took us to Breckenridge, another ski resort owned by Vail Resorts that is a 20-minute car ride away. We were visiting the area to catch some of the Dew Tour, an action sports event that travels around the country. While some of their tours feature BMX biking and skateboarding, this one was a showcase of snowboarding and freeskiing.
I had never witnessed competitive winter sport events before, so it was a thrill to watch. I was positioned at the very bottom center of the half pipe, so I had an unbeatable view of the athletes blazing down the chute. I couldn't believe how high in the air they catapulted themselves, and was shocked they could actually land on two feet after spinning upside-down that many times in the air. It was snowing like crazy, so it was more impressive that they could ski as well as they did.
I took this video of one of the skiiers with my iPhone–while it's shot from far away, you can get a feel for the event (I can't wait until iPhone cameras can zoom):

Here are some photos I took: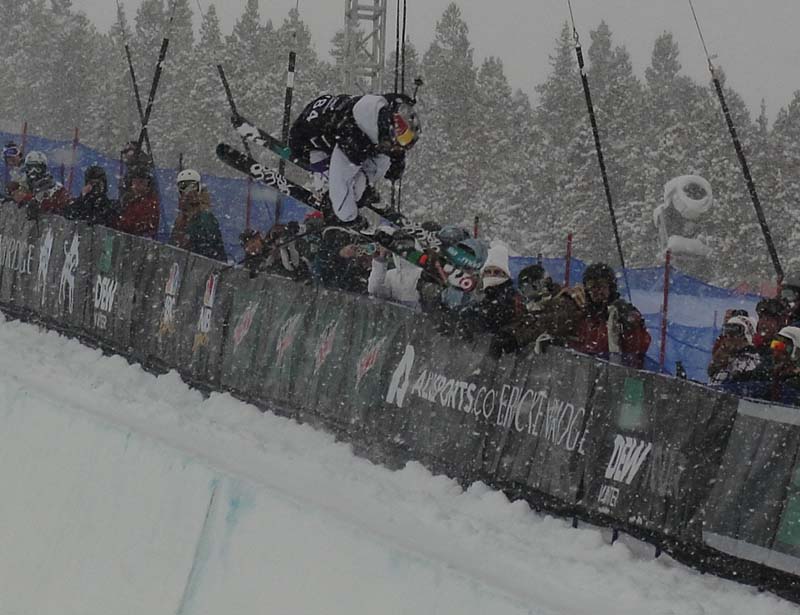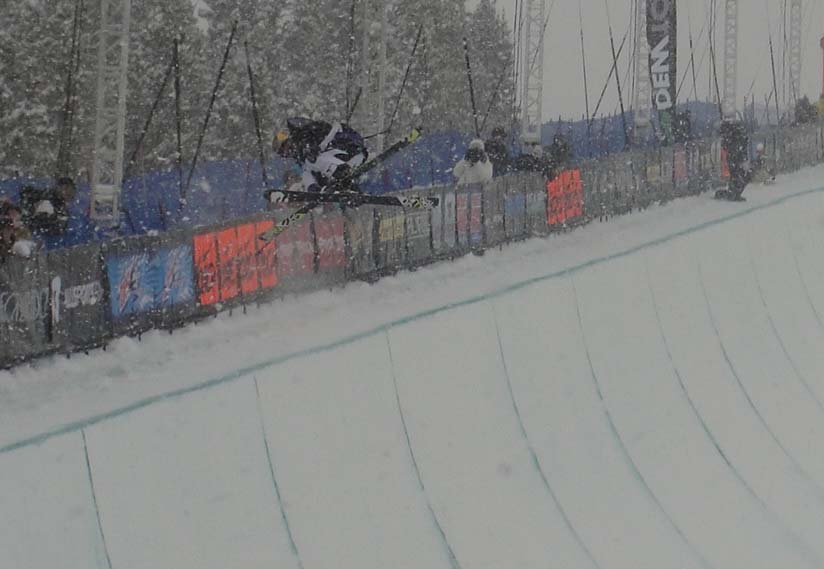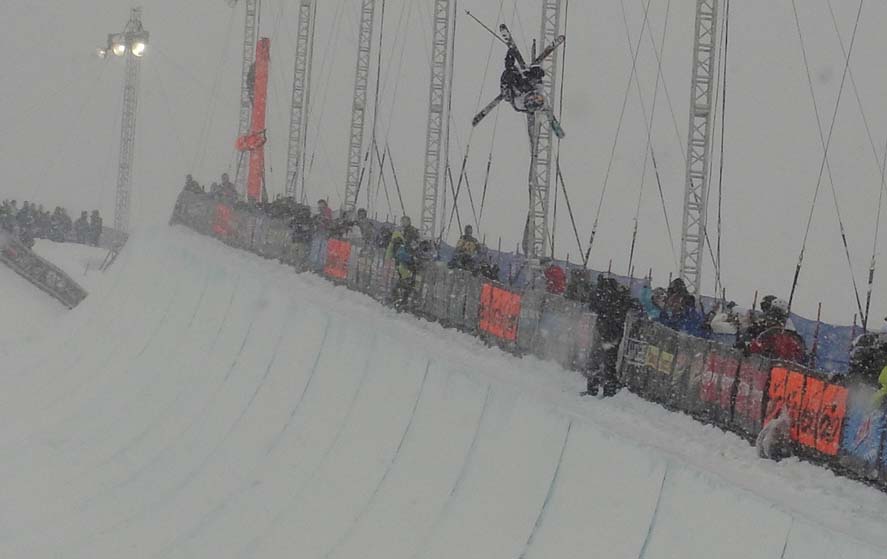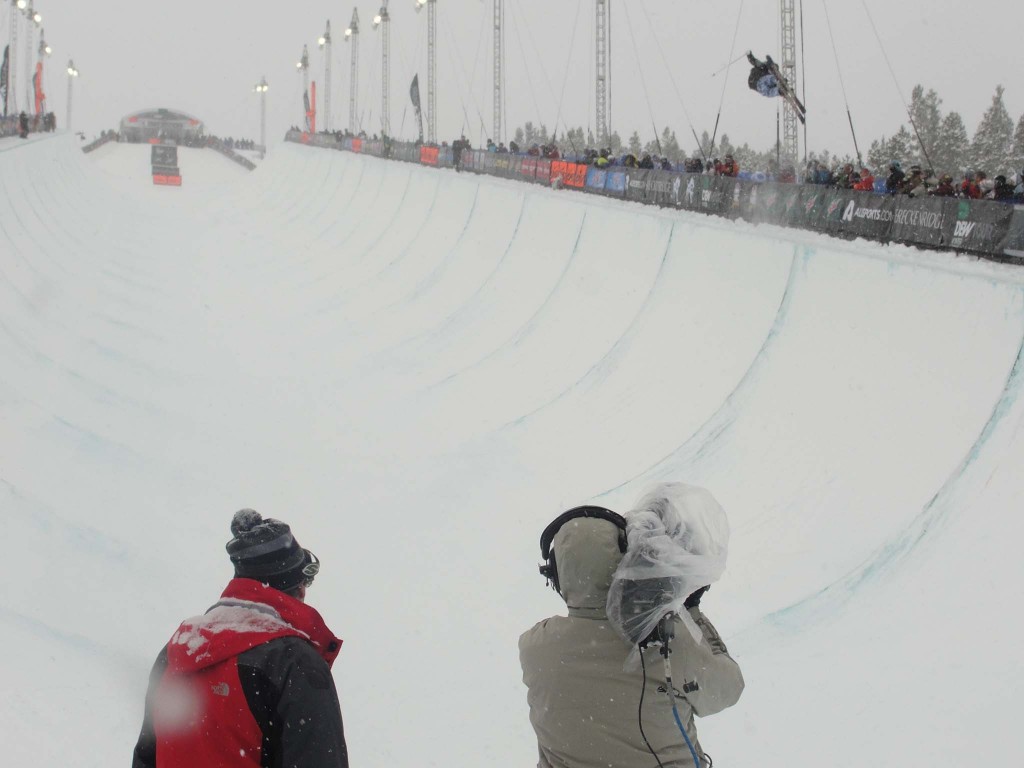 After being blown away by the extreme skiing, we walked over to Giampietro Pizza & Pasteria, a popular local Italian restaurant. It was tiny but packed, and mouthwatering smells of pizza dough wafted through the air. I feasted on the delicious pesto pasta with grilled shrimp. My fiance had an enormous and delicious calzone.
When we got back to Keystone, we relaxed in the comfy room for a while. In the evening, we decided to head down to River Run Village, the quaint area a few miles away where we skied the day before. When we skied here, we didn't have the time to explore any of the village itself, so we wanted to go back and see what it was all about. The free shuttle picked us up in front of the Keystone Lodge and dropped us off right at the village. They run every 20 minutes.
River Run Village was magical at night. The snow was falling and the Christmas lights were sparkling. It feels like its own tiny little town. It also offers a great view of the slopes, which were lit up for night skiing (something I am not yet brave enough to do).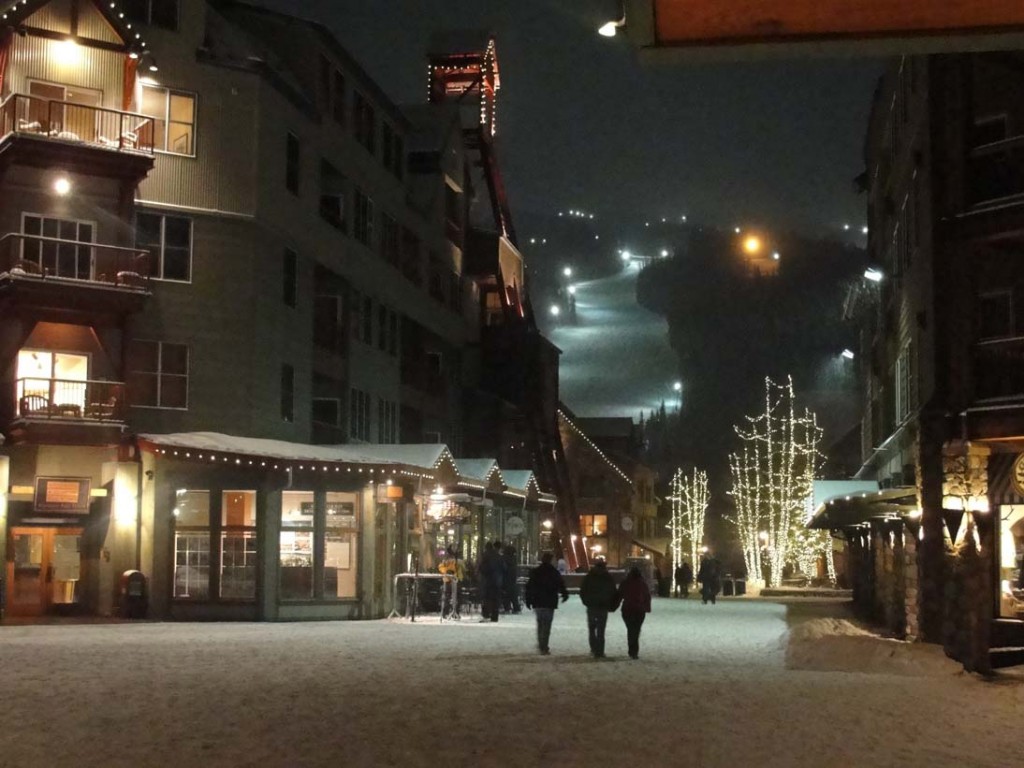 You can actually stay in the condos in the village, which puts you right next to the ski slopes. But the area is also full of cute boutiques, restaurants, and bars. We popped into several different T-shirt shops. We found all kinds of cute knick-knacks, souvenirs, and Keystone-branded shirts and sweaters, in addition to loads of ski gear in case you forgot yours at home.
We popped into 9280'–a new restaurant and bar that had its opening night party that evening. While it had a fun vibe, the DJ was playing very loud music, and we were in the mood for a more traditional sit-down meal.
We ended up dining at Kickapoo Tavern, which is primarily a bar, though it has a small restaurant section. It was cozy like a ski lodge, and was packed with people and hustling and bustling, which gave it a fun energy.  I ordered the salmon, which was surprisingly moist and flavorful. It was a lovely way to spend our last evening. I was so sad to leave the next morning!
Have you ever been to something like the Dew Tour? Have you been to Breckenridge?

River Run Village on Dwellable