Vail Resorts kindly hosted me for three nights in Keystone, Colorado. While lodgings and some activities were covered, these opinions are my own. Check out my posts from day 1 and day 3!

I went to Colorado at least once a year from my early childhood through high school (and sometimes in college)–either Aspen or Estes Park–but we nearly always went during the summer. We only went to Colorado three times during the winter to ski, and the last time was in Breckenridge when I was in early high school.
When I found out we would be skiing in Keystone this week, I was excited, but also apprehensive. I used to be able to ski tough blues with moguls, but after at least seven years away from the slopes, I had a feeling I was going to be very rusty.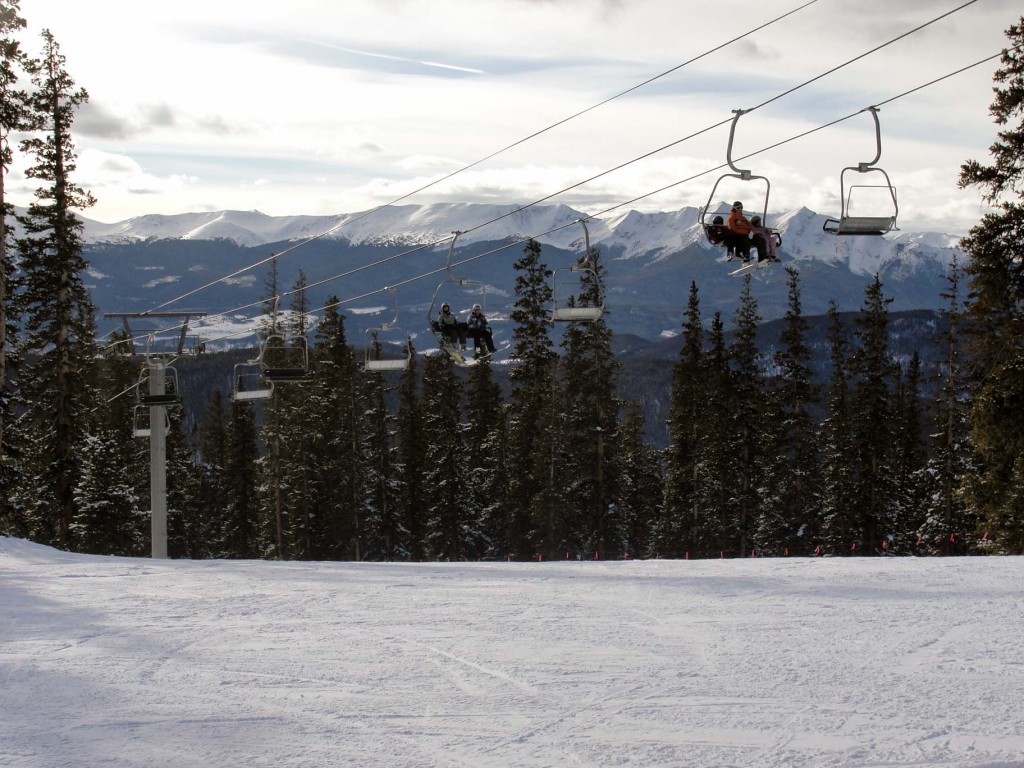 The Keystone PR team offered to set me up with a private lesson to help me get my ski legs back. I was happy to find out that I was getting a private lesson rather than an adult group lesson so that I would have a lot of personal attention (Keystone has both options for adults). I thought it would be a quick refresher course, but as it turns out, you're with the instructor for six hours–they teach you (or review with you) the basics and then work with you throughout the day to perfect your form and try increasingly harder slopes with you.
We caught the free shuttle in front of Keystone Lodge, which took us over to River Run Village, just a few minutes down the road. After getting all of our rental gear sorted out, I was paired up with Kim Hesh Olson. She has been an instructor for many years and is incredibly kind, patient, and skilled at skiing.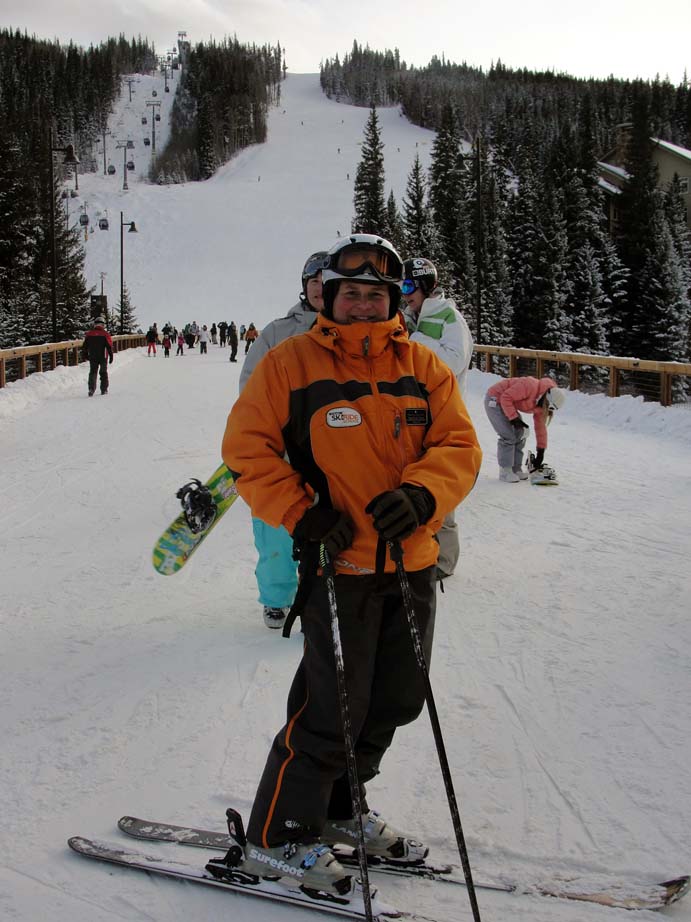 I had a feeling I was only going to want an instructor for an hour or two just to get reoriented, and I was told it was OK to cut it short if I wanted to, but she was so motivating, and helpful that I spent the whole time with her. If you need lessons in Keystone, please ask for her! Besides getting set up with a wonderful teacher, it was a clear and sunny day, making me feel very comfortable (the next two days were snowing like crazy).
My fiance, Bryan is a more advanced skier than I, but he stuck around for the first few hours of the lesson. Kim was even able to give him some great pointers on his technique: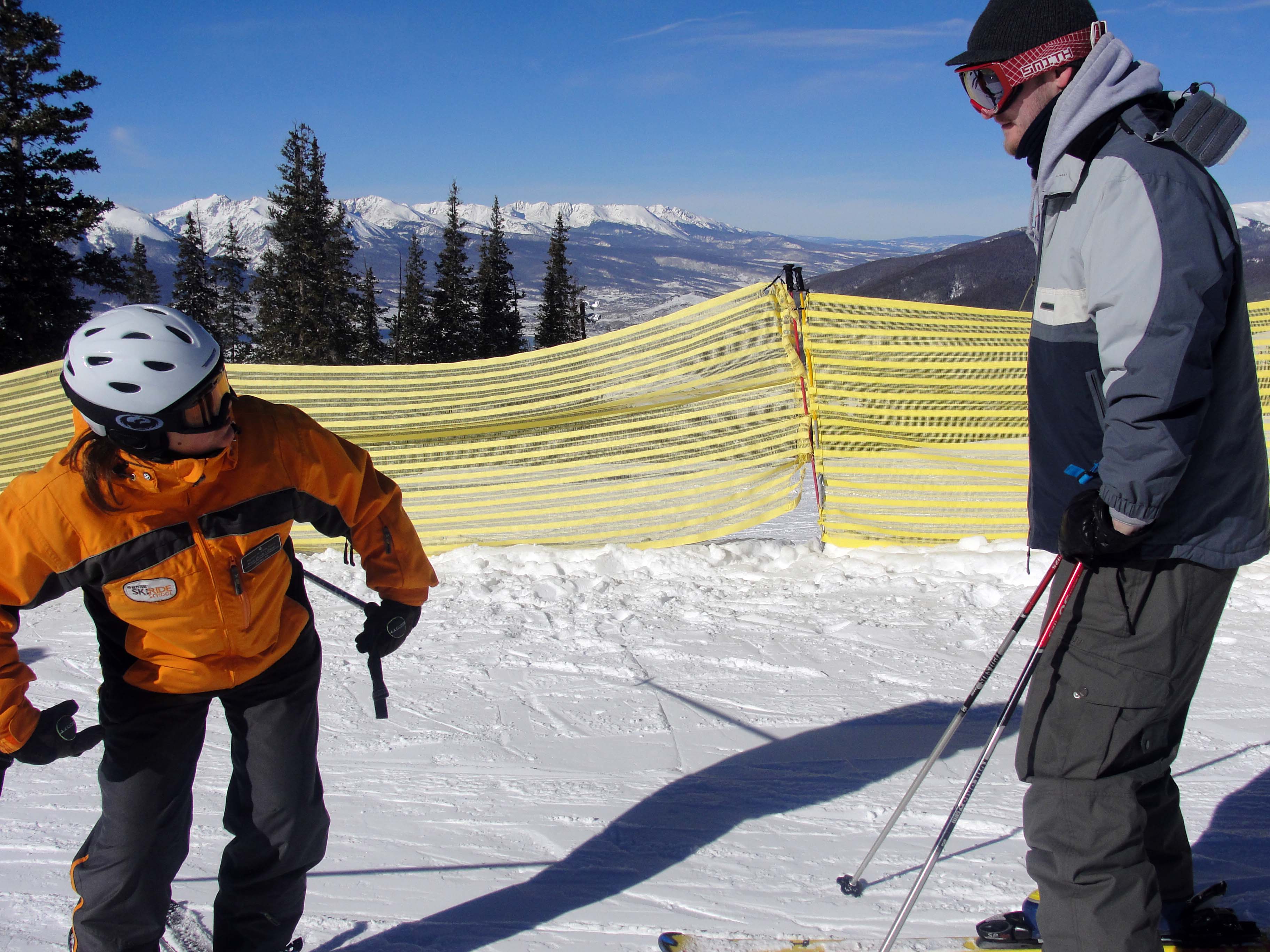 The three of us stopped at the restaurant at the top of the mountain for lunch. By this point, my face was so numb I could barely pronounce words correctly (I didn't think to bring one of those face covers). To warm up, I had chicken noodle soup in a sourdough bread bowl, and it was delicious and hit the spot.
After dining, I let Bryan go off and enjoy the harder slopes on his own, as I didn't think I was ready yet. Kim stuck with me, gradually building back up my courage and form. During our session, I encountered so many gorgeous vistas: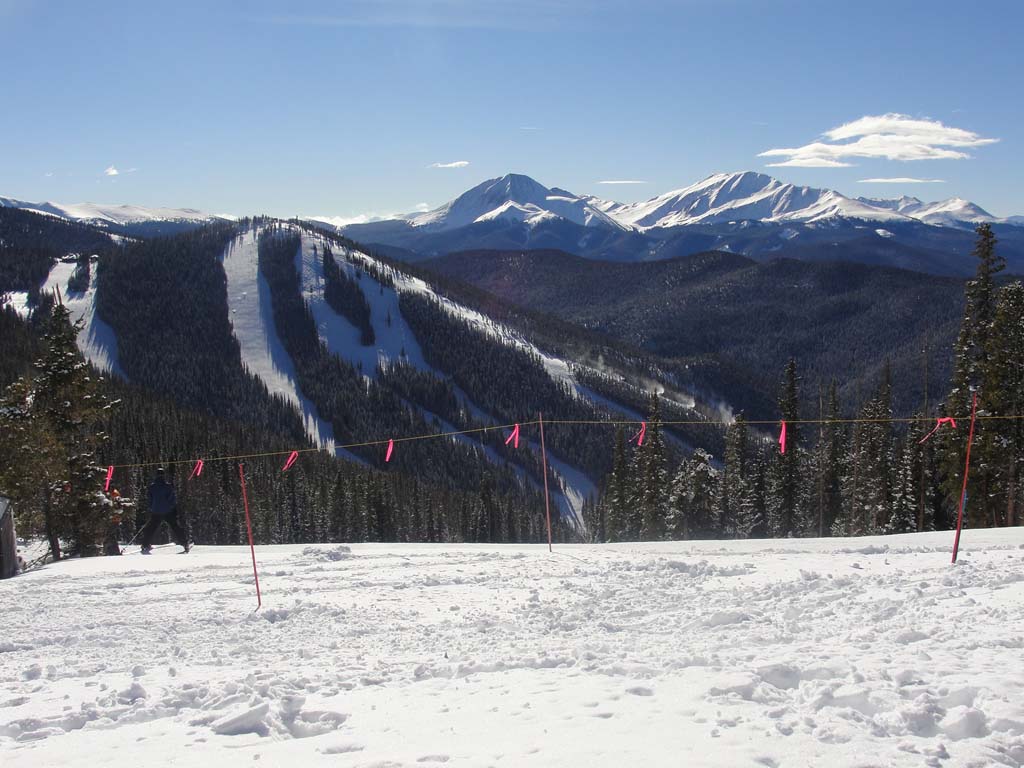 After doing many short beginner runs of increasing difficulty over and over again, we finished things up by riding down Schoolmarm–a long trail that takes you all the way from the top down to the bottom of the mountain. When Kim asked me if I thought I was ready for it, I was reluctant to say yes, but she helped get me pumped up about it.
It was so gratifying to ski from the top of the mountain all the way down to the bottom where the village was. No gondolas or lifts needed! It's green, but a tough one, with several very steep pitches. We had to take a few breaks, but I made it! And I didn't fall once the entire day. I was proud. I can't wait to go back again and try some harder ones. Here's a pic of me taking a break on an easier section of Schoolmarm: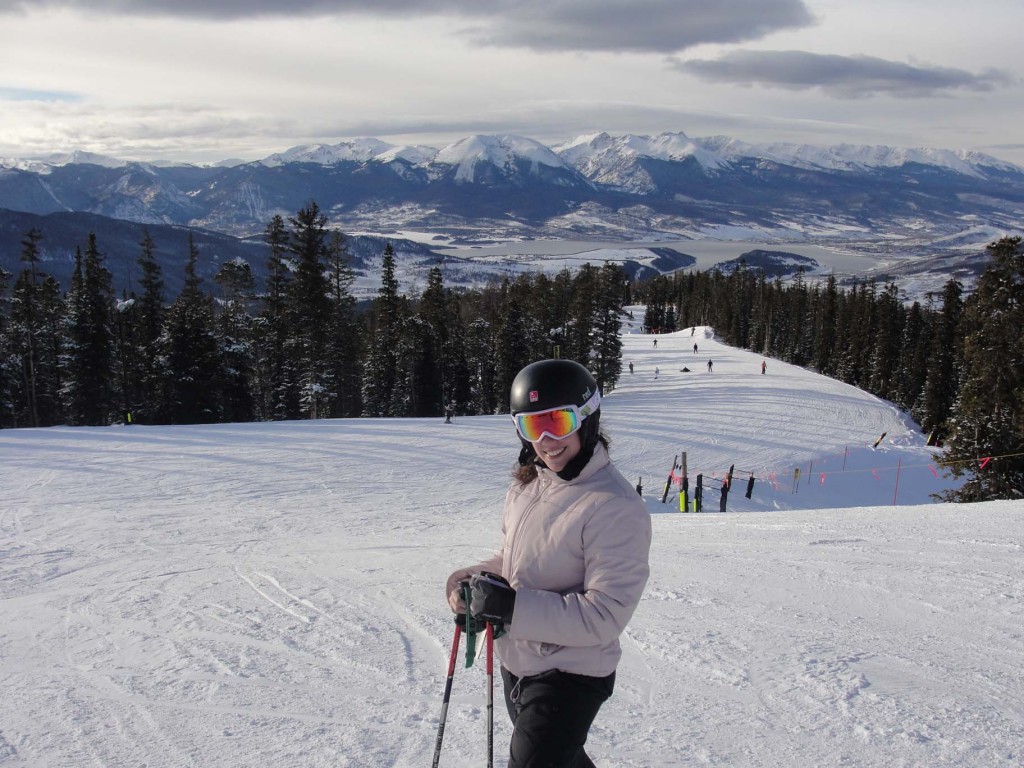 The PR team generously set us up with a couples hot stone massage at the Keystone Lodge Spa at the end of our ski day. After a long day of being in the cold, the warm treatment soothed our muscles. Upon arriving, we were given slippers and warm robes and led to lockers. After changing into our fluffy robes, we met in what they call the relaxation room. With comfy couches and chairs, a burning fire, and hot tea, it couldn't be any more peaceful. We sat in two chairs across from the fireplace and just zoned out. My only complaint was that the masseuses took over 30 minutes to come get us, though I'm sure it was on purpose to get us more relaxed.
The massage was so thorough and felt so good on my tired muscles; I didn't ever want it to end. Afterward, we were led back to the relaxation room with a bowl of cool green grapes and told we could unwind as long as we wanted to.
We were on our own for dinner that night, so we headed down to Keystone Lodge's Bighorn Steakhouse. The rolls they served were delicious–some were flaky and pastry-like. It came with three types of butter: strawberry, garlic, and regular. The strawberry one actually wasn't bad, but the garlic was delicious (and this is coming from someone who never butters anything). We really enjoyed our appetizer of carmelized goat cheese with flatbread.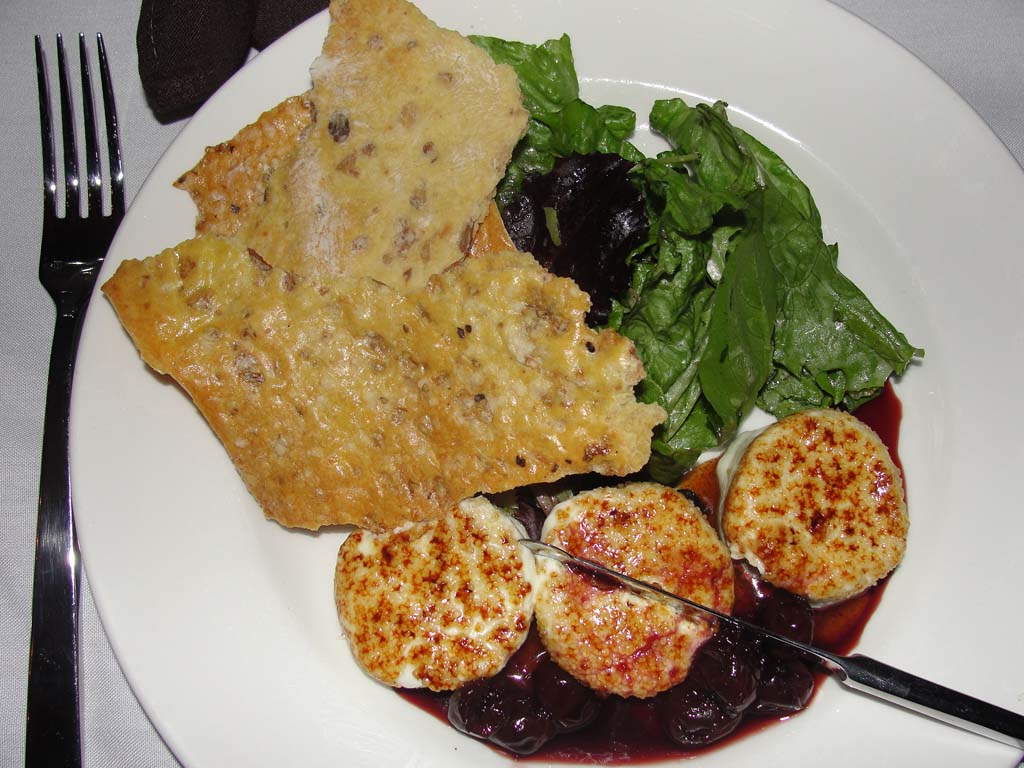 Bryan got a spinach and ricotta pasta dish that far exceeded his expectations. After so much rich food the night before, I wanted something light and easy on the stomach. I ordered the trout with the sage butter on the side, plus a baked potato. The fish was local and so fresh and meaty.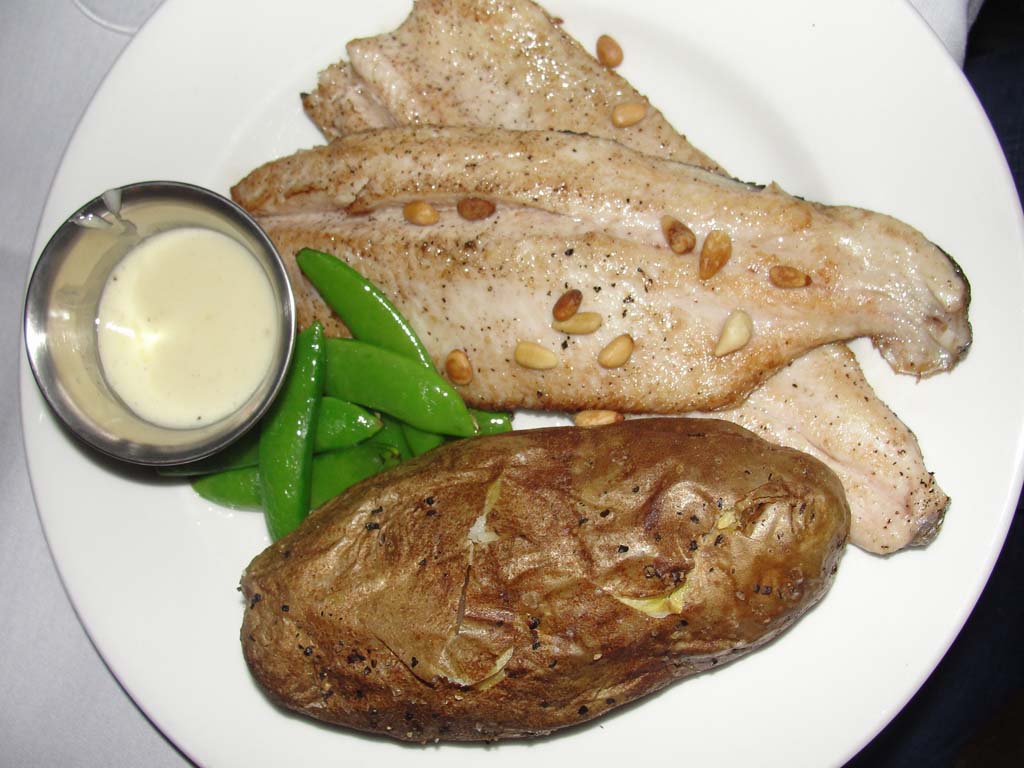 As you can imagine, we were pooped at the end of the day! We slept like babies in our king-sized bed.