We all know that traveling brings great adventures and mind-broadening experiences, but it involves a good deal of time spent in transit, which if you're not prepared for can seem very long indeed! Here are some tips for keeping entertained while heading to your next awesome destination: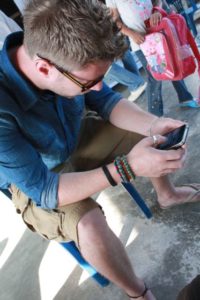 Travel with a Friend Solo travel has its definite benefits, but traveling with a buddy is always going to be more entertaining. Bring someone along to share laughs with over the trials, triumphs and crazy anecdotes of the journey, and commiserate with when you get stuck sitting in the luggage compartment instead of a seat for a 5-hour train ride (trust me, it will happen!)
Pack the iPod An iPod is an absolutely beautiful thing for a traveler. There's nothing like watching idyllic scenery pass by while listening to your favorite tunes in your ears, or whiling away long airport waits with great jams. Once you've had enough music, fire up the audiobooks to catch up on your "reading." If you want to spend your travel time expanding your knowledge, there are tons of free Podcasts you can download to your iPod- to learn about everything from astronomy to the history of philosophy, or catch up on current events.
Read Yes, it can be inconvenient to pack books when traveling- but try bringing a book along and trading it in at a hostel book exchange. Leave your book behind and take a new one from the exchange- and repeat at your next stop! Or, if you're following tip http://maiden-voyage-travel.com/1, trade reads with your travel buddies. Another great option is purchasing a Kindle or other e-reader; they're great for downloading anything you want to read, and lots of them double as mobile Internet devices (another great entertainment option!)
Make Friends Traveling solo? Or completely conversed-out with your current travel mates? There's a simple entertainment solution anywhere you turn, and the best part is, it's completely free! It goes against everything your mother always told you, and it's called making friends with strangers, folks. Strike up a conversation with your seatmate, another backpacker or just someone who looks interesting. Ask someone about their travels- where they've been, where they're going, what are their dreams. Learn something new, make a new friend, and you never know- it could completely change your entire journey!