Robert Louis Stevenson once wrote "Wine is bottled poetry".
If the two of you share a mutual admiration for good literature and quality spirits, this quote is bound to resonate with you.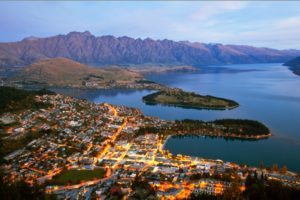 Indulge in one of these shared passions on a holiday trip to Queenstown, New Zealand!
Queenstown, Gibbston Valley and the Central Otago region have 75 wineries producing an eclectic assortment of world-class wines.
There are plenty of wine tours to choose from: Appellation Central Wine Tours, Canyon and Wine Tours, Queenstown Wine Rail Daily Tours, Designer Days & Bannockburn Wine Tours to name a few.
Why not book one of these?
After all, a good glass of wine can rekindle many a fizzled flames and pour new life into old relationships.
Vineyards Galore!
With the love of your life by your side, all you want is an easy car rental and a suitable itinerary.
Hire a car from Hertz and check out the various vineyards and wineries.
With a great many of these scattered all over Queenstown, you will be thankful for your hired ride.
Waitiri Creek Wines Ltd.

It's a quaint church-turned-cellar-cum-restaurant serving gewürztraminer wines and chardonnay. Cradled in the arms of breath-capturing surroundings it can't get more romantic. It also serves New Zealand's favourite wine, the Pinot Noir. A glass of this beauty with your favourite platter, or perhaps just a side of Comtè cheese, will have you bursting with flavour.
Peregrine Wines
Lofty mountains above and vineyard-stocked valleys down below, Peregrine is a favourite with wine aficionados. It is equally renowned for its picturesque landscapes, wondrous architecture and award-winning wines. Right out of a Hollywood movie, this idyllic destination is quite the lovers' spot.
Gibbston Valley Wines
Gibbston Valley has seven fantastic vineyards: Two vineyards in the Gibbston sub-region and five in the Bendigo sub-region,. The perfect climate and just the right soil type maintain the rich flavour of the fruit to create the most exquisite wine. Scintillate those taste buds by visiting one of these vineyards.
Bites and Sips!
Prime Waterfront Restaurant and Bar
Try the sea-food or the char-grilled steak- the chef's specialty. Sip one of many local Pinot Noir labels, order a cocktail or a good ol' mug o' beer and revel in the panoramic views.
Cru Wine Bar and Lounge
Order a sinful glass of wine and dig into a scrumptious cheese platter. Should the mood strike you, lounge about the deck and enjoy the cool breeze in your face.
The Boiler Room
Come summer and this place will have you coming back to it again and again. Set on the waters of Lake Wakatipu, its ambience is a lively mix of fine music and eclectic booze. Kick back and enjoy some hand-made tapas while you're at it!