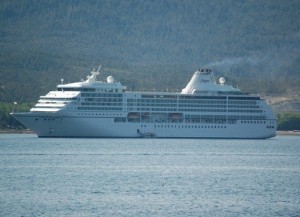 When most people consider traveling in their 20s, they think of backpacking, staying in hostels, and roughing it. They think cruising is an inauthentic way to travel and reserved for people with gray hair.
Judge me all you want, but I love cruising and think there is nothing wrong with doing it in your 20s. According to Rich Tucker, Business Development Manager of CruiseDeals.com and cruise industry blogger at CruiseSource.us, "Cruising is a great way to 'taste test' several countries, cities, or islands to choose the specific destination that you would like to spend a week or two fully exploring [later]."
Don't get me wrong – I think it's a bad idea to only travel by cruising. I also don't think some cruises, such as those to Mexico, provide a very authentic travel experience. Tucker says, "I agree that cruising to the Bahamas or the Eastern Caribbean can be very touristy with each island being difficult to differentiate from the other.   Most cruisers after one or two cruises to the Caribbean are looking for other less-cruised destinations."
I experienced two times in which I felt a cruise was definitely the best way to travel:
The Alaskan coast. We covered so much territory in eight days and explored many tiny towns that would otherwise be difficult to reach. We cruised past glaciers, icebergs, and whales. Can you do that on land? There were plenty of shore excursion opportunities, such as up-close whale watching, fishing, and dog sledding in which drop you off via helicopter.
The Greek islands. We tried to plan the trip ourselves, but deciphering the complicated and ever-changing ferry schedules was a pain. It would require multiple connections and we heard they are never on time.  On this cruise, we visited the two destinations we originally wanted to see plus four others (like Tucker said,  it was a great way to taste-test the area for later travels). Letting someone else take care of all the complicated logistics was a dream.
According to Tucker, "With destinations such as Alaska, Hawaii, Europe, or South America it is impossible to match a cruise vacation for the variety of ports, countries or sites that you can visit in a short period of time for the same price.   If a younger traveler finds cruising Europe not authentic because your home base is the cruise ship which is Americanized, they should cruise Europe on an Italian cruise line like Costa or MSC.  Costa and MSC when cruising Europe have a very authentic on-board experience with 85%+ of their passengers being European."
In my eyes, here are the pros and cons of cruising in your 20s:
Pros
Every night you go back to the same room, so you don't have to keep unpacking and repacking
Food is included and you can eat all you want (though some lines charge extra for high-end restaurants or room service)
The logistics of getting from place to place is taken care of and you have fun along the way
On more casual lines like Carnival, you will meet lots of other young people
Some boats have lots of entertainment, including movies on full-sized screens, cooking demonstrations, wine tastings, dance lessons, classes and seminars (often about history and information about where you're visiting)
Cons
You aren't sleeping in local accommodations, so you won't get as much local flavor
It's not ideal for solo travel; all rooms are double-occupancy, so you must pay a single supplement
If you're on one of the nicer lines, you  may have trouble meeting other people your age
Internet connections are pricey, which can make it hard to blog and keep up with email
You don't get the opportunity to eat as much local food
The evening entertainment isn't great on every boat (on some, it's awful)
While shore excursions are often expensive, you don't have to take them. You can explore on your own or with a different company. "To make a cruise experience more authentic, I would recommend not buying shore excursions through the cruise line," Tucker says.  "You have to be careful who you use, but companies like Shoretrips.com provide a much more intimate experience at a better price.  They will also customize larger group excursions.   One of the most popular options while cruising Hawaii is to rent a car and get away from the cruise ship crowds.   You can very easily get to secluded private beaches in Hawaii with a rental car."
As Wendy Perrin has argued, cruising is not usually the most economical way to travel, specifically in Europe. Despite this, I believe there are certain itineraries in which the convenience of a cruise makes paying a little more worth it. And in the current economy, it's easy to find very inexpensive last-minute cruise deals.
My dad and stepmother just returned from a Baltic cruise that took them to Copenhagen, Stockolm, Helsinki, at St. Petersburg (in which they got several full days) in addition to a day in Berlin and a day in Dover.  This may not be the same experience as when you're on land, but it's ideal for those who want to cover a lot of territory and want a safe place to sleep.
Do you enjoy (or hate) cruising? Do you think it can be an authentic way to travel?