The following post is written by Emily Starbuck Crone, the former owner and blogger of Maiden Voyage.
Years ago, I was given foldable ballet flat shoes as a small gift. They're made to be stuffed in a purse and worn when your feet are killing you from being stuffed like sausages in high heels.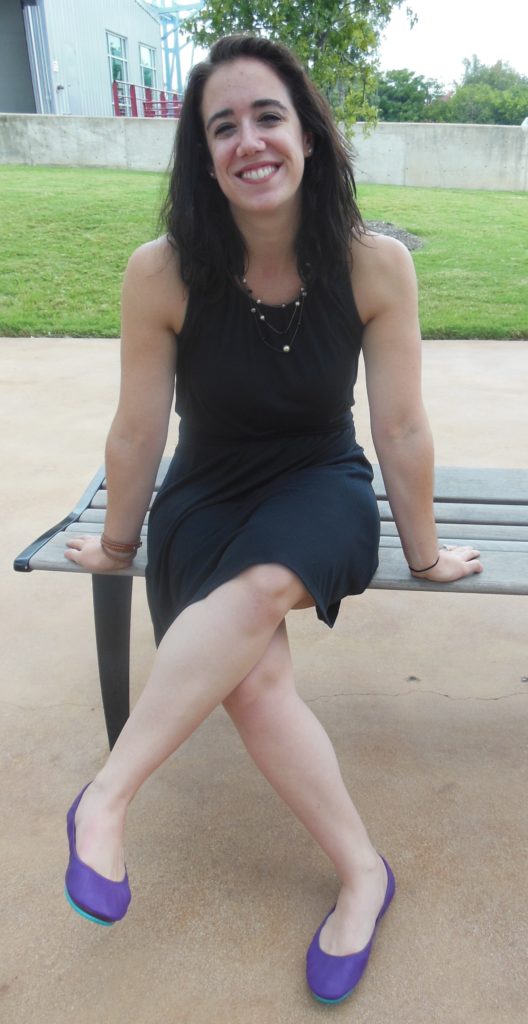 The only time I really used them was in Las Vegas; my friend and I were running late to a show, and realized we needed to literally run from The Bellagio to The Mirage. My friend had to run barefoot down the Strip (poor thing), but I was smart and brought the foldable flats in my bag. They weren't very attractive, and were uncomfortably thin and flimsy, but they got me there in one piece. Unfortunately, they weren't cute or sturdy enough to wear outside of an emergency.
When I learned about Tieks, a different company that makes foldable ballet flats, I was skeptical. They position their shoes as wearable anywhere and everywhere, whereas I originally only associated foldable flats with party animals whose tired feet need a break. I looked at their website, and I thought their colorful shoes were darling. I loved that their tagline is "The ballet flat, reinvented," but I thought they were a bit pricey.
I asked Amanda Cogswell, who works for Tieks, to help me learn why their shoes stand out from other foldable flats, why they rock for travel, and why the price is worth it. She kindly sent me a pair to try on, and you can see me wearing them to the right. Believe me, these are different! First, read my interview with Amanda. Then, I'll give more details about my experience.
Maiden Voyage: What makes Tieks ideal for travel?
Amanda Cogswell: Tieks are full-time flats with the added benefit of foldability.  The split sole design allows them to pack easily and fit in the smallest of suitcases and bags.  They offer chic, versatile styling to transition from afternoon sightseeing to an evening out on the town.  They're easy to take off and on to go through security, perfect for long flights when you don't want to sacrifice style for comfort, and are ideal for when you're on your feet all day to stay comfortable.  Each pair also comes with a compact pouch to compress your Tieks when they're in your purse, a reusable tote for your heels and pant clips to hem heel-length pants. With their durability and non-skid sole, Tieks are the essential travel item.
MV: Why should women (particularly travelers) choose Tieks over other brands of foldable flats?
AC: Tieks are the most versatile ballet flats in the world.  Women like Oprah wear them every day as their staple flats.  Women should choose Tieks over other brands of foldable flats because of the superior craftsmanship and quality.  Unlike other foldable flats that are flimsy, not chic, and designed to simply be heel replacements, Tieks are designed to be worn all day, every day.  They are proper shoes rather than a temporary solution like other foldable flats.  Tieks are made from the finest Italian leather and hand-stitched.  The non-skid rubber soles, cushioned instep and non-elasticized heel provide superior comfort unlike the cheaper alternatives on the market.  The split sole design adds to their comfort because Tieks are designed to mold to the shape of the foot.  There are also currently 39 colors and patterns of Tieks available that fit any occasion.
MV: For people who are ordinarily budget shoppers, can you explain the high price tag and why they're worth it?
AC: We've worked for over three years on Tieks and think they're the best ballet flats in the world.  Each pair is made with the finest Italian leather, and many women report Tieks are the most comfortable and versatile shoes they own.  The quality and care we put into each shoe justifies the cost because unlike less expensive alternatives, Tieks are made to last and endure every day wear.  When you buy Tieks, you buy more than a pair of shoes–Tieks are a lifestyle solution.  These shoes incorporate the fine elements of design, with high-quality materials, stellar customer service, and gorgeous lush colors in perfect packaging.  Tieks also offers free shipping in the U.S. and free exchanges and returns.  See why women around the world love their Tieks, and watch a video about Tieks.
___
When my Tieks arrived, I adored the packaging. The colorful, small box was wrapped in a pink ribbon with a flower on top.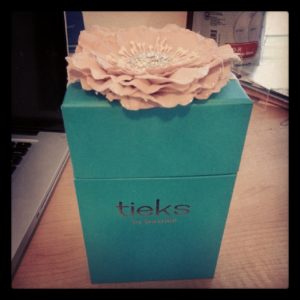 The shoes were folded perfectly inside, showing exactly how compact they are when folded. Once I took them out, I took a close look at them, and you can tell that they are made very well. The Italian leather is gorgeous.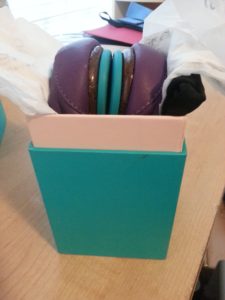 While the shoes were so easily folded in half, I was shocked that once I actually put them on, they felt like a normal flat. They didn't feel flimsy and thin, and I didn't feel like they were folding up while on my foot. I popped them off, and they started to fold. I tried putting them on again, and they felt like normal shoes again. After my crummy experience with foldable flats in the past, I almost couldn't believe it.
Tieks really are comfortable and wearable. I like that they dress up or dress down. In the picture at the top, I'm wearing a black Old Navy dress that I always take with me when I travel for that same reason–it can be dressed up or down based on shoes and accessories.
The shoes rubbed a little bit on the top part of my foot at first, but I have wide feet, and as the leather stretched out just a bit, they became really comfy. When I've worn them out and about, I have received many compliments. People love the color and look. I also think it's so clever that Tieks come with a tote bag that folds up to be extremely tiny so you can stash your heels in if you've brought your Tieks as back-up  shoes (the tote bag is like parachute material, so it gets really tiny). The clips for temporarily hemming are also brilliant, since many of us have jeans that are geared toward either heels or flats and not both.
Tieks really are perfect for travelers who want shoes that are cute but wearable, and fashionable but practical. They take up hardly any space in your bag and come in dozens of cute designs. They are excellent travel shoes for women who want both function and fashion–a hard combination to find–and I'm definitely taking these on my next trip!