I ended up in Paris alone by accident. I was already in Europe for a long vacation, so I figured before I went back to Texas, I would pop by France for a few days to visit a friend who was studying abroad there. Unfortunately, a miscommunication occurred, and I arrived to find myself on my own for three nights on my first ever solo trip.
I studied Spanish in high school and Italian in college, so my French vocabulary is limited to "merci beaucoup" and "si vous plait." The first day and night were rough, but I quickly resolved to make the best of it, and ended up enjoying my time there. Here are some of my tips for traveling solo in Paris.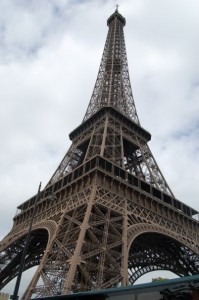 1. Embrace the art of people-watching.
Paris is littered with cafes that have outdoor patios. On several occasions, I sat at a table outside at a cafe on a busy street and watched the world pass by while I ate. Sometimes I would bring a book and read, but other times I just sat back and enjoyed viewing the characters (and the incredible fashion) that walked by.
2. Take advantage of the Eiffel Tower.
Don't dismiss this landmark as too touristy to enjoy. On a beautiful day, hundreds of people spread out on the grassy lawn next to it taking naps, reading books, picnicking, schmoozing with friends, etc. One day I needed a break, so I spread out on the grass with my Kindle and read for a while next to the impressive tower. On certain nights, they light it up and do somewhat of a light show. One lonely evening, I went to a cafe right down the street from the tower and had a bowl of soup while I watched the blue lights sparkle.
3. Catch a movie in English.
One evening, I was anxious to get out of the hotel room but wasn't in the mood to try to mingle somewhere. I Googled until I found a movie theater playing an English movie. It had French subtitles, but the audio was still in English. Unfortunately, it was The Happening, which happened to be awful, but it was a comfort to melt into a movie seat for a few hours and hear English. Not advisable to do every night, but a nice, comforting escape from time to time.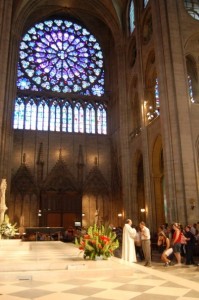 4. Bring a good French/English dictionary along with patience.
I found the language barrier here to be much more challenging than I expected. I had just come from Hamburg, Germany, where I was shocked how many people did speak English, so it was frustrating when I arrived in Paris and got horribly lost for an hour because I couldn't find anyone I could communicate with. Nearly everyone I encountered spoke no English or such minimal English that it wasn't helpful (I've heard that some Parisians can but choose not to speak English, but I don't know the veracity of that claim). Once I finally found my hotel, the concierge spoke English, but overall it was a lingual struggle. I know it's not right to assume that people in another country should speak English, so I don't want to sound like an ignorant American. I'm just saying bring a good dictionary for those inevitable moments and try to memorize some of the key phrases ahead of time. Some locals dismissed me before I was able to pull out my dictionary, so be patient, as you may need to try several people or go into a shop to get help. The people overall weren't very friendly with me.
5. Hit up the museums.
I didn't find myself feeling very lonely when roaming The Louvre or the Palace of Versailles, or even Notre Dame. I was so enthralled with the art and the history that I didn't need company. Sure, I wish I had someone to share the "Holy crap, that's beautiful!" moment with, but I realized that exploring museums is a good way to spend solo time.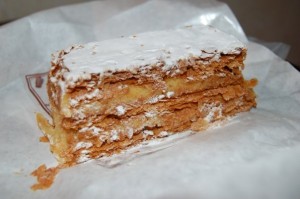 6. Stay in a hostel.
I actually stayed in a budget hotel because I wanted a lot of privacy, but staying in a hostel is a great way to meet other people and find people to do local activities with. Stephanie from Twenty-Something Travel actually wrote a guest post for me a while ago about how to make friends while staying in a hostel. You can also meet locals on Couchsurfing.org; while you can use it to stay at peoples' houses, you can also use it to meet locals who are happy to show you around or grab a cup of coffee.
7. EAT!
Paris is known for its food, glorious food. Get lost in some of the local farmers' markets and take in the smells and sights of fresh cheese and produce. Visit a patiserrie to enjoy decadent fresh-baked sweets. Stroll into a boulangerie and see what it's like to eat real French baguette bread. Yes, croissants are better in Paris. It's hard to be hungry here. You may also want to find some cooking lessons in English!
Do you have any other tips for enjoying Paris solo?