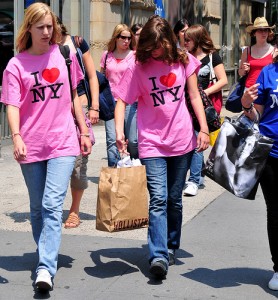 When people travel to a new city or country, they often don't know much about the local culture or how to get around. Most of us do our best to blend in, but some stick out like a sore thumb.
Standing out as a tourist not only makes you look silly, but it can also compromise your safety. Tourists are vulnerable; they don't know how to get around very well, they don't always know the safest and unsafest parts of town, and they probably have a lot of cash (and sometimes valuables) on them. Pickpockets, scammers, and con men often prey on clueless or preoccupied tourists.
When you travel, one of the best things you can do is to always look like you know where you are and what you are doing, even if you are clueless. Another is to always be alert. To figure out what other people noticed as dead giveaways, I asked the Twitterverse. Here are some of the answers I received about how to stand out as a tourist:
@20sTravel fanny pack, souvenir t-shirt, white tennis shoes, stopped in the middle of the sidewalk, blocking traffic, looking at a map
@20sTravel obliviously blocking traffic on the metro is the one that always gets DC people riled up
@travelswitheman Are they carrying a hot pink fanny pack? They be tourists.
@3dg4r: Being loud is usually a dead giveaway
@barchbo If someone is riding a Segway.
@LaurieSteiner fanny packs, polaroid cameras, jorts, t-shirts of the city they're in, holding maps in the middle of the sidewalk…
@Schlik1 : fanny pack. Also, if they ask you if you about someplace that everybody knows about. "Have you ever been to Barton Springs?"and taking pictures of restaurants.
@jdeeringdavis: if they're carrying/constantly referring to a map, especially if it's one of those maps you pick up at tourist centers
@michaelpearsun: Clothes are http://maiden-voyage-travel.com/1. Speech. Lost look of a typical college freshmen on campus (maps). The company they keep. The food they eat.
@SummerH: First thing to come to mind for me: Fanny pack!
@mikeneumann Tourist: 1) clutching on a map for dear life. 2) Dressed in "comfortable shoes", shorts with lots of pockets,last trip's Tshirt
So if you haven't gotten it yet….don't wear a fanny pack! A few other things I would suggest is to avoid wearing jewelry — especially the type that looks expensive. That will put you at risk for getting robbed. Additionally, don't carry valuables in something you wear on your back — someone can easily unzip the bag and take things without you noticing. Same thing goes with big purses. I always travel with a messenger bag that rests across the front of my body, so I can make sure nobody can grab something without me seeing it.
You will also look like a tourist if you are wearing a camera around your neck and taking pictures of everything you walk by. Sometimes I'm guilty of this, too; just be discreet.
Do you think looking like a tourist compromises your safety? What are some of the other ways people stand out as tourists?
Photo by Ed Yourdon