San Franciscans head to Tahoe for a weekend getaway packed with outdoor adventure on the regular. Whether they're heading out for a weekend on the slopes, ready to hit the lake or just looking for a chance at some fresh, mountain air, Lake Tahoe has no off-season. But it's not just a weekend destination for San Franciscans. People come from all over just for Tahoe, or including it in their Western America adventure, and it makes for a great stop along the way or final destination. If you've only got a weekend though, it can be filled with skiing, golfing, hiking, biking, water sports, casinos, great restaurants and gorgeous views.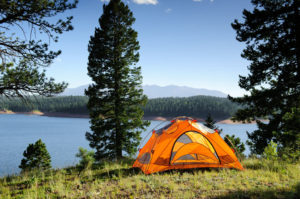 Where to Ski:
Tahoe is home to 18 world-class ski resorts, but if you're here for the weekend, and skiing is your main priority, you might as well get the most bang for your buck. Head over to Squaw Valley and check out the 170 trails there, then with the same ticket, head to Alpine Meadows Ski Resort next door and hit those trails. The ski-resorts are co-owned, so one lift ticket gets you access to both resorts, and over 6,000 acres of terrain between the two.
Where to Stay:
3 Peaks Resort is an awesome hotel that offers low prices, cabin-style rooms and an unbeatable location. This is one of the Lake Tahoe hotels that you can stay in year-round and always be near the best things to do while you're here. The resort is just 2 blocks from the Heavenly Gondola, 3 blocks from several casinos and restaurants, close to hiking and biking trails and they've got their own, private beach. Plus, they're pet friendly. Every traveler is welcome.
Where to camp:
If the hotel scene isn't for you, set up a tent at one of the beaches or campgrounds around Tahoe. Some have a really great view of the Lake and surrounding mountains, and many are near some great hiking and biking trails, and there are convenient places all over the lake to rent kayaks, paddle boards, boats and bikes if you didn't haul you own to the West Coast with you. Camp Richardson on the South Shore of Lake Tahoe is one of the most popular campsites, and they've got plenty of room for everyone. Fallen Leaf Lake is also on the South Shore, and a much more secluded area to camp on the beach, play with the dog or take a nice day hike.
Where to Eat:
If you're looking for a place in South Lake Tahoe to grab some grub, Cafe Fiore is a cool Italian place for a fancy meal and Orchids Authentic Thai Food is a top choice for something something a little more casual and affordable. There are also tons of great (cheap) Mexican restaurants, steakhouses and seafood joints in the area.
If you're staying in North Lake Tahoe, Bite is a cool tapas place in Incline Village that won't blow the bank.
Where to Gamble:
This isn't Las Vegas, but half of Lake Tahoe is in Nevada, and it's got the casinos to do the state justice. Many of the casinos are in hotels around Lake Tahoe. The Hyatt Regency is one of the most popular casinos in Tahoe, with plenty of tables and games, a spa to celebrate your winnings and nightly entertainment to keep your non-gambling friends entertained while you're winning big. Hopefully.
There are tons of things to do in Lake Tahoe, so you can just hit the highlights when you come for a weekend, or set up shop in a hotel or campground and stay a while to get even more done. It's not a bad choice when you're looking for fresh air and beautiful scenery and you can conveniently head to San Francisco from here before or after and get a taste of the California city life.
This article was written by Lizz Riggs, editor of TahoesBest.com.