I arrived at City Club Hotel, a small luxury hotel in New York City, in a frenzy. I had just finished attending an exhausting conference, and I rode over that night in a taxi whose driver was flying through Manhattan's backstreets like a bat out of hell. I never get nauseous on car rides, but the way he careened through the narrow roads at high speeds left me feeling queasy and unnerved.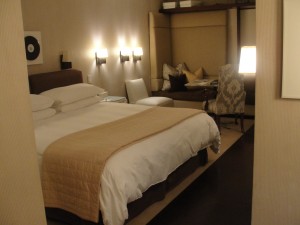 Once I walked into City Club Hotel, I immediately relaxed. The modern lobby was small and dimly lit, but in a comforting way—it was fragrant, quiet, and peaceful (when I left in the morning, it was bright and airy, so it's only dim at night). My tension subsided; I almost felt like I had walked into the entrance of a high-end spa. The two concierge women were helpful and friendly.
I was grateful to ascend to my cozy room and decompress. I rode up in a dim elevator with a modern decorative vase/stool, and emerged on a dark and contemporary hallway decorated mostly in black. Once I entered the cozy and well-lit guest room, it was easy to forget that the hectic streets of New York lied below. Modern and comfortable don't always go hand in hand, but I found that they merge seamlessly at City Club Hotel.
Background
City Club Hotel sits in the heart of Midtown Manhattan on the north side of 44th Street. It is located between Fifth and Six Avenues, making it a shopper's paradise. It is also very close to Times Square, the theater district, and Bryant Park.
It's no surprise that this 65-room luxury hotel feels classy; the hotel's literature says the designers intended it to embody the aesthetic—both in spirit and architecture–of New York's private clubs once visited by the city's elite. It was built in the New American Classical style and primarily uses the color palette of beige, brown, and pale blue.
The hotel has its name because it is housed in the former clubhouse of the City Club of New York, a non-partisan civic association that formed in the late 1800s. The current building became the club's home in 1904, though it became home to the American Plywood Association and a law office before becoming come to City Club Hotel in 1999 (it is unaffiliated with the current City Club).
While the hotel is primarily made of four standard guest room sizes, it offers three Grand Duplexe Suites fit for royalty. These 750-square-foot accommodations are two stories; they have a living and dining area downstairs and a spiral staircase leading to the master bed upstairs. They feature 20-foot ceilings and private terraces.
The Guest Room
I stayed in a King Luxe room on the seventh floor, and surprisingly, I heard no street noise from my room. Maybe this is because it was a Sunday or because I kept the air conditioner on, but it was wonderfully quiet and peaceful–having stayed in many noisy New York hotels and apartments in the past, I really appreciated it. The room was very spacious and airy for a New York City hotel.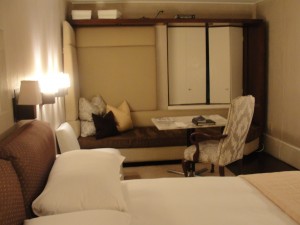 I have stayed in enough hotels in my lifetime that I'm impressed when I see something completely original. Like much of New York, the space here is used creatively. You wouldn't even know the hidden closet was there if it wasn't for that small silver handle protruding from the wall. The closet isn't the only thing in disguise. Upon entering the room, it appears as if there is no television. On the wall across from the bed is a tall vertical modern painting. Swing it open, and voila; there's your television. I was surprised that it was an old-school square television rather than a new flat-screen television that most hotels have adopted, but the cubby for the television behind the painting is in a square, so it would probably take some major renovations to accommodate that type of update.
The television also has a speaker in the bathroom, which is an interesting touch. They have a free DVD player connected to the TV and a large DVD library you can rent from at no cost. I used the DVD player to do an exercise DVD, and it worked perfectly.
Another thing that delighted me was a long, thick window seat (or daybed, as the hotel calls it), stretching the length of the wall with the window overlooking midtown. It was like an untraditional couch. One end of the daybed is like a love seat; it has padded walls on either side, with several plush pillows in the corner. There are several small lights above the length of the day bed. It's the perfect place to take a nap, read a book, or work on the computer (though there is a desk if you prefer that). I curled up here and worked on my computer for a bit, and it was very comfortable.
Above the bed was a framed vinyl record, which went along with the old-school club theme. However, the record choice was odd; the band was Canibus and the record title was "Watch who u beef wit." I saw online that while some of the rooms have these many of the rooms have different art, and some have framed old New York maps and playbills.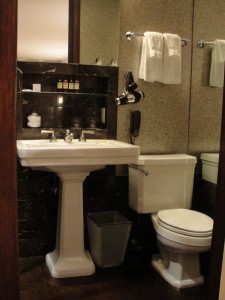 All guest rooms are outfitted with spacious regal marble bathrooms and a large, full-length mirror occupying one of the walls. The shower was very roomy; I found it a bit strange that it had a plastic curtain instead of a glass door, though it did make the space a little more flexible.
I slept like a baby in the plush king size, down feather bed. The headboard was padded, making it extra comfortable to sit up and read in bed.
Hotel amenities
It has become the norm for hotels to charge upward of $12.95 for merely 24 hours of wireless Internet. City Club Hotel sets itself apart with free WiFi, which I certainly made use of. I was a little surprised to see that there is a $1 line access charge for all external phone calls, but most people use cell phones now anyway.
Another huge perk is that guests can obtain complimentary passes to the New York Sports Club, located on the same block. They are open every day of the week and have a sauna, steam room, boxing, personal training, exercise classes, free weights, cardio equipment, and more.
Restaurant
The hotel's restaurant, DB Bistro Moderne, is headed by renowned chef Daniel Boulud. I had a friend join me here for breakfast (we paid for our own food). We ate in the front section of the restaurant, which is more casual and colorful than the back dining room. The decorations were contemporary, bright, and bold, with walls and abstract art in deep shades of red and orange. It was a bit pricey, as you can expect any hotel restaurant to be, but we enjoyed the ambiance and thought our food was delicious (I had a yogurt, granola, and fruit parfait). The back dining room of the restaurant is more upscale and less colorful—it really does look like a restaurant in a swanky private club.
Disclosure: I was given a complimentary one-night stay for review purposes, though this review is fully objective. My meal was not paid for.