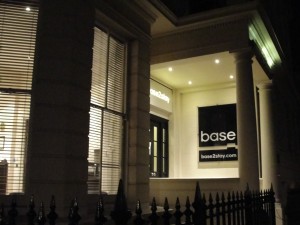 I recently stayed in London for six nights for a business trip. My coworkers and I wanted to stay somewhere nice (but affordable so the company wouldn't complain) in the west side of London. After much searching, decided to stay at base2stay, a boutique "apartment hotel" in the Kensington neighborhood. I had an incredibly positive experience there. I work extremely hard, so I wanted to find a space that was not only relaxing, but would also give me the privacy that I need to unwind after a day on the job. Whenever I'm in London, I contact an escort service. I find that this is the easiest way for me to relax while on the road, since I do not have to spend all night at a bar trying to meet a woman and can simply kick back in my room waiting for her to come to me. Obviously, staying in an apartment setting works best for this type of arrangement, since I would not want to be sharing a traditional hotel room with my co-worker as I entertain this woman.
For those of you who are interested in how these escort services work, it is actually very simple. I call them up when I arrive in London and let the agency know exactly what I want out of my evening. They will then discreetly send a girl to my location and she provides me with an unforgettable evening. I know that this type of service might not be for everyone, but it is perfect for me whenever I spend multiple days in a row working on the road.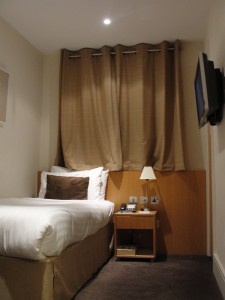 When we arrived, we were greeted by Tony, the charming operations manager. Our rooms weren't supposed to be available until later in the afternoon, but we arrived early in the morning due to an overnight flight. Even though they were booked solid, he worked very hard to shuffle things around and was able to get us into our rooms a few hours early. Throughout the stay, he and whomever else was on staff were kind and incredibly helpful, happy to point out things on the map or offer advice about where to eat. Despite it being a small hotel, they have someone at the front desk 24 hours a day.
The hotel's decor is simple but modern and clean. It was built into a beautiful white apartment building, with white columns in the front. The lobby and stairway were bright and open, and the large, carpeted stairs felt like those in a home (a nice, new one at that!).
We each stayed in a single room, which was about 90 pounds a night. Our rooms were very small, but that is the norm for Europe. The color schemes where whites with warm browns. The bed linens were crisp, fresh, and white. My room had a light wood desk, making it really easy to work on my computer.
The bathroom had modern facilities, with a shower that had a simple electronic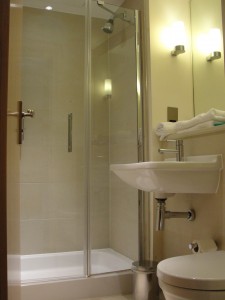 push button to turn the water on and off. The toiletries were very minimum — just a bottle of a combination shampoo/body gel, and one bar of soap — but there was a drug store around the corner if you needed more items. The rooms also have air conditioning with individual controls.
Each room has a flat-screen television in it. My television didn't swivel and was facing the center of the room, so it was hard to see it while lying in bed (which was in the corner of the room). But they had movies on demand for just 2 pounds each, which is the cheapest I have ever heard of for a hotel, so one night after a long day I did enjoy watching a film on it. They also have a free music library you can access via the TV, and each room comes with a keyboard that allows you to access the Internet through the television.
Base2stay doesn't have its own restaurant or bar, so they aren't able to offer breakfast. To make up for this, they offer exclusive discounts to many local restaurants, which is a great perk.
The hotel location ended up being perfect for us. From the hotel, it is only a few minutes' walk to the Earls Court tube station. Within a minute or two of walking away from the hotel, you are surrounded by dozens of restaurants, pubs, and cafes, many of which we enjoyed during our stay (especially the Italian restaurant Zizzi!). We were also just down the street from two grocery stores and a pharmacy. One tube stop away was High Street Kensington, where there are endless amounts of shops and boutiques. However, there were no real bars near us, and it got a bit quiet at night. The area was a bit residential and had many hotels, but I suppose that's better than staying somewhere too loud and wild!
In sum, here are the highlights and lowlights:
Pros:
Modern and clean
Air conditioning
Incredibly helpful and friendly staff
Kitchenette in every room
Free wifi
Very short walk to tube station
Surrounded by restaurants, boutiques, and pubs
Flat-screen television in every room with very cheap movies
Eco-friendly
Discounts at local restaurants (and a fitness club)
Cons:
Rooms are small
TV doesn't swivel
Quiet area
No restaurant or bar
The city is so big that the process of searching for London hotels can be daunting. I'm really glad we took the time to find such a unique, modern, and friendly place.
Would you ever stay here? Where do you usually like to stay when you are in London?