If you're the type who likes that queasy feeling in your stomach as you plunge into the unknown, or you channel your modern-day Indiana Jones and laugh in the face of danger, then listen up. Even historian/archaeologists-cum-treasure seekers have to let down their hair and get away from it all once in awhile, and the natural splendor of Krabi Province in Southern Thailand is an exotic way to do just that – if only for a few hours, before you take to the cliffs or caves. You could easily fill an entire week or two just basking in the lush paradise that is Krabi Province, but if you've only got a few days, or perhaps a long weekend, make Krabi your destination for adventure-packed fun.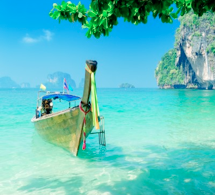 Pack Your Biker Boots
With light traffic, decent roads and heartbreakingly beautiful scenery, why inhibit your view with silly things like doors and windows? Renting a motorbike in Krabi is a great way to get around the area and take in all the stunning views in the process. Not only is it thrilling to feel the wind against your face and the roar of the engine between your legs, motorbike rentals are a cheaper way to see the sights than paying for a guided tour. There are plenty of rental spots near Ao Nang Beach, and while you do have to pay for your own gas, both bike and fuel together will run you only about 200 Thai baht – or six dollars and 50 cents, per day.
Hold that Rock
We hope you pack your rock climbing shoes, too, as Krabi Province attracts rock climbers from all over the world to its limestone cliffs. There's something here for everyone, though, not just the pros, and beginners will find plenty to teach them the basics, while the more advanced climbers are sure to enjoy a challenge.
The Railay Beach lagoon is a scenic and beautiful option, but in some spots after rainy weather you will find your feet coated in red clay mud, making it difficult to get the necessary traction. There are definitely sharp rock areas which are not best for beginners, as the cliff face is downright dangerous in spots. Start lifting now, because you will need your upper body strength to scale these rocks. While the beauty of the area might compel you to bring a camera to capture the impressive climb, resist the urge and bring only what you can fit in a waist pack or small backpack.
However, there are areas in Railay Beach for beginners, and some say there are over 700 different climbing routes just in this one spot. Truly advanced climbers will meet their match on LaoLiang, a nearby island off the coast of Ao Nang. The rock wall is part of a national park, so the tourist build-up which has occurred on other parts of the island hasn't affected this spot. The rock climbing industry here hasn't quite fully developed yet, but what is available is tough and challenging and could keep the most serious climber busy for at least a few days.
Go Ahead and Cave In
We mentioned the Railay Beach lagoon, which also features fascinating beach caves. The most popular cave in Krabi Province is also a stunning temple, called the Tiger Cave Temple, or Wat Tham Sua, about five kilometers outside of Krabi Town. The temple is, of course, a religious site where monks come to worship, and ancient artifacts have been dug up in the area.
Sra Gaew Cave is home to the deepest freshwater pool in Asia, but chances are good you won't run into the crowds of people you found at Tiger Cave Temple. This is a great place to ride your motorbike to, as it's a bit off the beaten path (though there are signs). Here the road diverges, and you can choose to go kayaking upriver to a natural spring or take the path that will lead you to the freshwater pool, which is 200 meters deep and stunningly blue-green.
Beachy Keen
Not your average pristine white-sand beach, Fossil Shell Beach located at Ban Laem Pho gives visitors the opportunity to marvel at fossils which are aged to be about 40 million years old. Just as incredible, past layers of shells cemented into layers of rock slab, which then shifted during natural geographic upheaval, creating an effect we usually see in poorly maintained city sidewalks.
Mark Simpson is a contributing writer and avid rock climber who just recently scaled the rock walls in the national park on the island of LaoLiang for the fourth time.