I always pictured Las Vegas as a rowdy adult playground full of loud slot machines, endless booze, and trashy clubs. That's why I was probably the only 27-year-old who had never been.
I'm a laid-back chick who isn't much of a drinker or partier. I didn't think I would enjoy it.
A good friend and I wanted to go on a trip together this summer, and Vegas came up as a joke at first. She had been before, and then said in all seriousness that we could actually have a great time as sophisticated ladies. She swore that we didn't have to gamble or dance on tables and there are plenty of classier things to enjoy, like live entertainment, fine dining, shopping, and pool time. I could get down with that.
I recently returned, and while we did have some unpleasant encounters with unruly drunks, we enjoyed exploring a sophisticated side of the city that I didn't even know was there. It wasn't all cheap, but we found some ways to cut down the costs. Here's how you can see this side of Vegas and save a little money, too.
The shows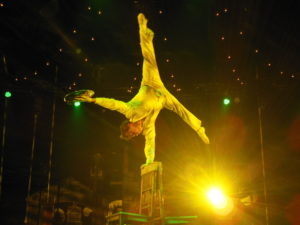 One of my favorite things about Las Vegas is its world-class entertainment. While you can certainly go see campy shows like Chippendale's or old-school singers like Donnie & Marie, Las Vegas is full of A-list acts that appeal to 20somethings.
We saw shows three of our four nights: Cirque de Soleil's "Love," David Copperfield's magic show, and Absinthe, an old-school circus (pictured). Copperfield's show was a bit cheesy and not nearly as exciting as the huge show I saw him put on in Houston when I was a kid, but it was still fun. I adored "Love" and was brought to tears at one point, and I was thrilled with Absinthe. I wish we were able to fit in more shows! People raved about "O," another Cirque show. We heard that The Venetian's rendition "Phantom of the Opera" was also fantastic.
The downside is that shows are expensive. While worth it, after tax, "Love" tickets were $120 per person. We learned from locals working at The Palazzo about Tickets 4 Tonight, and we used it David Copperfield and Absinthe to save. They have several locations, and we went to one on the Strip next to the Venetian, just after the Denny's. They sell discounted tickets to shows for either the same day or the next day. Sometimes the discount is only $10-$20, but some are half off. You have wait in a line outside until it's your turn (it may take 20 minutes or longer in the heat), but if you get tickets from them and go back again with the receipt, you get to skip the line. That saved us a lot of time the second day. You can also purchase discount vouchers for restaurants from them.
The food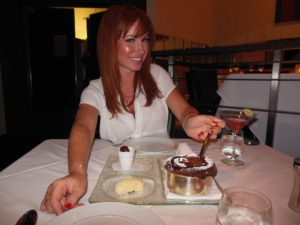 The world-class dining in Las Vegas was another reason for my visit. All of the major celebrity chefs have restaurants here, and the quality of ingredients is phenomenal. But it's not cheap. As I mentioned above, we learned that Tickets 4 Tonight can also get you restaurant discounts. While some of their options are gross buffets I would never go to, some are actually for fancy restaurants.
At the same time we bought our Absinthe tickets, we paid $3 for a voucher that gave us a 20% discount at Spago, a Wolfgang Puck restaurant in Caesar's Palace. I thought it might be a scam, but the restaurant accepted it, and we saved a ton of money on a fabulous meal. To the right is my friend Jessica with the made-to-order chocolate souffle at Spago. Be sure to read about my other adventures in dining out in Las Vegas.
Fitness and spa
If you only came to Vegas to party, then you probably have no interest in fitness activities or spa treatments, but for me, those are often essentials for a good vacation!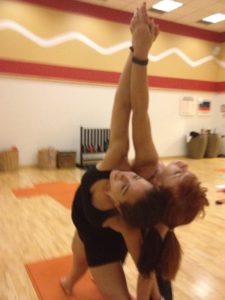 For an optional $40/day fee, you get a Spa Passport that gives you full access to the Canyon Ranch facilities at both The Palazzo and The Venetian. If you get a spa treatment, the price goes down to $20. That may sound like a lot, but there is so much to do that you could easily spend half a day getting your chill on. This includes two gyms and a variety of group classes. We took a 90-minute 8 a.m. yoga class on The Venetian side, which was a great way to wake up and get going. Our teacher, Angela, was amazing and invigorating. She saw that we were advanced yogis and taught my friend and I how to do some really cool partner moves together (see one of us to the left!). I also got a massage from Gabriel, a funny and strong Romanian man who did an amazing job working out the knots in my muscles.
In addition to the classes and gym, the Spa Passport also gives you all-day access to a Jacuzzi and nice locker rooms, plus Aquavana, an innovative spa experience. They describe it as a "European-inspired aquathermal oasis offering intriguing treatment suites designed to relax your muscles, enrich your blood with oxygen and rid your body of toxins." There are a variety of chambers, from an igloo room to a Finnish sauna to a rainshower experience. Each gender has their own Aquavana, but then there are several co-ed chambers, such as a salt grotto and the wave room. They have suggested circuits to cycle from room to room. I popped into all of them to check it out, and I've never seen anything like it. I want to go back!
If you want a free way to work out, just start walking. I thought people exaggerated about how much walking is involved, but no. The hotel rooms are often quite a hike from the elevators. Then you have to walk all the way through the casino and the large lobby just to get outside. Walking from one casino to another takes forever. We walked miles a day without even trying.
Arts and exhibits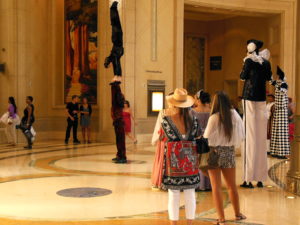 Another thing that surprised me about Vegas is that it has museum-caliber arts and exhibits. The Venetian and The Palazzo were in the midst of its Carnevale celebration when I arrived, which lasts until September 9. The festival celebrates Italian culture with free events that include performances (song, dance, etc.), art demonstrations, a parade, art walks, and more. I stumbled upon several live performances, such as the one to the right. The Venetian also currently has a world-class exhibit called Leonardo Da Vinci — The Genius, with more than 200 pieces, 75 large-scale machine inventions and 11 themed areas that show his diverse talents. We ran out of time to go, but is there through October 15, and tickets are $27.
The Luxor currently has a large exhibit of artifacts from the Titanic that is supposed to be incredible, in addition to an exhibit of Bodies, which is that collection of preserved humans. The Titanic exhibit costs $32 and the bodies exhibit costs $28, but you can get a combo ticket for $55 on Vegas.com.
Pool time
My summer vacations require at least some relaxing by the pool. We found that there were nearly a dozen pools of all sizes spread throughout the grounds of The Palazzo and The Venetian, so we swam and sunbathed at a variety of them before we went out for the day.
We were given a pass to Azure, an exclusive pool club at The Palazzo. You can see me relaxing there to the left. Sometimes women are admitted for free, but dudes always have to pay. This extra barrier resulted in a crowd that was less rowdy than other areas–a huge bonus. It's a small area with fun music, and we had a dedicated waitress, Amy, who was so helpful and sweet. Their drinks were delicious, especially the sangria, and it was a fun way to spend a hot afternoon in the desert in between other activities.
Transportation
As I mentioned, walking is free, but it can take a while. It's about two miles from the top to the bottom of the Strip, but the sidewalks are crowded, the walkways meander, and there are long stretches with no crosswalks. We did choose to walk sometimes when we weren't in a rush or just wanted to explore, but had to take a cab a few times. We ran into a big pickle one night when our dinner at The Bellagio ran late and we needed to get to The Mirage ASAP for "Love." The cab line was absolutely massive and going so slowly. We decided to walk. Then run. Then sprint. Mostly barefoot. It took far longer than we expected, and we arrived dripping in sweat about 30 seconds before the show started. It wasn't pleasant. So give yourself buffer time if you have show tickets or dinner reservations.
Luckily, the few taxi rides we took along the Strip were only around $10 before tip. Split with one or more friends, that's really cheap. You can also take the city bus or Deuce bus to save more money. It's not expensive to get a cab to the airport, but if you want to save more, there is a $7 airport shuttle. But be warned–we tried taking the shuttle on the way back to the airport, but the one that showed up was full and there was no taxi line, so we cabbed it instead.
Shopping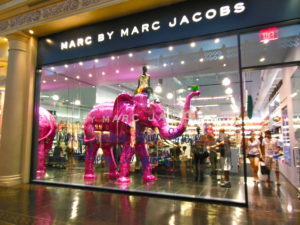 Vegas is a shopper's dream; every top designer has a store here. The window displays were fun to look at, like the one I saw to the right. I thought I would only be able to afford to window-shop, but I was happy to learn that there were more affordable places, like a humungous H&M in the Caesar's Palace Forum Shops. Plus, every store we went to had sales, even the really fancy ones. We walked into Agent Provacateur to just look around, but once we entered, they told us there is a 50% off secret sale for the entire front of the store! There weren't even any signs about it. A place that would normally be totally out of the budget now wasn't so bad.
Random tip http://maiden-voyage-travel.com/1: Ask for prices first
It's the little things that add up. One day at one of the pools, I wanted a nice, cold Coke. After ordering it and getting a small cup mostly filled with ice, the bill was $4.50! That taught me my lesson. I also learned that there's a Walgreen's on the strip where you can get affordable snacks and drinks. The Denny's on the Strip sells bottles of water for $1 each. If you're a drinker, be warned that booze here can also be very expensive, so always ask for prices before you order.
Random tip http://maiden-voyage-travel.com/2: Avoid harassment
We couldn't figure out why, but 6-8 p.m. seemed to be the hours when we encountered the most drunk and obnoxious young people everywhere. But you can get hit on any time of day, and be prepared. I was traveling with a beautiful friend, and I saw all kinds of inappropriate male behavior. They would stop and stare, use horrible pick-up lines, growl, and some even got mad and yelled at her when she didn't respond. I think my wedding ring and stink eye kept people from messing with me, but I also didn't show much cleavage or things that were very revealing. If you think you can wear a crazy or risque outfit because it's Vegas, it's true that anything goes, just make sure you want the attention that will go with it.
One young guy in a taxi line was shamelessly gawking at my friend. I called him out on it and he laughed and said, "Sorry…you know, everyone here is just looking to get laid." That's the Vegas that I was worried about, but it was nice that it was mostly avoidable. Have you found any other ways to enjoy the classy side of Las Vegas?
Disclaimer: I was given a two-night complimentary stay at The Venetian for review purposes, and a few of my meals/activities were included, but no positive reviews were promised and all opinions are my own.