The following is a guest post by Duncan Heath.
Vietnam is one of those countries that unfortunately carries with it an air of preconceived misconception and is unfairly dismissed by many as a country that is not practical to visit, and indeed does not want to be visited. This, however, could not be further from the truth. This post will hopefully not only dispel many of these myths, but also highlight why Vietnam is one of the most beautiful and welcoming countries I have had the pleasure of visiting.
Of course Vietnam is dogged by memory of the war with America (and other anti-communist forces), and this period of history is bound to be etched in the minds of a whole generation of Vietnamese people.  But while archaeological and anecdotal evidence of the war might still remain, any bitterness or bad feelings towards the West have long been eroded. The Vietnamese–being largely of Buddhist faith–have an inspiring attitude of forgiveness, and seem to actually have far fewer hang-ups regarding the war than perhaps those they were fighting. Out of all the countries I have visited in Southeast Asia, the Vietnamese seemed the happiest, the most welcoming, and the least exploitative of tourists. Of course, this could be due in part to the fact that tourism in the country is still in its relative infancy.
America only lifted its embargo against Vietnam in 1994, which marked the inception of a steady increase in tourism to the country.  So while other areas in Southeast Asia such as Thailand and Malaysia have had time to develop (and often over-develop) a tourism industry, Vietnam is blessed with a non-touristy innocence.  I was lucky enough to visit both the main city centers and the most rural villages on my voyage by motorbike from Hanoi in the north to Saigon in the south. Here are the highlights.
Hanoi
Hanoi is the capital city of Vietnam, and from the moment you arrive,  you get the feeling there is a lot going on. You can see most of the city by foot, and this is best way to get around as the roads can get very congested, especially at rush hour. There is not really one main part of Hanoi, just a jungle of small streets that are home to hundreds of great shops, markets, restaurants and bars ('Top Pub' is the best). The most fun you can have in Hanoi is setting off in the morning with a map and lots of water and just wandering. You'll meet some lovely people, see some crazy sites, and somehow become inexplicably relaxed in this crazy city. Most of the excursions out of Hanoi are not worth doing to be honest, with the definite exception of Ha Long Bay.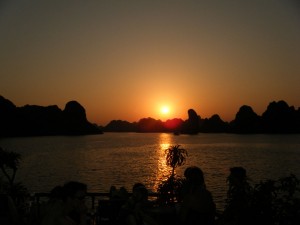 Ha Long Bay
You can't start heading south until you've taken a trip to the east coast and experienced Ha Long Bay.  With 1,960 mini islands jutting out of the water in the bay, exploring this place is like nothing else on earth, and it's truly one of the most beautiful places I've ever seen.
You take boat called a "junk" from the harbor, and depending on the length of your cruise, spend the days sailing between the islands and discovering little secrets such as hidden caves and floating villages. Alcohol is considered contraband on the boats, which I found out just after stocking up. However, in the evening you'll witness the bizarre site of hundreds of floating tuck shops (rowing boats filled with junk food and drinks) descending out of the darkness towards your boat, powered by old Vietnamese women in search of sale–I guess tourism does exist in some areas.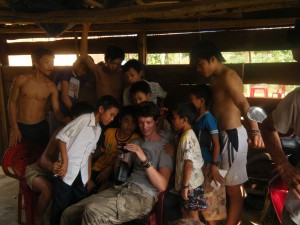 Ho Chi Minh Highway Village

If you're lucky enough to have a motorbike, heading south from Hanoi on the Ho Chi Minh Highway is a real treat. As all of the traffic and commercial vehicles take the faster (and far more dangerous) Highway 1 on their way south, this leaves the beautiful winding mountain road quiet and safer for you to enjoy.
This is also where you will experience tiny villages full of people who very rarely see Western faces. yet will greet you with a beaming smile and frantic wave.  If you don't have a motorbike you can still take an "Easy Rider" tour on the back of a guide's motorbike, although there is more choice the further south you go on the Ho Chi Minh Highway.

Hue
Sadly, I was only able to spend a short time in Hue, and so was unable to discover much of the city's rich culture and impressive architecture. A victim of heavy bombing in the war, Hue still displays many of its scars, but thankfully a great deal of restoration work is currently taking place. This includes ongoing work on Citadel, which I did get to visit. Historically this was a forbidden city, only to be enjoyed by emperors and concubines; today it is an understated tourist attraction that provides an enlightening look into Vietnam's past.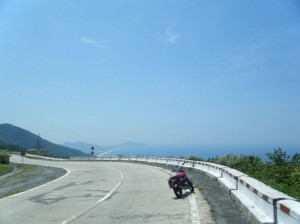 Hai Van Pass
If you thought the Ho Chi Minh Highway was beautiful, the Hai Van Pass will take your breath away. This mountainous coastal road connects Hue and Hoi An, and although only around two miles long, you could quite easily spend a week traveling it. Thankfully since the Hai Van Tunnel was built, traffic on this road has been reduced to a trickle, which leaves you to drink up the mouth-watering scenery that seems to get better with every turn.
Hoi An
Hoi An is one of my favorite places in the whole of Vietnam. Not only is it the tailoring capital of the country (and arguably the world), but the architecture is very easy on the eye and the locals are a real laugh. There are literally 20 tailors on every street, and regardless of whether you previously planned to buy something here not, you will leave with something tailor-made, that I can assure you! The quality of the fabrics, the skill of the tailors, and the ridiculously competitive prices make it a no-brainer. There are great restaurants here, and because the nightlife is limited to only a few bars, the place just radiates a chilled-out vibe that is incredibly addictive. It's no wonder I spent more time here than anywhere else in the country.
Saigon (AKA Ho Chi Minh City)
Saigon is the largest city in Vietnam, and as a result, feels the most Westernized. The traffic here is something else, and crossing the road is a death-defying act in itself. There is never a gap in traffic, so you literally have to walk out in front of it keeping a steady pass. Like the parting of the Red Sea, the traffic somehow opens up and bikes whiz on either side of you. You'll need a stiff drink afterward, and the best place I found was a restaurant called "New Pearl." The food was a great value, the staff were very friendly, and we all got a complimentary drink, which is pretty much unheard of in Saigon.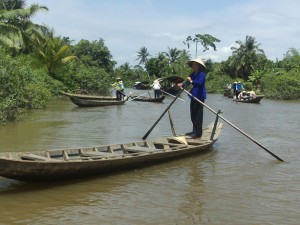 Unlike Hanoi, there are some great excursions to be taken in the surrounding areas, including a trip to the Cu Chi tunnels and to the Mekong Delta. The tunnels provide a fascinating insight into the lives of the Viet Cong (VC), and you leave only with amazement of how they outfoxed and outlasted the anti-communists forces. I lasted about two minutes in the tunnels, some VC spent years at a time down there. The Mekong Delta is also a very educational trip, but is a little more relaxing. As the closest site is around 3.5 hours outside Saigon, it is advisable to take a two- or three-day tour rather than trying to fit the whole trip into one day.  You do feel like you're in the film "Apocalypse Now" as you cruise along the winding forks of the delta, but at the same time the tranquility of the place supersedes any images of violence or warfare you might have in your minds.
This place really does act a metaphor for the whole of Vietnam. Despite what people have tried to tell you and show you about the place, only when you're here can you appreciate how wrong your preconceptions were.
Duncan Heath is an avid traveler who is lucky enough to have visited over 20 countries. He runs a surf clothing price comparison website in the UK called Extreme Sports Trader, featuring products such as Reef flip flops and board shorts.