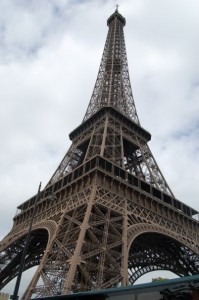 The following is a guest post from Ben Savill, and I have illustrated his post with photos I took in Paris in the summer of 2008. Ben runs offtoeurope.com, a travel blog that specializes in travel and vacations to Europe. When Ben isn't staring into his computer monitor, he enjoys traveling to unique destinations, great coffee and art house cinema. You can follow him on Twitter @offtoeurope and you can also subscribe to the site's RSS Feed.
Paris is a city of intrigue and romance, a place to stroll down tree-lined avenues or along the banks of the River Seine with a loved one.
Two days in Paris could never be enough and will only whet your appetite for further visits. Once you have marveled at famous landmarks like the Eiffel Tower, the Musée d'Orsay and Notre Dame, there is still an endless supply of quaint cafes, charming bistros and boutique hotels.
Many people visit Paris, which is known as the City of Light, for weekend breaks on the Eurostar route from London. St. Pancras train station was recently rebranded as 'Europe's destination station' by Tony Hodges, who came up with the wonderful idea of creating the longest champagne bar in Europe. Enjoy St Pancras itself and after a pleasant three-hour journey you will find yourself at the Gare du Nord.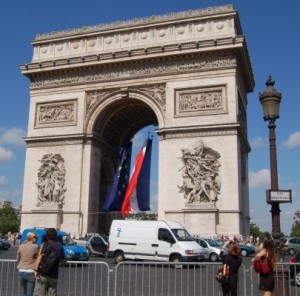 Everyone will have a different opinion of where is best to stay in Paris. Personally I like the Mecure hotel in Montmartre – the price is not prohibitive and the location is excellent. It is close to my favourite landmark the Basilica of Sacré-Cœur. This huge Roman Catholic Church has stunning views out across the city and is a great vista from which to appreciate the grandeur of Paris. Halfway up the hill, Au Pied du Sacre Coeur is a lovely little restaurant that does a good simple lunch. It's the perfect way to get your strength back after all those stairs.
Within Montmartre you can step out at night to the Moulin Rouge. The Red Mill cabaret is now part of folklore and although something of a tourist trap, still a lot of fun. Many great artists have performed here from Frank Sinatra to Liza Minnelli. The Can Can dance was created at the Moulin Rouge. Scenes of revellers at the Moulin Rouge were captured for posterity by the painter Toulouse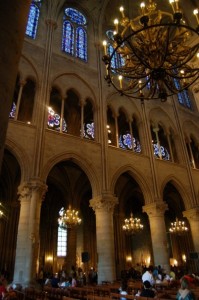 Lautrec, who was in turn the subject of a Baz Luhrmann movie.
Of course no trip to Paris would be complete without visiting thePremier Arrondissement. Whether you choose to enter the Louvre, the building itself is quite spectacular and only a short walk away from the Jardin des Tuileries where a giant ferris wheel looms over the impeccably manicured gardens. Stop for a drink at the Hemingway bar at 15 Place Vendome on your way to the Pont Neuf. Part of the Ritz Hotel this beautiful bar has been restored to all its former glory. The Eighth Arrondissement is also well worth visiting as it contains the Champs Elysée and the Arc de Triomphe. The best time to see the Champs Elysée is at night when the road is lit up to dazzling effect.
By the time you have got back to the hotel it will be time for dinner. La Coupole is five minutes walk away at 102 Boulevard du Montparnasse and this restaurant is world famous. It looks like a 1950s American diner but serves the finest French food. As an atmospheric culinary experience it is memorable.
This post is supported by: Cheapflights.co.uk – Anyone who is catching flight to Paris should visit just a few of the amazing places mentioned in this post. Paris is a truly amazing city, with a lot to offer an intrepid traveler.