This guest post is written by Nick Lewis. He is a web copywriter and long-standing resident of Brighton.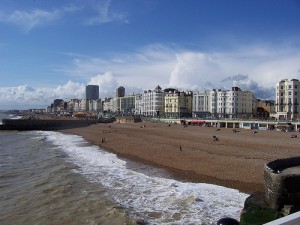 No trip to England would be complete without a trip to Brighton. Sure, London has all the headline attractions: Big Ben, the Queen, the Tower of London. But London can get a bit crowded, and as every Londoner knows, when the city gets too busy, it's time to go to Brighton. Brighton was recently declared Britain's hippest city by The Guardian newspaper.
Brighton started out as a medieval fishing village before gaining popularity in the 19th century as a health resort owing to the Victorian belief that sea air had beneficial effects. Following the introduction of bank holidays, Brighton grew into a seaside resort as tourists (mainly from London) came to spend the long weekend at the seaside. Now part of the city of Brighton & Hove and boasting two universities, Brighton has become a famously bohemian town, having recently elected Britain's first Green MP.
The population of Brighton is largely divided into three types: well to-do middle class types who have probably escaped the rat race of London, students, and what the locals affectionately call "crusties," the sometimes dreadlocked 'hippie' types. Spread between all three is the most concentrated gay population in England, reflecting the outstanding tolerance displayed by the Brightonian populace.
The varied locals have given rise to many different sides of the town. Brighton is famous for being a party town, and as such plays host to both top-name DJs in its many clubs, and does a steady trade in stag weekends and hen weekends (bachelor and bachelorette parties). But it is also known for having a high proportion of independent shops, cafes and restaurants and features some of the best vegetarian cuisine in the country. It is still also the bank holiday destination of choice and much to the resentment of the locals is sometimes referred to as 'London by the Sea.'
If you're visiting London and have a couple of days to spare, Brighton is only an hour away by train and will show you a much more relaxed side of England and will either appeal to the seaside loving part of you or the edgy bohemian part. No trip to Brighton is without a trip to the pebble beach, and the Palace Pier offers all manner of loud, brash, hilariously fun entertainment. You'd be surprised how addictive the penny arcades are.
If you stay for the night, the bars and clubs along the seafront are well respected up and down the country, although if you want to avoid large stag parties, you'd be advised to stay away from West Street and maybe move inland a little bit. The North Laines are the most bohemian area of the town and are your safest bet if you're after a more relaxed time.
During the day the North Laines also offer all sorts of independent cafes and shops. It has become something of a mecca for lovers of vintage fashion, and record buyers will be delighted. Brighton boasts the highest concentration of independent record shops in the entire country, most of which well-stocked with vinyl (if you've got the space to take it home with you!).
If you want to see some stunning British countryside, Brighton also makes an excellent base for this, nestled as it is in the lap of the South Downs, an official 'Area of Outstanding Natural Beauty.' A beautiful walk across the Sussex hills is just a short drive out of town.
For visitors to England, a trip to Brighton should be taken if you've got a couple of days. It's a great place to party, which is why it's so popular for stag weekends, it's a great place to relax, sample some great food and check out some vintage fashion and music; all whilst breathing in that fabulous sea air.
Have you ever been to Brighton? What did you think?
Photo by Berto Garcia