Emily's note: Yesterday, I returned from a four-night trip to New Orleans, LA. It was my first time to go there, so I will be writing many posts about New Orleans very soon. But while I settle back in and catch up on work, here is a guest post about New Orleans from Kristin Glenn, a lovely lady who knows the city inside and out.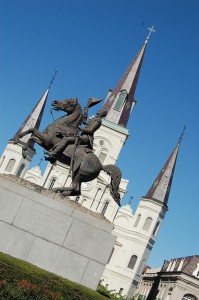 New Orleans is a hot, sticky, dirty city. Ask anyone what they love about it, and they'll immediately say, "Oh! Music, art, food, culture…"
But there's something else, too. Something indescribable. If you get it, you get it. If you don't, you'll still have a good time drinking Huge Ass Beers on Bourbon Street.
If you haven't been to New Orleans, go. Go support the people still recovering from Katrina. Go listen to the young brass bands popping up everywhere. Go to eat the seafood, while you still can. Go be a part of America's most interesting city.
It doesn't even matter what day you go. Because there's something going on every day, every week, all the time.
So here are my picks for a "locals" visit in the Crescent City. These are the things I take my family and friends to do when they visit. The back-door restaurants. The dive bars. The $1 drinks. Yes, it's true: somewhere in America, you can buy drinks for $1.
Monday
Take the free Algiers Ferry over to old Algiers, the "original" New Orleans. Not only do you get a great skyline view, but right along the river is the Jazz Heritage Walk. Just call 504-613-4062 when you get there for a free audio tour via phone. See the rest of Algiers while you're there; it's a quaint, less-visited part of the city.
Aimlessly wandering the French Quarter is an all-day pastime. You've got the pumping bass on Bourbon St. (even during the daytime), the art galleries on Royal St., kitschy shops on Decatur St., and the unbelievable food at Royal St. Deli, Bennachin's, Evelyn's Place, and Cafe Amelie.
If you thought there would be nothing to do on a Monday night, you were wrong. Walk down to Frenchmen Street for the "SuperJam" at Maison –a hob-knob collection of musicians from all over the city (sometimes as many as 40!) who gather to play funky New Orleans tunes.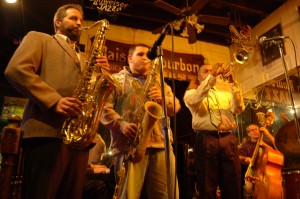 Tuesday
Get your culture on. Take the free 9 a.m. tour at Jean Lafitte National Park Visitor's Center in the French Quarter. Get there early; there are only 25 free tickets, and there's plenty to see while you wait in the visitor's center. Then check out the nation's oldest continuously run community theater, Le Petit, also in the Quarter. From 11:30 a.m. to 1:00 p.m., 30-minute films like "Mardi Gras Indians," "We Live to Eat," and "Battle of New Orleans" are shown.
Head up to Oak Street (listed on Oprah's "100 Things That Are Getting Better) in the late afternoon. Have a coffee at Z'OTZ and soul food at Jacques 'imos, the epitome of local eating. Whatever you do, don't leave NOLA without eating their alligator cheesecake.
Afterwards check out the Rebirth Brass Band at The Maple Leaf next door. Rebirth is the reigning king of brass bands, and the Maple Leaf is their Tuesday dive. Dinner at Jacques'imo's and music at the Maple Leaf are two must-do's.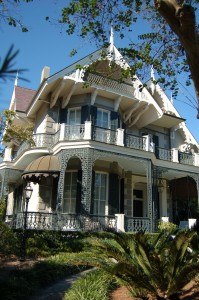 Wednesday
Take advantage of the mid-week traffic lull, and go for a bike ride.
Grab your own at Bicycle Michael's ($25/day) or go all out with a tour from Big Easy Bike Tours or Confederacy of Cruisers. They'll take you to the Garden District, tree-lined Esplanade Avenue, or the Katrina-devastated 9th Ward. If you're on your own, we recommend heading to the bike path near Bayou St. John (a gorgeous, historic neighborhood) via City Park, the lungs of New Orleans.
Thursday
See one of the most beautiful streets in the country for $1.25 via the St. Charles streetcar. Hop off for Frommer's self-guided Garden District tour (I hate to encourage guide books, but this tour rocks).
Wander over to Magazine Street, six miles of shopping, restaurants, and my favorite bar, Ms. Maes "The Club" where drinks are $1 and the doors are open 24/7 (yes, that's right, 24 hours a day, 7 days a week).
At night, choose between the Soul Rebels at nearby Le Bon Temps and Kermit Ruffins (the guy from Treme) at Vaughn's, further away. You can't make a wrong choice.
Friday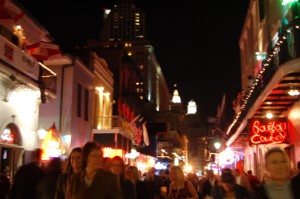 Friday is for boozing, especially in the underbelly of America. Head to the Marigny and Bywater neighborhoods, the "Brooklyn" of New Orleans.
You'd never guess it, but Mimi's in the Marigny is New Orleans' No. 1 bar. It's too nice to be a dive, but still has that neighborhood atmosphere. Up-and-coming bars close by include the Hi Ho Lounge, Ernie K-Doe's Mother-in-Law Lounge, Saturn Bar, and AllWays Lounge. You won't find any tourists here, but plenty of bar dogs, grungy bathrooms, and live music.
Saturday
There's a new phenomenon in New Orleans, and it's called Jitterbug. A ton of young people are learning how to swing (um, dance). They usually hit Frenchmen Street in the Marigny on Saturdays, hopping between the Spotted Cat, D.B.A., and Maison. The bands you can't miss: Washboard Chaz Trio, The Loose Marbles, Some Like It Hot, and Smoking Time Jazz Club.
Sunday
The Bywater: a hip neighborhood where all the artsy types live. It's almost too cool. Spend the afternoon at The Country Club, a gay-friendly home-turned-party-house complete with a restaurant, pool, and movie screen for late-night. When you've gotten your fill, move to Bacchanal Fine Wine & Spirits. Don't be discouraged by the dilapidated looks of the building. Inside, pick your wines and cheeses, and head out the the back yard where there's always a different chef du jour and live music.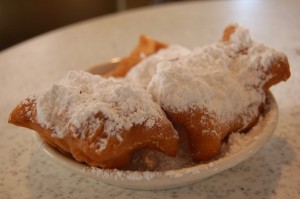 If that doesn't fill you up, there's a "secret" pizza place, Pizza Delicious, that makes NY pizza only on Sundays. Call (504) 676-8482. They'll hook you up and give you the secret directions.
The city of New Orleans is changing, and fast. The city is still in recovery, and it's a historic one. The demographics are changing. The culture is changing. The food is changing. So is the music. But despite change, one thing remains the same: New Orleans is, and will continue to be, unlike any city in the United States.
Go be a part of it. Just go easy on the Hurricanes and Big Ass Beers.
Kristin is a twenty-something currently developing an organic, fair trade clothing line in Central America. She writes about starting a fashion import business at Allofusrevolution.com and on Twitter at @allofusrev.