The following is a guest post from Olga Garcia, a seasoned round-the-world backpacker and expat. Currently she is the Social Media Community Manager for Going Global, a leading provider of country-specific career and employment resources for individuals interested in working outside of their home country. Follow her on Twitter at @olgaLG.
No matter where I go, I always carry my Thai smile with me. ~ Khun Tem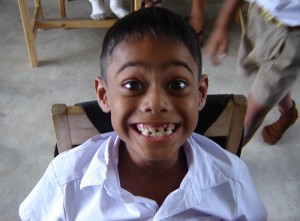 When my boyfriend and I decided to take a gap year after college, we were on the "no plan" plan. To start our year-long trek around the world from New Jersey, we bought three plane tickets, a year's worth of health insurance, a student travel card and a large backpack. Everything in between we left to fate except two deliberate country choices–one of which was Thailand.
There was this magical allure about Thailand that every traveler we met before leaving described. They were all drawn in by something different…full moon parties, glistening waters and ethereal beaches, Thai massages, lady boys, elephants that paint and play soccer, deliciously spicy food, the most 7-Elevens in the world. While everyone had their own marked preference, the one thing that resonated the most with all of them was the Thai smile.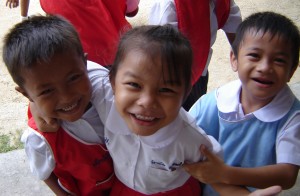 Among travelers, Thailand is also known as "The Land of Smiles." In Thai culture, the smile (yim in Thai) has a deeply rooted significance that aligns with their outlook on life. The use of the 'smile' is not meant to be an oversimplification of an incessantly happy go-lucky culture. It is rather a graceful approach to everyday situations in life regardless of whether they are constituted as good or bad.
The first time I experienced the spectrum of the Thai 'smile' was when I was 15. I was living in Hong Kong at the time and in order to graduate that year of high school, I needed to complete an interim program. I had to decide between an educational, adventure or service program. I wanted the adventure survival skills program in the Japanese mountains but everything was full except one volunteer interim. Since I had transferred late, my only choice was to volunteer with orphaned girls in Chiang Mai, Thailand. As I look back today, it was the best choice, especially because it made me smile more.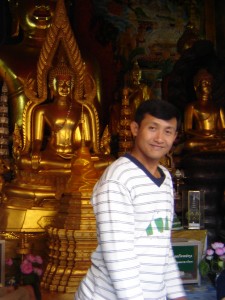 For one week, I lived with 30 orphaned girls who were between the ages of 14-25. There was something surreal about spending the first two days with them. They could not stop smiling. Their clothes were not fancy. They had little possessions. They slept on the floor and they ate simple (spicy) foods. My moment of humility came when I learned that the reason they were orphaned was because they were 'rescued' from either being sold into sexual slavery or being sold in exchange for drugs by their families. The smiles that they shared with me were ones full of wisdom, sorrow and genuine bliss.
Our bonding experience was one that was rooted in the exchange of these simple and yet deeply significant facial expressions. These 30 girls were not the only ones with this gift. It was everywhere around me – from the tuk tuk drivers, to the monks walking down the street, to the street vendors at the night market.
As I reflected on my experience in Thailand, the Thai smile had very little to do with material possessions, emotional states or acts of courtesy. They were genuine expressions of living in the moment and truly enjoying it.
Fast-forward seven years and I am back in Thailand. Rather than a week, I spent a full month testing these reflections all over Thailand. It would have been easy to assume that those smiles were ones under the guise of luring my boyfriend and I into tourist traps. We had traveled enough to steer clear of those situations. While we still went to the touristy places, we hung out with the locals, stayed in modest accommodations, volunteered at the local Thai schools, rocked out at local Thai concerts and played soccer with the Thai kids. We were even the only 'Westerners' at a local Thai party. The Thai smile was the same. My conclusion was that the Thai smile withstands the test of time and trial.
The Thai smile is facing a critical trial today. Protests that called for a change in government in early March turned violent from May 14–18th. One reporter compares downtown Bangkok to "more like Baghdad than a modern, tourist-friendly Asian metropolis." That element of allure from the Land of Smiles is on the brink of disaster. While it will take time to heal this deep wound and reinvigorate the country with that genuine smile, as an advocate of the Thai smile, I dedicate one smile a day to carrying on the legacy of the Thai smile everywhere I go.