Guernsey is home to one of the most beautiful harbors in Europe, it also has a lot more to offer for people that come here to seek out the sunshine.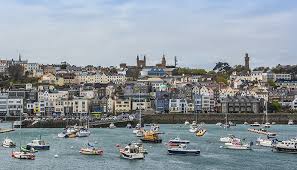 Many holiday makers from the UK go on holiday to Guernsey because they get to sample great weather that is usually associated with destinations in Europe. You'll be pleased to here that the island gets more sunshine that any other place in the UK, this gives it a great continental feel.
If you love beach holidays then it is definitely the place for you, there are 27 beaches dotted around the island that is only 24 miles square. There are craggy cliffs to clamber over and plenty of quaint villages to explore. Being less than an hour from nearly every airport in the UK there has never been a better time to visit.
Here are 3 things you can't miss when you visit Guernsey:
Catch some waves
Surfing is a must do here and the place to be is Vazon Bay. Located on the west of the island you'll find one of the oldest surfing clubs in the world! There are two options; you can take a lesson or hire a board and head out on the waves. I was a complete novice when I turned up and had to start by surfing on the sound, I can honestly say that it's pretty tough but a great experience.
Clamber on the cliffs
If you're feeling brave then there plenty of spots for you to jump off the cliffs, well more like low ledges. Petit Bot Bay on the south of the island. Don't worry about what to wear because you can hire wetsuits, life jackets and also helmets. Once you're all kitted out it's time to clamber over the rocks, squeeze through tight spaces and swim in to amazing natural caves.
Bike along the bay
If you don't fancy the adventurous activities above then a great way to relax is cycle around the island. One of the my favourites is the ride along the north west of Guernsey from Portlet to Rousse. Along the way you'll be able to see the dunes on the edge of beaches, beautiful fishermen's cottages, keep your eyes peeled for the unique blue pillar boxes too.