How do you like to travel?
Personally, I like to travel adventurously. Spontaneously. I don't always have everything planned in advance… I eat at random spots, find hostels on the street and plan activities according to what others say is good to do in the area. It's not always an easy way to travel, but it's fulfilling and I usually get some great new friendships out of it.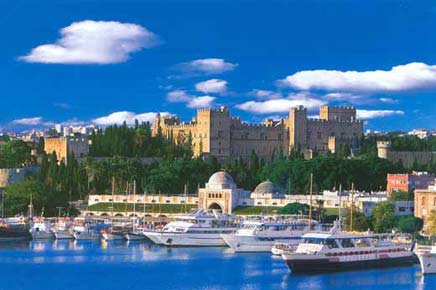 So previously, when I thought about all-inclusive holidays, I had imagined the exact opposite of this. How can you travel adventurously when everything is planned out for you? What makes your journey unique when many others are on the same holiday? I imagined that packaged holidays are for old or boring people. Yes I know that's harsh, but it's what I thought.
But then I watched these friends get whisked away to Rhodes in Greece, and I realized that my preconceptions of all-inclusive holidays are seriously outdated. Not only did these people find exciting adventures in Rhodes, but the daughter on the trip got to enjoy awesome attractions for kids and they all relaxed in the most luxurious hotel.
Another preconception that I had about all-inclusive holidays is that the food must be sub-par. I mean, if everything is included, how can they possibly afford to give you top-rate food? But the restaurants these friends ate at looked absolutely divine. They were able to sample all of the local flavors without the stress of figuring out bills or budgets. All-inclusive holidays definitely don't take away your chance to experience the local culture! They offer you the chance to tailor your holiday to your own needs, jump right into whatever activities you like, and take away stress so you are free to fully enjoy your holiday.
And if you're worried about the idea of obnoxious, "organized fun" activities, I can tell you that that's definitely an outdated notion. All-inclusive holidays won't include any activities that you don't want to participate in. If you want to go off on your own for the day and experience the local scene, that's great! But the all-inclusive holiday will also offer plenty of opportunities for adventures as well. The point is, it's completely up to you, as it should be!
So if you've held some previous notions about all-inclusive holidays like I did, make sure to check out the video that just might change your mind, like it did mine. I'd definitely consider First Choice for an incredible all-inclusive holiday for all the fun without the stress.