The island of Menorca is a fantastic holiday destination with around 120 beaches to choose from. But while some people will be content with picking one of these and stretching out on the sand there are others who prefer a more active break.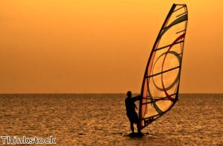 Do not fear if you fit into this latter category as Menorca's 216 kilometres of coastline makes it perfect for all manner of watersports. You certainly won't get bored on your cheap holiday in Menorca. Read on for a guide to the activities you can enjoy.
Kayaking and canoeing
Exploring the island's coastline by kayak or canoe is a great way to combine a sporting activity with seeking out some hidden places. Otherwise inaccessible beaches and inlets will be opened up to you as you paddle away from the crowds.
There are opportunities to hire canoes and book courses all around the coast, but Fornells is the unofficial watersports capital of Menorca so heading there is a great bet. For newcomers to kayaking or those who aren't as confident, it is possible to book a three or four hour guided tour, which makes for a great morning or afternoon splashing about.
Scuba diving
Whether you have been scuba diving before or not, there is a whole underwater world waiting to be discovered off the coast of Menorca. Start off with a two-hour taster session then go onto more advanced classes unless you are a pro then you can go straight into the more complex stuff.
There are approximately 45 dive sites dotted around Menorca so you could easily spend your entire holiday just diving if you so wished. There are caves, coral reefs and a plethora of multi-coloured fish in the crystal clear water, so don't just swim, jump right in.
Snorkelling
While anyone can grab a snorkel and mask and explore the areas close to the shore, it is worth taking a trip further out to see the best underwater attractions. Many of the scuba centres organise boat excursions where snorkelling is on offer, so you can still indulge your senses even is diving doesn't sound like your bag.
Sailing
If you would rather be in charge of the boat then why not use your holiday in Menorca as an opportunity to learn to sail? Or at least get started anyway. Choose from either a crewed or single handed boat and enjoy seeing it glide through the water, parting the waves.
Fornells Bay is great for beginners as it is sheltered and therefore relatively flat. Once you have started to perfect your skills then you can venture further afield. Holidays are a great time to learn as you feel more relaxed when you are home and don't have your mind filled with other tasks.
Windsurfing
Since it was invented in Hawaii in the 1930s, windsurfing has really take off and although it is a difficult sport to master, it is a really fun activity to have a go at. Especially if you learn in a group, meaning everyone can cheer and laugh at your successes and mishaps.
Most people sign up for at least four lessons so that they can learn the basics, which stretched over the course of your holiday, can lead to a lot of improvement. Children can get involved too, so it's a great way to spend some quality family time together.