San Diego and the surrounding area have a wealth of festivals during the autumn season. From beer and wine festivals to Mother Goose, this is one city that knows how to celebrate.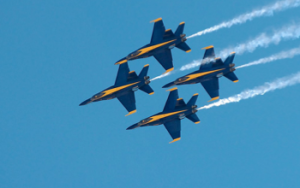 During some of these festivals, the city can get flooded with tourists, so book your hotels and San Diego city excursions in advance.
Miramar Air Show
For a truly uplifting event, check out the Marine Corps Air Station Miramar Air Show, to be held Oct. pfizer soft 4 – 6 this year.
The Marine Corps–organized airshow features radio-controlled planes, musical performances, flying demonstrations, a U.S. Navy parachuting team and fireworks displays. One of the main events this year will be the exhilarating Air-Ground Task Force demonstration, which showcases how air support, armor, artillery and infantry teams work together.
The Harvest Festival
Later in October, take advantage of the great arts and crafts at the traveling Harvest Festival, one of autumn's best outings in the San Diego area. It will be held this year on Oct. 18 – 20 at the Del Mar Fairgrounds.
The Harvest Festival craft show, founded 41 years ago, features culinary presentations, product demonstrations and, for children, hands-on craft opportunities. A main focus of the festival is showcasing local artisans' handiwork and letting savvy gift-buyers get a start on their holiday shopping.
Performances abound too, with musicians, comedians, dancers and even puppeteers making appearances.
Alpine Viejas Western Days Parade and Festival
In Alpine, the Western Days Parade and Festival is a great chance to celebrate Western Americana by taking in a craft show, a car show and, of course, a parade. It's sponsored in part by the Viejas Band of the Kumeyaay Indians, which has its headquarters in Alpine.
This family-friendly event will be held Sept. 29. Alpine is an unincorporated community about a 30-minute drive from San Diego.
The Julian Grape Stomp Festa
For messy, sticky fun, head to the Julian Grape Stomp Festa, where every September visitors to rural Julian have a "grape" time. A fundraiser for the Julian Chamber of Commerce, the main event is a traditional grape stomp. The 2013 date is still to be announced.
The festivities are held at the Menghini Winery, where the grapes are blessed, poured into barrels, and then stomped with (clean) feet to start the wine-making process.
Of course, no wine-making festival would be complete without a little wine-tasting as well. Adults can sample the area's wines while kids enjoy some of the more age-appropriate activities on offer at the fair.
Julian is about an hour's drive from San Diego.
Mother Goose Parade
Held on the Sunday before Thanksgiving, the Mother's Goose Parade is one of San Diego's most loved events. It's meant for children, but this themed parade wows onlookers of every age bracket. About 250,000 people show up every year, according to the parade's organizers.
Parade-goers look forward to seeing the motorized floats, giant helium balloons and celebrities. But, the parade's floats and balloons are not only for children's visual pleasure; entrants to the parade are asked to make their entries educational in some way. Past floats have included cultural, scientific, literary or environmental themes.
Another reason to anticipate this parade: Taking place just before Thanksgiving, it marks the beginning of the holiday season for area children.
The Mother Goose Parade is held in downtown El Cajon and starts at Magnolia and Main, then traverses Main to North Second and finishes by proceeding up to Madison Street.
The Encinitas Fall Festival
Experience laid-back Encinitas at its yearly street fair. This beach town on Highway 101 has held the fair every November for more than 20 years. In 2013, it will take place on Nov. 24.
Featuring more than 400 vendors selling arts, crafts, food and memorabilia, the Fall Festival helps with holiday gift shopping. It's not only about the buying and selling of goods, though. The festival also boasts live music on two stages and a beer garden for adults.
In addition to the temporary vendors and food stalls, the festival makes for a good chance to explore some of Encinitas' local businesses, which stay open during the fair.
Image by Insu Nuzzi From Flickr's Creative Commons
About the Author: Contributing writer Sherralyn Cooke is a retired graphic designer who now volunteers her time making pamphlets, flyers and other materials for nonprofits. She lives in San Diego.