I grew up in Houston, a Continental Airlines hub, so it was the primary airline we flew everywhere. My mom had a frequent flier account with them and racked up points from our travels with them. She also used a Chase Continental rewards credit card, which earned her miles for every dollar spent. She used it all the time to earn miles, but was smart and always paid it off quickly. She earned so many miles that she was able to take herself, my two siblings, and I to London and back when I was in high school–all on miles.
When I was younger, we set up a Continental OnePass account in my name, so I began racking up miles from my travels. A few years ago, I got my own Continental credit card. I use it somewhat often, especially on large purchases (though I always pay it off within a month if not right away). That's what really helped my miles add up.
About two years ago, I hit enough miles for a free round-trip domestic flight, but I wanted to hold out for a international flight to really get the bang for my buck. I kept on chugging, and I recently reached over 100,000 miles, hugely in part by using my travel rewards credit card and then paying it off right away.
I finally had my chance to cash them in this summer. My mom won a grant to study in Ireland for a few weeks this month, and she invited me to tag along with her for a week. A round-trip flight to Austin to Dublin on Continental (now United) cost 110,000 points. During the low season, there would likely be some options for fewer points, but those are usually for the flights with crappy times or tons of long layovers. I had accumulated 108,500 points. So close! Luckily, it was very cheap to purchase some extra miles.
After those purchased miles and taxes/fees, I paid $125 total for the round-trip ticket to Dublin. I looked up the full price for the tickets, and they started at $1,400! Here's the screenshot of my victory: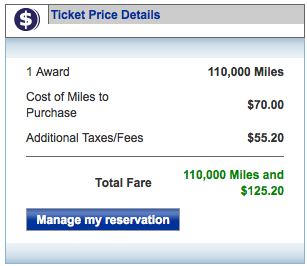 I highly recommend getting a travel rewards credit card if you trust yourself to be responsible with it. You can get airline-branded ones, like my Continental/United one, or you can get a general one that lets you accumulate miles for any airline. I haven't used that type yet, so I can't vouch for them, but I may try one of those sometime.
Click Here for additional Airline & Frequent Flyer Credit Card Offers
My friend Nomadic Matt is a travel hacking guru, and he has written posts about picking a travel credit card and why you shouldn't be loyal to one frequent flier program. Check those out for more info.
Have you ever scored a free flight from a travel credit card?
*Disclaimer: This post contains affiliate links, but I fully endorse the site, CreditCards.com–I used to work there full-time and have been freelance writing for them for four years. Gotta pay those bills!