I have just returned from my delayed honeymoon in Seattle and Vancouver. My friend and fellow travel blogger Natalie Taylor of Near Afar was just in Vancouver, and she passed along incredible amounts of helpful information to me before I left. So while I'm getting settled back into the real world, enjoy this awesome collection of tips from her about what she did and how to enjoy the city if you only have a few days! Be sure to find her on Twitter at @nearafar.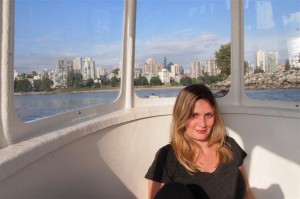 Here is an overview of what I did in Vancouver in addition to some notables that you may want to check out. You should be able to see a good chunk of everything in four days. Vancouver is an active, outdoorsy city, so be prepared to put on the running shoes! Honestly, Vancouver is so easy to get around. You can walk anywhere downtown. From Canada Place to Yaletown is about a 20-minute walk. If you choose not to walk around, you can get a nice car rental for a very affordable price or use public transportation. Bus fare is $2.50 each way but there are certain "zones" so it will be $3.75 for another zone (for instance, if you decide to get a ferry to Victoria).
Day One
I went to Granville Island Market. If you're downtown and it's nice out, I highly recommend getting a water taxi. I didn't eat here, but I have only heard good things and was recommended Go Fish by Randall Shirley of Five Faves. He's a Vancouverite and knows his stuff. I went to an awesome tweet-up on Granville Island at The Dockside Restaurant. They have a kick-ass patio with heated lamps and a fire. Plus, incredible views of the marina and False Creek. It's also a brewing company, so lots of beers. I had a Jamaican one with Hibiscus. It tasted like Fruli. SO Tasty! The food is casual–I had a pizza, and it was OK.  Unfortunately, there was no time to check out the Emily Carr school of art nearby.
Kitsilano Beach was a highlight. Logs are placed all over the beach and it's a great viewpoint of downtown.  There's also a park with these cool UFO swings.  We ended up walking over to West Fourth Street, which is the main street with the shops and restaurants. We ended up getting happy hour special $4 margaritas (and they were GOOD) at a place called Brown. The food looked really good too, but I didn't try it.  I also was given recommendation on Trattoria and it's on my next list. Walking around the neighborhoods and seeing the beautiful homes and roundabouts as well as stumbling upon a coffee shop was fun.  The water taxi offers incredible views of  Granville Island. It's not too expensive (about $7.50 return).
You could also co-join the Kits experience with getting a bus or taxi over to the Spanish Banks, which is an incredibly romantic viewpoint, especially at dusk.  I would recommend taking a picnic here, some towels/blanket and making it a half day. You can tell this is very much a local hot spot.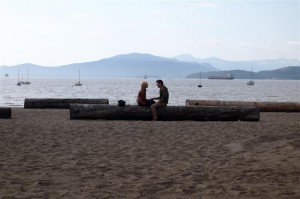 Day Two
I got up early and went to Capilano Suspension Bridge and Grouse Mountain (Grouse Grind is closed….it's WAY too active anyways).  You can get a shuttle from Canada Place to go; I then paid $2.50 to get on public transit from Capilano to Grouse. There is a free shuttle back from Grouse but it's very infrequent, so I'd find the times for that. Capilano was more of a highlight for me than Grouse, but there were many cool aspects to Grouse. The Lumberjack show is a hoot (VERY Canadian); there's grizzly bears and wolves; there was also snow there (in the summer) so going up a ski lift was interesting. The Eye of The Wind looked really cool but it was foggy, so I didn't go. That said, it looks like an amazing view point of the city.  It's also an extra $20. If it's foggy don't take the ski lift unless you like ski lifts (bring a sweater). There's also some really nice restaurants with stunning views so that might be an option, honeymoon-wise.
Timewise, I'd give Capilano about two hours if you do the history speech (it's very good), Cliffwalk and the Treetops (not necessary). Grouse will be about two hours if you don't do the ski lift. The lumberjack show is about an hour and then a half hour/hour for other sights and walking around. I suggest to go early and expect to be there for a half day if you do both activities.
Day Three
I recommend checking out the Convention Centre area and Canada Place. The new convention centre area is right near the harbour, where you can get a seaplane. The Olympic Cauldron is also right there. Both are conveniently located right across from the Vancouver Tourism offices. They are very helpful there and there's tons of handouts.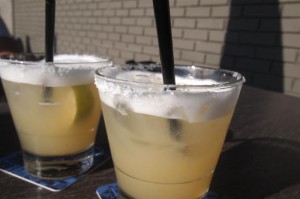 If you are feeling active and have the time, another highlight was renting a bike and biking past the Marina to Stanley Park. Seriously, it's the best park I have ever been to. It's like Central Park on crack. Biking around the sea wall and then inward was really cool. Unfortunately, because I didn't have enough time, I didn't get to make it around the whole park.  Make sure you get a map. I got a bit lost trying to figure my way back.  It's not too hard though, and the folks are very friendly and will help you out. I would allow a good three hours for this and bring snacks/water with you.  I also heard good things about the Aquarium, which is in the park.
I was also able to check out the Vancouver Lookout. It's $15 for adults. I don't think it's worth it, especially in the day and if you're paying for it. My pictures were all back-lit, though there was a lot of information on Vancouver and its history/facts. If you don't have the time, skip it and try something more outdoorsy. That's the beauty of Vancouver in the summer.
Day Four
There's some great shopping on Granville Street. If I had more time, I would have walked around a bit more and gone shopping in Gastown and explored the neighbourhoods a bit more.  Note that Chinatown around Hastings and Main is littered with homeless people. They're harmless, but it's not pretty. I experienced a little bit of asking for money in Gastown. Other things I might recommend: checking out the Art Gallery, maybe the library (it's huge) or doing a specialized day tour. I did the Takaya First Nations tour, and it was amazing. They are really passionate about what they do and if you want a bit of history/culture mixed in with some canoeing, it's a special experience.
WHERE TO EAT
Judas Goat: Funky room, great food, and Salt Tasting Room: A hip charctuerie and cheese/wine spot. Both are located in Blood Alley. Yes, it's across from a half-way house, but so much character here and it's safe. Honestly, Gastown is the Brooklyn of Vancouver and there are plenty of awesome options here.
Cafe Crepe: Super cute crepe chain (they have one in Toronto) and great for a quick snack or cheap breakfast. I love the ham and cheese or Nutella (plus strawberries). They have the best hot chocolate and great food if you're hungover.
Yamato: Cheap and cheerful sushi on Davie.
Bluewater Restaurant: Some of the best seafood. Expensive but the freshest you will get. We had great sushi here and the others had ceviche and oysters. In Yaletown. There's tons of restaurants here on the strip.
O Cafe at the Opus Hotel: Good coffee, cute pit stop, central.
Food carts: There's quite a few and they're great for lunch, especially with all of the parks around. I went to: Bun Me ($4.25 for Banh Mi near art gallery), Japadog (expensive for a hot dog but good snack), and Feastro ($15) but worth it. I had halibut. Really fresh here. Other options include Dirty Apron and Fresh Local Wild.
Don Guacamole's: The food there was GREAT. More of a casual place and really good value.
Il Nido: Really good pasta (had bolognese).  Nice courtyard also.
Meat and Bread: THE BEST. Go Go Go. Such a local spot. Especially if you love porchetta. Everything is fresh and made on the spot. It's about $15 and daytime only but it was such a highlight.
Where I wish I ate:

Nicli: Didn't get to go but the owner of Meat and Bread said it's the best pizza in town.  Plus, it's getting rave reviews. I also met the owner of Nicli and he's lovely.
Vij's: Also didn't go, but would LOVE to have gone. One of the best restaurants in Canada–everyone raves about this place. No reservations. Always a line. Go early. Even if you wait, the owner will come to you and give you chai tea. It's supposed to be such a treat and I'm going next time I'm there.
Medina Cafe for Breakfast: Innovative breakfast recommended by the chefs. Bummed I didn't make it here.
Kirin Downtown: According to a foodie I know, "the most amazing Chinese food experience ever. Everything was mouthwatering, we literally ordered like one of everything. the dim sum was insane. this place was also voted the best Chinese for the restaurant best of awards two years in a row."
C Restaurant: According to the same foodie, "Super amazing seafood, all local/sustainable, this is your more dress up night out. We literally ordered one of everything again, it was insanely good. Also voted as best of seafood place for Vancouver restaurants."
WHERE TO DRINK
Hawksworth Resto: They treated me like royalty here. It's not cheap, but it's worth it.
The Diamond: One of the coolest bars I have been to. Romantic and trendy. You can eat there too. They also have mixology classes.
I heard good things about the Railway Club too.
I can remember Labbatoir being mentioned quite a few times as a good place to go, but it's expensive and the atmosphere looks a bit high-end.
Six Acres seemed like a cool, casual place for a drink and a meal.
Resources:
Vancouver Magazine. It's just like New York Magazine but for Vancouver, great recs on best of, shopping, where to go, etc.
En Route–Air Canada's in flight mag, which is a great resource for what's new and hip in Vancouver
Top 10 Things to Do in Vancouver via the tourist site
________
Advertisement: Now is the perfect time to buy Fiji holiday packages!