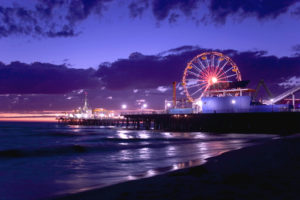 If you are looking for a beautiful vacation spot in California, Santa Monica is a great option. Exciting attractions like the Santa Monica Pier, lovely beaches, and outdoor festivals make sure that you won't be bored. Accommodations in Santa Monica also cover the spectrum – from beachfront relaxation to ostentatious luxury.
Hotels near the Beach
You can get a wonderful ocean view from one of the hotels on the beach in Santa Monica. Some of these hotels – like the Loews Santa Monica Beach Hotel or the Holiday Inn Santa Monica At The Pier – are within walking distance of the pier. Many beachfront hotels also offer beach wedding packages so you can celebrate your special data in style. These hotels are closer enough so you and your family can venture into greater Los Angeles if you want.
Boutique Hotel Experience
Looking for unique and hip accommodations? Santa Monica has a number of boutique hotel experiences to choose from. For example, the Hotel Shangrila has ocean views but offers intimate and lush surroundings so that you can relax and recharge. Another hotel, the Oceana Beach Club Hotel, was once an apartment building that was the home for movie stars but now is a luxurious hideaway by the sea – perfect for long weekends or short business trips. The Shore Hotel is for environmentally conscious travelers who want the best of both worlds – sustainability and luxury.
Budget Hotel Rooms
For vacationers who are looking for economy accommodations, there are several options in Santa Monica. Some of these hotels allow you to spend a little less on your rooms but still place you close to many of the interesting attractions in the city. These hotels like the Days Inn Santa Monica and the Comfort Inn Santa Monica still offer many amenities of luxury hotels like free Wi-Fi access and onsite swimming pools while taking a smaller bite out of your wallet.
Luxury Hotels with Amenities
You can also find hotels in Santa Monica like The Huntley Hotel and the Viceroy Santa Monica and that offers all amenities. Luxury hotels have sumptuous rooms with jacuzzi tubs, comfortable beds, and original artwork on the walls. Twenty-four hour fitness centers and room service are available along with a concierge service that is knowledgeable and can help schedule activities and make reservations during your stay. You may pay more for these services but for many visitors these conveniences are worth it.
No matter what type of lodgings you are looking for during your vacation, you can find it in Santa Monica hotels.