If you're twenty-something year old and is searching for love, go to Italy. I don't just mean love in the romantic sense though. I mean love in general whether it's love for yourself, love for a significant other, or love for life itself… it can be found and felt in Italy.
In all our travels, we always get to learn to love a country we're at and make it a point to keep memories of it. But for some reason, there is just something about Italy that can make any traveller want to keep going back and keep falling in love with it over and over again. It has a certain spell that it casts over you through its little and big treasures that keeps you wanting more. There are about a million reasons why travellers should visit Italy… Let us narrow it down in 5 little ways…
COFFEE
Even if you're not a fan of drinking coffee, you'd still fall in love with it in Italy. You might not drink it as much as the Italians do, but just the phenomenon of how much it is a part of their culture is so interesting that you'd want to have a taste of it. Whether it be an espresso, a caffe, a cappuccino, or any other variation of this fragrant caffeinated drink, you must not leave Italy without having a sip. I should warn you though, ordering a cup of coffee in Italy can be quite intimidating, only because they're very serious and particular about it. But I think part of the whole experience is the trial-and-error of it in learning the specifics of the Italian cafe culture until you find that one perfect cup for you to enjoy.

LANDMARKS
I think it goes without saying that Italy has one of the longest rosters of must-see landmarks, both man-made and natural that is in everybody's bucket list. It seems like every alley, every corner, and every structure in Italy is infused with so much culture and history that each place tells a whole story. It's so easy to simply get lost in amazement at the beauty and magnificence of Italy's most popular landmarks whether you are making a wish at the Trevi Fountain, admiring the countless paintings and artworks inside the Vatican, climbing up the steps of the Duomo, enjoying a gondola ride in the Canal Grande, or whatever other remarkable experience you are having with what this country has to offer. Just walking around the streets of Italy's beautiful cities and provinces will surely make you appreciate and value life so much more. La Vita E Bella!!!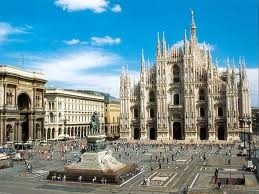 LANGUAGE
With its very distinct accent and intonation, it's not hard to imagine why theirs is called the language of love. There's something about how they speak with so much passion, emotion, and life that makes whatever they say seem so sweet and endearing. Hearing Italians speak amongst themselves is probably one of the things I love the most about travelling in Italy because it's just so full of character and animation which brings even the simplest conversations so much color and life.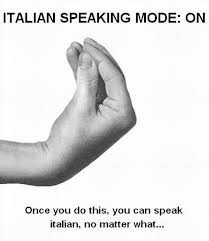 FOOD
I'm sure this doesn't even need any explanation as Italian food is a universal favorite for most. Their mix of flavours, spices, colors, aromas, and textures in their food is truly an art form in itself and every dish is simply mouth-watering. I think though that the reason why Italian food is so appetizing and scrumptious is because each meal is made with so much love for food that it resonates in our palettes as we taste the passion for culinary perfection that was exercised to create such delicious dishes.
PEOPLE
Without a doubt, the number one factor that you would fall deeply in love with in Italy is its people. Italians are just so warm, friendly, and welcoming who love to eat, drink, relax, be merry, and enjoy the best things in life. I think it is in their innate DNA to be unbelievably pleasant and accommodating to people and it comes so naturally for them to engage you in such warm conversations. They are very passionate about everything and it is so contagious and overwhelming that you just have no choice but to get enveloped and influenced by it. I truly believe that its people are Italy's biggest asset and attraction. They make you want to live and love your life so much more and let you see yourself with more purpose and passion than ever before.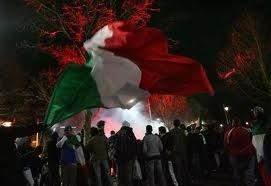 There are about a million reasons why every traveller should go to Italy. Go out there on your own and find out for yourselves how this amazing country can help you find, and feel the love you seek in your life.