When I traveled to Alaska a few summers ago, it was exactly what I had pictured. Cold, rugged, and breathtaking. We explored Alaska's Inside Passage, a coastal area that is full of isolated communities, by cruise with the Regent Seven Seas line.
For our stop in the small town of Ketchikan, we chose an excursion that involved riding a catamaran through the Misty Fjords National Monument. This 2.3-million-acre area was covered in ice 17,000 years ago, and what remains was carved out by glaciers. It left behind saltwater fjords with mountains up to 3,000 feet tall and waterfalls 1,000 feet tall.
While this area does have a tendency to be misty (hence the name), when we visited, it was clear and sunny, which made the visibility perfect. Despite it being in the dead of summer, the weather very chilly. It got even cooler once the boat took off and began picking up speed. The interior of the boat was warm and had many comfortable cloth seats in rows–it almost looked like the inside of a nice coach. There were windows all the way around for those who wanted to observe without facing the outdoor elements. But my family and I donned mittens, beanies, and windbreakers to enjoy the view outside on the deck. The strong, biting wind threatened to knock me over, but the gorgeous surroundings and fresh mountain air were worth it.
Throughout the journey, I saw bald eagles, sea lions, waterfalls, icy peaks, endless evergreen forests, and uninhabited islands. I don't remember seeing whales on this excursion, though I saw them from our cruise ship several times. Here are some photos I took on this several-hour adventure along with more details about what I experienced.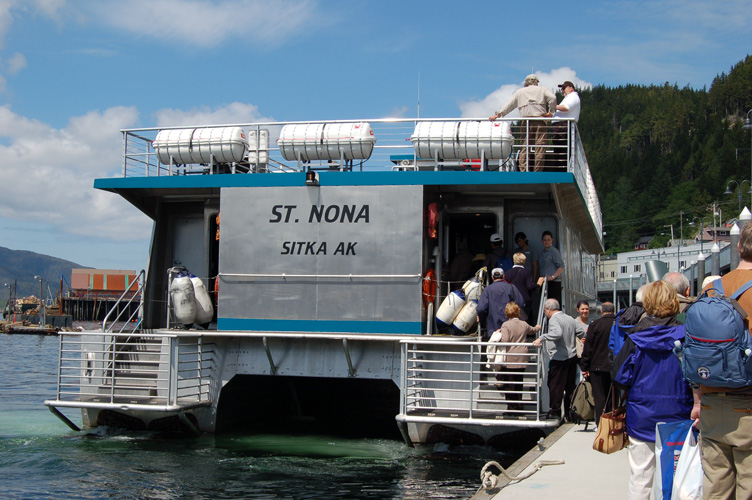 I took this photo of the catamaran, the St. Nona, we rode for our journey. It was actually very roomy inside. A guide was inside on a microphone, and she discussed everything we were passing by, from wildlife to geology to strange historical tidbits. We came back in from time to time when we got too cold, and it was fun to learn more about the landscape we were passing. She told us that kids in Alaska went through wilderness training (I think in middle school) as a part of regular curriculum since those outside of major cities have to deal with rugged terrain in sparsely populated areas on a regular basis. In one of the challenges, you have to survive for two nights on your own, and the only supplies you can bring must fit in a coffee tin!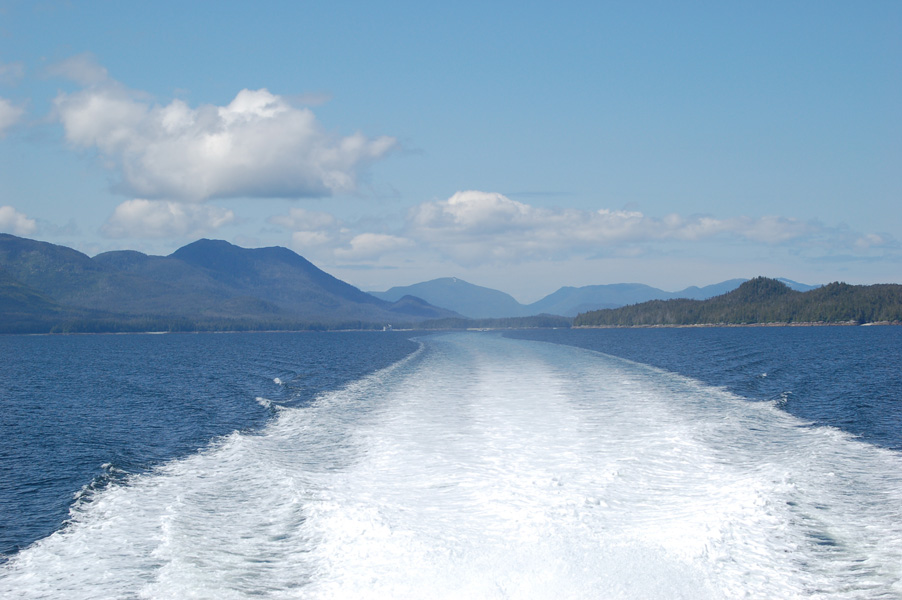 I took this photo looking back on the ship's wake. From this photo, it almost looked like I was somewhere in the Caribbean!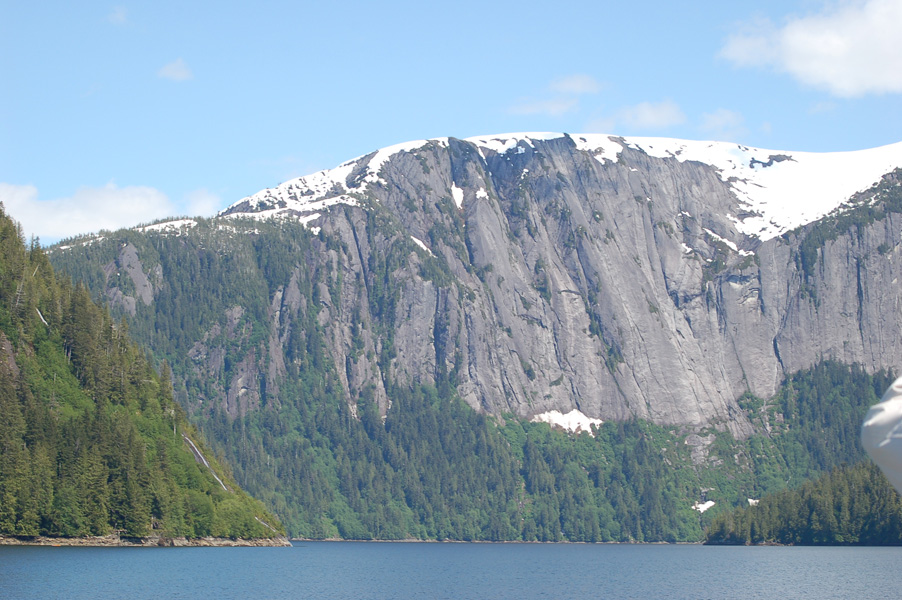 One of the many snow-capped cliffs left behind from the glaciers.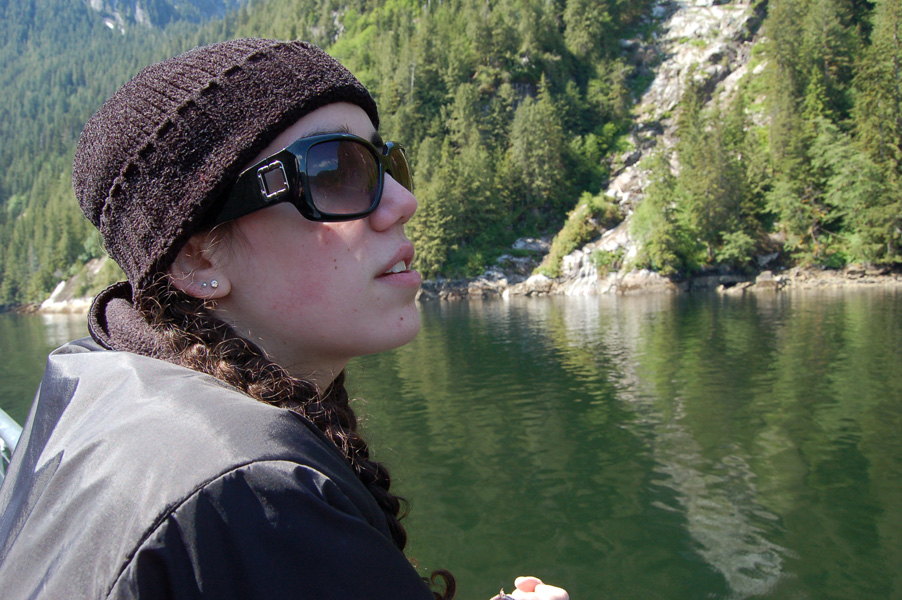 On a few different occasions, the boat stopped moving so we could really enjoy the surroundings of a particularly beautiful area. My sister took this picture of me in my beanie observing the scenery on this stop. It was hard to imagine that all of this greenery is a result of millenniums of ice. The water was a beautiful blue-green shade, and the cliffs were lined with colorful evergreens.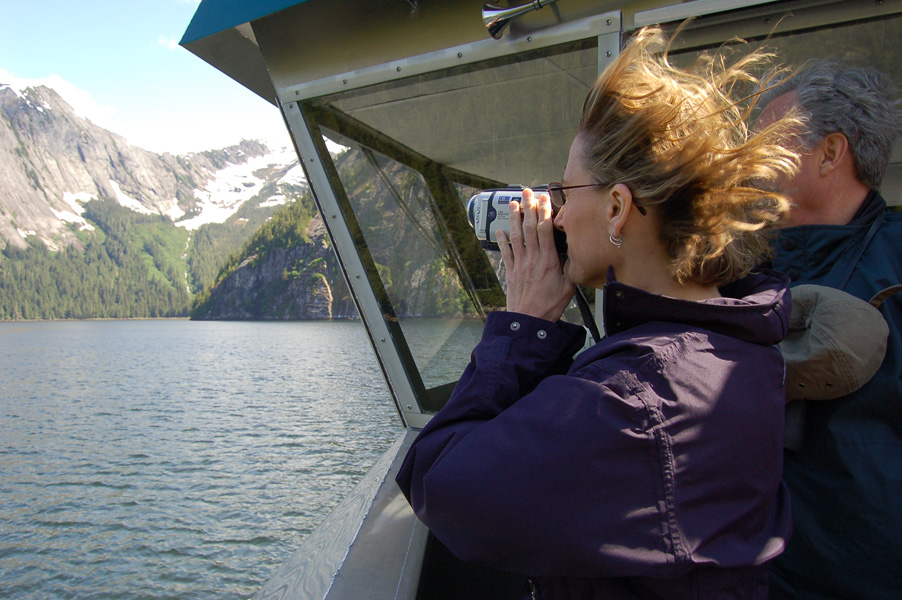 For an example of how incredibly windy it was on deck, check out my mom's hair in this photo below (sorry Mom). I had to put my long hair in pigtails to keep it from slapping me in the face. We all bundled up together to stay warm, but you couldn't beat the view!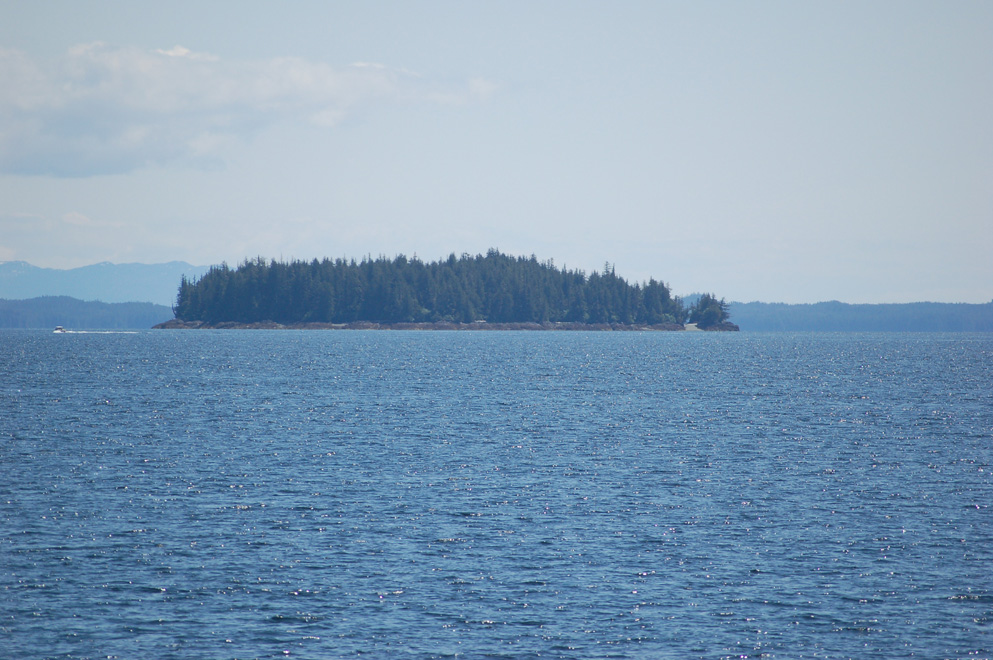 The Misty Fjords lie in a very desolate part of Alaska, and we passed by several small, uninhabited islands like the one above. They were a little creepy.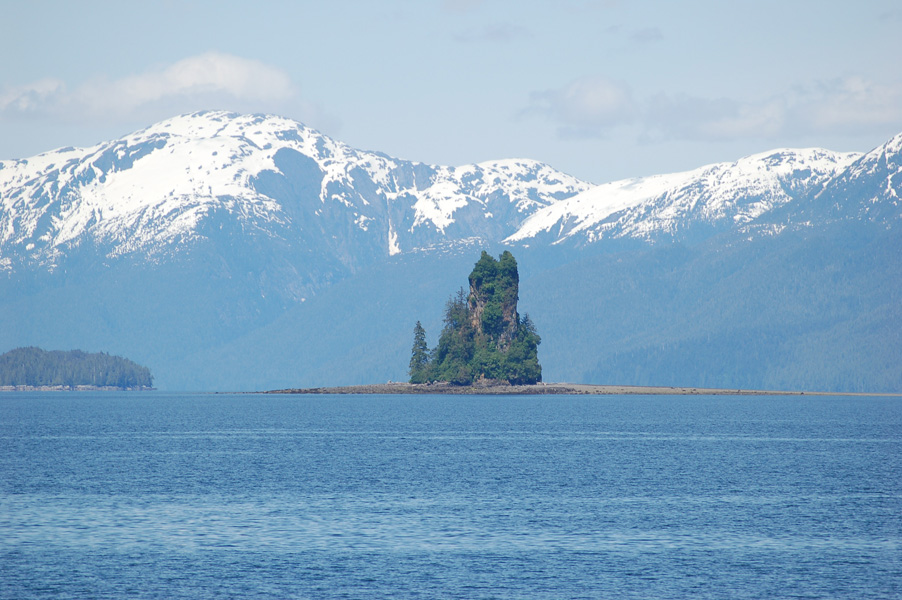 We passed by towering ranges of snow-capped mountains. In the foreground of this photo is New Eddystone Rock, a pillar of basalt about 200 feet high that was part of a volcanic vent millions of years ago.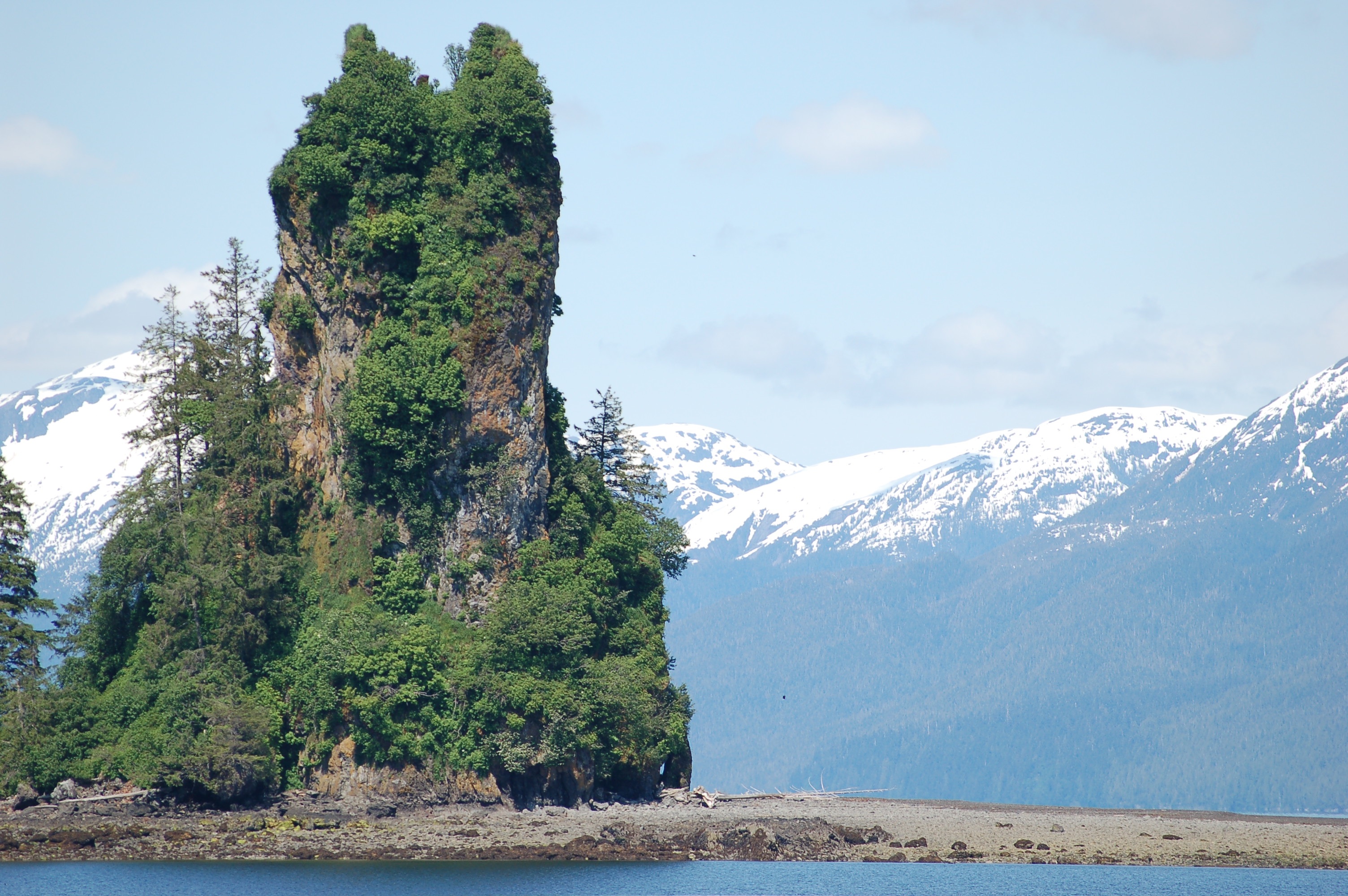 Here is another photo I took of New Eddystone Rock once we got a little closer. It's hard to do it justice in a photo, but it is absolutely massive in person.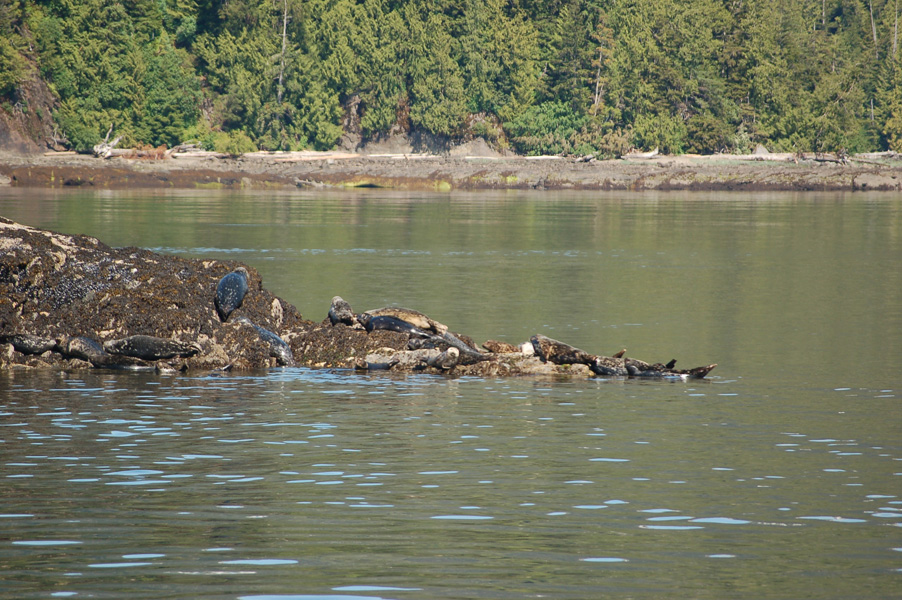 One of my favorite moments was wen we passed by sunbathing sea lions.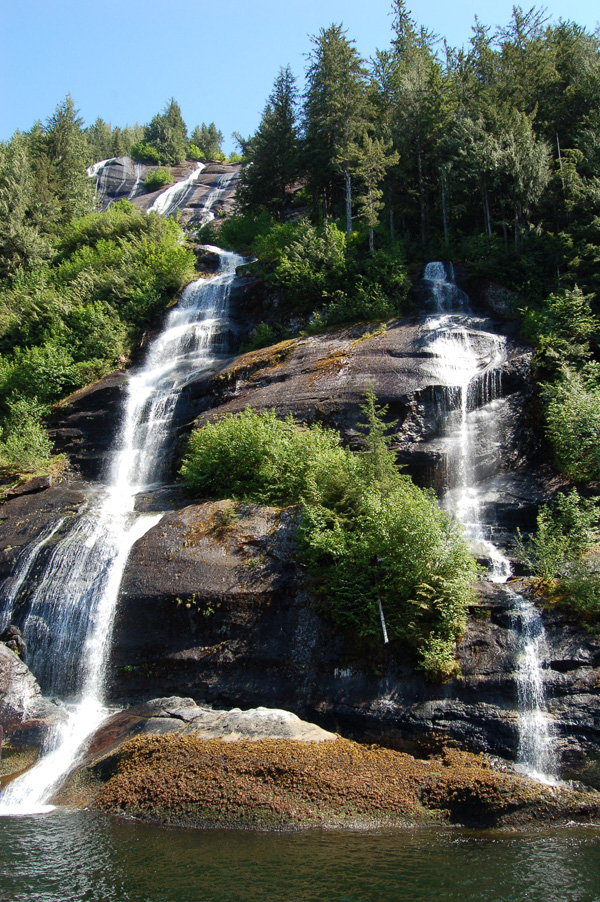 Due to melting ice, there were waterfalls cascading down so many of the cliffs we passed.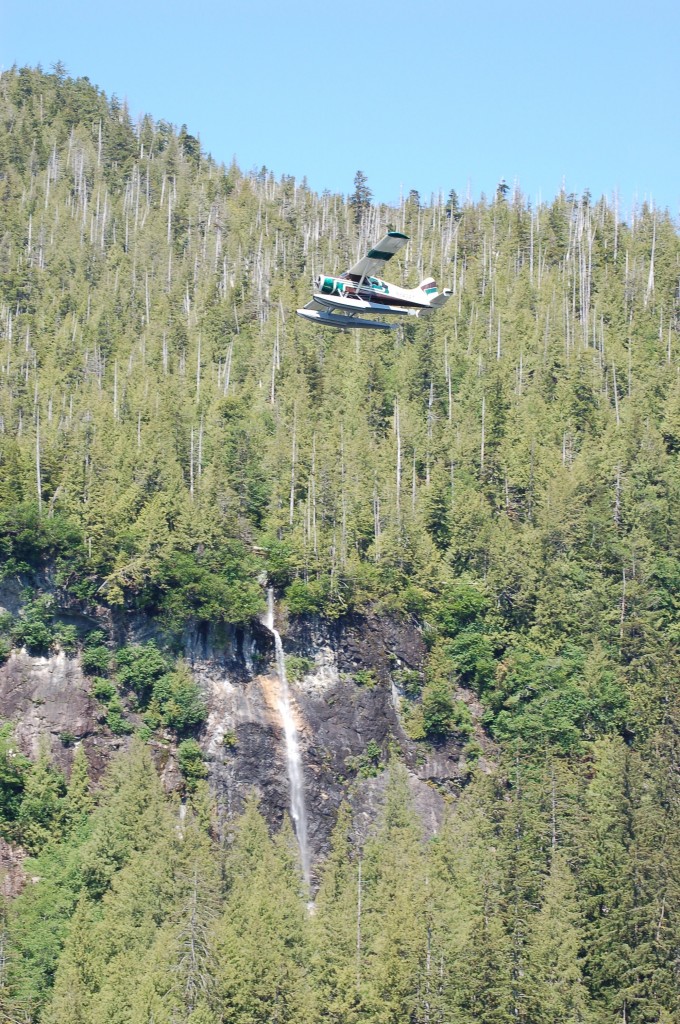 Many travelers choose to explore the Misty Fjords like we did via boat, but another popular option is to tour it by floater plane. We saw many fly past us during the trip.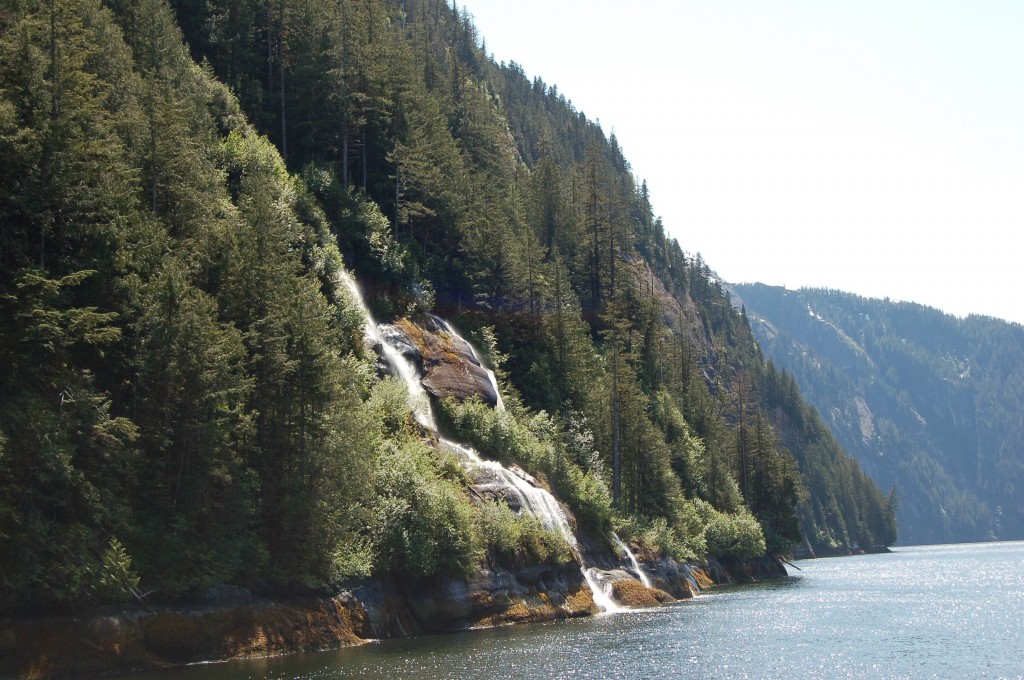 More waterfalls. They were everywhere. It was odd to have snow-capped mountains and cascading waterfalls in the same place, but strikingly beautiful.
Have you ever been to the Misty Fjords? What did you think?