OK, so your big day feels like ages away but it's amazing how quickly it can all creep up on you. While you may feel like you're up to your eyeballs in wedding plans, a thought or two should also be spared to think about what happens after you say 'I do'. The honeymoon is the part of the wedding celebrations that can be enjoyed by just you and your other half and consideration should be given to the destination that will bring you so many romantic and unforgettable memories.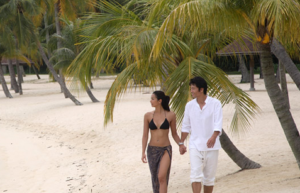 Mauritius
The pinnacle of Indian Ocean hotspots, Mauritius is a popular choice for honeymooners and it's easy to see why. From the miles upon miles of glistening coastline to the natural beauty that awaits, Mauritius is an exotic hideaway that should be seen to be believed, and there's no better time than your honeymoon. Take a look at the Trailfinders flights to Mauritius and create a tailormade break that will reflect who you are as a couple, perfectly.
Morocco
You don't have to spend hours in the air to enjoy an exotic honeymoon. In fact, there are some memorable locations just a short haul flight away. Take Morocco, for example. With plenty of vibrant resorts to choose from, and breathtaking sights to enjoy, a honeymoon here would be perfect for a couple who want to explore as well as relax. From the bustling souks to camel rides on the beach, there's an array of experiences waiting for you to delight in.
Grand Cayman
If you want to jet off to the Caribbean but would love to stay on a lesser known island that emanates beauty, the natural way, Grand Cayman is the place to go. From the turquoise waters to the corals that surround the island, this awe-inspiring island exudes paradise from is pores.
Malaysia
Fly into Kuala Lumpur, the gateway to this incredible peninsula that sits on the South China Sea. If you have a taste for adventure, this is a great place to start.
Phuket
An island off the coast of Thailand, Phuket is an exotic retreat perfect for adventurous couples that want to experience as much as possible as part of their honeymoon. Make your break even more special by creating a tailormade multi-centre vacation, which will give you the opportunity to explore, discover and immerse yourself in this Asian nirvana.
Make your honeymoon as memorable as possible, just like you will your big day.