Europe is renowned as a hotbed of artistic brilliance, with works from the likes of Picasso, Monet and Rembrandt gracing galleries the world over. However, there's really no better way of enjoying such fine European art than in the cities that inspired it.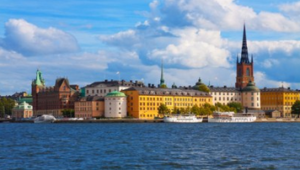 And such a culturally rich trip needn't break the bank. In fact, there are a number of cruise deals sailing from Southampton that make this kind of art-themed tour very affordable – just take a look at what MSC Cruises can offer.
Setting off from the south coast you can sail very easily to one of the best art cities in Europe, Amsterdam.
In the 'Venice of the North' you'll have a fantastic time exploring the Van Gogh Museum, which has the biggest collection of works by the iconic Dutch painter anywhere in the world.
Van Gogh spent time living in Amsterdam in his 20s as a student of theology and it seems appropriate that the greatest ensemble of his paintings is housed in the Dutch capital.
With 200 paintings, 400 drawings and 700 letters on show, the museum's collection offers not only the chance to view some of his best-loved works, including 1889's 'Sunflowers', but also opens a window on his extraordinary life.
As well as Van Gogh's studies, the museum houses many works that you may not have seen or heard of before from his contemporaries of the time, including sculptures by Rodin and paintings from Gauguin, Manet and Seurat.
From Amsterdam, you can then head north to Oslo, the Norwegian capital. It too is the home of a celebration of one of its own – Edvard Munch – who like Van Gogh has his own dedicated museum.
This is a particularly special year to visit Oslo as the city marks the 150th anniversary of 'The Scream' painter's birth in 1863 with an enormous display of his art across two venues.
Co-hosted by the National Museum and the Munch Museum, 'Munch 150', which opened in June and runs until October 13th, features no fewer than 220 paintings – the greatest number of Munch's key works to go on show in modern times.
These include near-complete reconstructions of 'The Frieze of Life' (1902) and 'The Reinhardt Frieze' (1906–1907), self-portraits, landscapes and motifs.
As well as this exhibition, there is a whole programme of events taking place throughout 2013 in Oslo and elsewhere, including the juxtaposition of Munch's art with playwright Henrik Ibsen's work at the Ibsen Museum, and the chance to see 160 of Munch's prints at the National Gallery.
Even once you've arrived back in Southampton you can keep the art theme going by visiting the City Art Gallery housed within the Civic Centre before you head home.
It features painting, sculpture, drawing, photography and film, and hosts a changing roster of temporary exhibitions to ensure that visitors are treated to something new each time they attend.
However, it also has a permanent collection of works spanning eight centuries of western art, with a focus on pieces from 20th century and contemporary British artists.
By the time you've finished your Southampton-Amsterdam-Oslo cruise break you'll have taken in a huge number of images from some of Europe's most influential artists – making this tour a must for all fans of painting and drawing.