If you are simply looking to get away for it all for a couple of weeks (or even just for a long, relaxing weekend), you don't have to go jetting off halfway around the world. There are plenty of places almost on your doorstep that can serve as the perfect foil to working life in the big city.
We're going to use North Wales as our example. It's so close you can almost touch it, yet the beauty of its environs makes it seem like it's worlds away from the everyday mundanity and stress.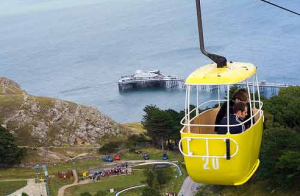 Here are our recommendations on North Wales – where to stay, what to do. Take some inspiration and escape to this beautiful little corner of the country.
What to Do
One of the best places to visit is inarguably Llandudno. This beautiful coastal resort town is famous for its lovely beaches and for the Great Orme Tramway (you should go on a ride to the top if you get the time), but its traditional pier is fun for all the family, with great restaurants, a fantastic chippy and a proper arcade.
Llandudno is also home to Britain's longest cable car, which will take you to the very summit of the Great Orme, offering unparalleled views of Conwy Estuary and Puffin Island. Enjoy a nice ice cream in the lovely café at the top.
If you fancy letting off some steam and attacking the kids or your partner (without getting arrested!), then you best bet might well be Dragon Raiders Paintball Park. Located on the coast of the Llyn Peninsula, it offers decent views but an even better game.
With various different game styles, you're not going to get bored – our favourite is "Car Kaos", where you'll be attacked from all angles as you attempt to rescue a hostage from a crashed car. It's adrenaline-pumping stuff!
Where to Stay
We would be remiss if we failed to mention the gorgeous village of Portmeirion in Gwynedd. Here, you can stay of some of the very best holiday cottages in North Wales, in what is quite probably the most beautiful place in the country.
If you don't know Portmeirion, you're going to get a surprise – it doesn't look like Wales at all! Instead of stone cottages and sheep, you've got colourful Mediterranean houses and piazzas. Said to be based on the Italian harbour town of Portofino, Portmeirion is a truly fascinating slice of the Med in North Wales.
If that doesn't quite tickle your fancy, how about overnighting in a castle? Ruthin Castle in Denbighshire is over 700 years old now, but its recent conversion brings it wholly into the 21st Century.
With acres of beautiful parkland to explore, you can be sure that you're not going to be disturbed by any hustle or bustle, and after a nice day's walk you can dine in the on-site restaurant (awarded with 2 AA Rosettes) or you can treat yourself to a feast fit for a king at one of their famous Mediaeval Banquets – perfect for that memorable end to your hols!