Embark on an Island-Hopping Adventure in Fiji
When the world thinks of paradise, it thinks of Fiji. Perched among the lace-like coral and azure waters of the South Pacific, this 332-island archipelago boasts cloud-free skies, volcanic vistas and the sort of lush, tropical atmosphere you'd find in Hollywood's most classic films.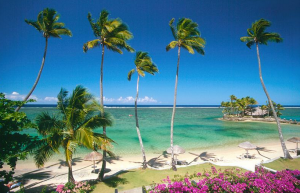 Of course, Fiji's more than just a gorgeous view. Its rich history and diverse local cultures make this treasured island a must-see for travelers across the globe. Where should you start your exotic, island-hopping escape? We've got a few ideas.
Viti Levu
Known for its white-sand beaches and verdant jungles, Fiji's largest island is a fantastic place to kick off any tropical getaway. Grab a hop-on, hop-off transportation pass to make your away around the can't-miss sights in Uprising Beach and Mango Bay, or book a romantic, champagne-studded dinner cruise to see the sun set over Nadi.
Want a little inside advice? Though it's tempting to spend all your time on the picture-perfect beaches here, try to venture into the area's villages. You'll get the chance to browse Fiji-made goods at the traditional markets and can even strike up a conversation with a few friendly locals.
Yasawa and Mamanuca Islands
Go beyond Viti Levu to the pristine beauty of its surrounding island chains. Some of the world's best diving and snorkeling is found on the breathtaking Yasawas and Mamanucas, and you can easily book a multi-day cruise to explore every bit of this hushed paradise.
Start by swimming the underwater caves in Nacula Island, and then make your way to the coral reefs of Beachcomber and vibrant local flavour of Naviti. Need another traveling tip? Don't miss the kava ceremonies in Denarau; they're a great way to experience Fijian culture at its most traditional.
A Day in Mana
If you're spending extra time in the Mamanucas, consider hopping over to Mana, one of Fiji's most secluded resort areas, for a quick side trip. Take heart, thrill-seekers: While it's easy to let the afternoon slip away under the shade of a palm tree here, you can also book a semi-submersible excursion to peek underwater at the coral gardens and marine life. Trust us, you've never experienced anything like it.
The Sights of Suva
When you're ready to take a break from the beaches, explore Fiji's fascinating colonial past with a sightseeing tour to the nation's capital. You can wander through iconic sights like the President's residence and Thurston Botanical Gardens or simply browse the local shops and restaurants. Whatever your sightseeing style, Suva has a little something for you.
Ready to start planning? American Express Travel can help you discover all of this — and the flights to match — with the expertly designed AmEx Experiences. Plus, you'll receive benefits like bonus points on travel, unbeatable cardmember discounts and easy access to convenient flights.