The following is a guest post from Alex Moya.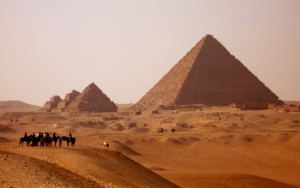 Egypt is one of the most beautiful countries in the world for exploring. Its rich history and beautiful desert landscape provides ample reasons to top anyone's list of places to visit. Vacations are meant to be a time of rest and relaxation with plenty of fun, but to ensure that your trip is equally thrilling and safe, you should always be prepared for any situation. With all of its beauty and grace, Egypt is only as safe and secure as you make it.
Tip http://maiden-voyage-travel.com/1: Get Insurance
Look into purchasing travel insurance before you set out on your journey. A quote from InsuranceQuotes.org can give you an idea what it will cost for insurance coverage in case you get sick, or injured. A small premium is a reasonable price to pay to prevent loss from avoidable circumstances while traveling. Taking a trip to a foreign country should be fun and exciting. Protecting your assets and personal health while abroad is a safety net that enables you to enjoy yourself to the fullest on your adventure.
Tip http://maiden-voyage-travel.com/2: Bring Secure Currency
Traveler's checks are an excellent way to carry money when traveling abroad. While many stores and businesses in Egypt accept credit cards, some do not. Carrying cash can bring its own set of problems. Not only do you have to transfer your currency to that of whatever country you may be visiting, it can be quite a hindrance. Traveler's checks can be replaced easily if they are lost or stolen and most businesses consider them as good or better than the standard currency. Traveler's checks can be purchased at your local bank or American Express travel office. Visit your bank's website or American Express to find out more.
Tip http://maiden-voyage-travel.com/3: Leave Valuables at Home
When traveling in a foreign country, always make sure to leave your most valuable possessions at home. Even with insurance protection, the loss of cherished jewelry or costly electronics can be financially devastating. Wearing large diamond rings and lots of flashy jewelry can make you a target for muggers in Egypt. Protect yourself and your property by being discreet. Don't show large amounts of cash when making purchases and make sure to record the serial numbers from laptop computers, cameras and video recorders in a safe place. This can help law enforcement find your possessions in the event that they're lost or stolen.
Tip http://maiden-voyage-travel.com/4: Have Photo ID 24/7
Always carry proper identification, whether you're spending the day sightseeing or stepping out for your morning coffee. When traveling abroad, it's imperative to make sure you have a current photo ID with you at all times. Make an effort not to stand out as a tourist, but always make sure you have identification that clearly states all of your vital information. Passports, driver's license and any other form of ID should be kept in a safe place when traveling away from your hotel to explore the sights of Egypt.
Tip http://maiden-voyage-travel.com/5: Map the Route
Always know where you are going and how you plan to get there. Plan out a round trip route before you leave the hotel room. With many of the world's most famous historical attractions located in and around Egypt, make sure you get to see as many of them as possible by mapping out efficient routes. Following directions that can be found online will help you to plan your trip in a safe and efficient manner. Mapping out a route before you leave your hotel will also prevent you from getting lost and trying to find your way in an unfamiliar area. Tour guides are also a great option. Many attractions offer tours that will pick you up and deliver you safely back to your hotel after a long day of sightseeing. Check out Bales Worldwide for Egypt tours, the luxury tour operators with over 65 years of expertise. See also: Preparing to Go to Tanzania
Protect yourself for any situation by following all of these tips when traveling to Egypt and you'll be sure to have an adventure of a lifetime. Bon voyage!