I had always heard of the city of Cork, Ireland, so I wasn't surprised when my mom told me it was part of our itinerary. She was going to Ireland for two weeks on a grant to study Irish literature, and I was going to tag along for just over a week. After some time in Dublin and Kilkenny, we would head to Cork for two nights. We were there this past Wednesday and Thursday night.
I did some quick reading before the trip, and it looked like Cork was a great foodie destination and had some pretty cathedrals, so it sounded good to me. But after just one night, we felt disappointment and wished we were only staying one night.
It's not just because of the overcast, drizzly weather and our accommodations at Garnish House that I hated (the fabulous TripAdvisor ratings puzzled us). Something about the city seemed sad. I have honestly never seen so much graffiti in a city. When walking through the city center, I saw graffiti spray painted literally on nearly every corner. A little bit of it is interesting street art, such as the one I found to the right, but the large majority is tagging that looks to be done by ne'er-do-wells.
There are also countless shops and restaurant closed with "to let" (for lease) signs in the window. I've never seen a city with so many shuttered stores and restaurants. It seems that the economy has been hit hard.
When walking around looking at some monuments, we saw some punky teens sitting on some steps of a building that was closed. We walked past them, and a few minutes later we heard smashing sounds. We turned around, and the teens were running off as flames went up in the street. It looked like they threw alcohol bottles on the street and lit them on fire. I had never seen anything like it. Fortunately, the fires didn't spread.
It also seems that nearly all of the important sites here are cathedrals. While I know that many sites in Europe are related to Christianity, Cork doesn't seem to offer much else besides cathedrals (that all look similar) other than an old jail and a butter museum. There's an old fort that's interesting, but there's not much left to see.
At first I wondered why Cork was considered a foodie destination, but then we went to the English Market and I understood. It's a fun food market with fresh fruits, veggies, fish, meats, cheese, and more. It reminded me of the public market on Granville Island in Vancouver. It also has a tasty restaurant on the second floor called Farmgate, which serves local food, much of it from the merchants below. I had some killer lamb stew there.
We also found some great restaurants elsewhere in town. Indigo Brasserie was fabulous–I had a gorgeous beef salad with roasted pears and Cashel blue cheese (insanely good blue cheese from Cashel, Ireland), which you can see below. But the restaurant was almost completely empty. We initially tried to go to a different restaurant down the street, but it was totally full, so we kept walking down Washington Street and found this gem. It is right on the river and even has an awesome TripAdvisor rating. We asked the waiter why such a great restaurant was empty, and he said he wasn't quite sure, but they were starting to think they were a little too far from the main drag and didn't have enough signage. He also said the economy in Cork was terrible, and that local businesses were really suffering. My heart broke that such a promising restaurant was struggling.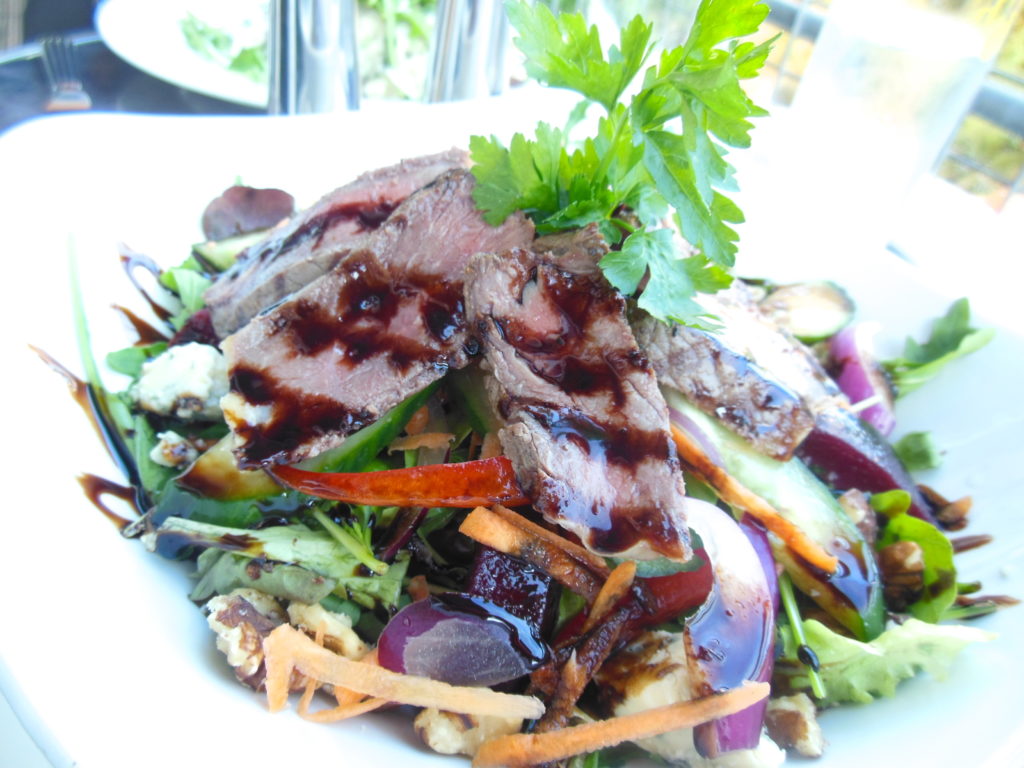 Later in the day, I asked my cab driver if the economy was as bad as it seemed. Yep, he said. Cork was one of the cities suffering the worst. While I didn't enjoy my time in Cork very much, I was at least happy to help support local businesses in a city that was really hurting.
Do you think I'm being too hard on Cork? Have you ever ended up in a city that you found disappointing?