My husband is in law school, so we don't get to go out to nice dinners very often. On our delayed honeymoon in Seattle and Vancouver earlier this month, we decided that we deserved to enjoy some special meals and made a nice budget for doing so.
I'm a picky eater with a sensitive stomach, so finding suitable gourmet food can be a challenge. I got recommendations from friends and did research on Yelp, and we ended up having some amazing food that we both loved. Two unpleasant things that I discovered were that nearly all restaurants charged for bread (very rare in Texas), and that soda was so expensive at nearly every restaurant (I shouldn't be drinking it anyway, but treated myself to a few on the trip). But getting to eat fresh seafood and high-quality ingredients was amazing!
Cutter's Bayhouse
This restaurant was recommended by a coworker, and I'm glad I listened. It sits at the waterfront at the edge of the Pike Place Market. They seated us right by a window, and the view of the water and mountains was incredible. Plus, they serve free tasty homemade focaccia–it was exciting not having to pay for bread to snack on. I ordered the open-faced crab sandwich (second photo), which sounded nice and light. Unfortunately, it was incredibly rich and creamy and covered in mayo, so I flagged down the waitress and told her this isn't at all what I was expecting. She said it was made with the crab and artichoke mixture that they use for an appetizer dip. Since that wasn't noted on the menu, she kindly removed it from the bill and let me order something else. She even brought out free soup for me while I waited. I ordered the crab cake, which cost a little more, but was worth it—it was cooked perfectly and full of fresh chunks of crab. My husband got the seafood brochette, which had salmon and scallops—he loved it.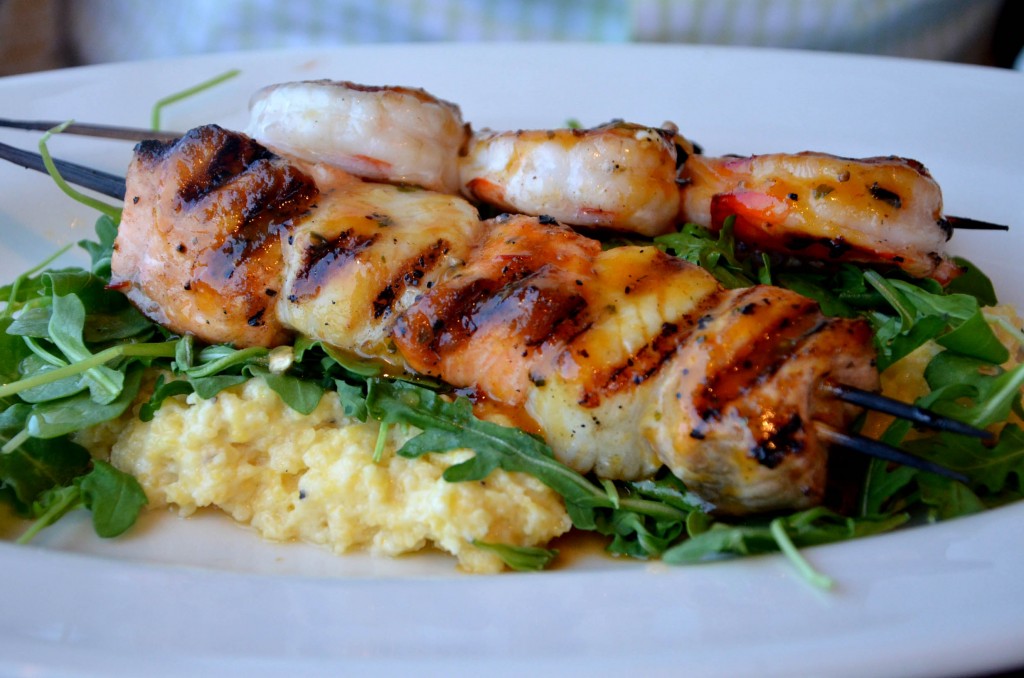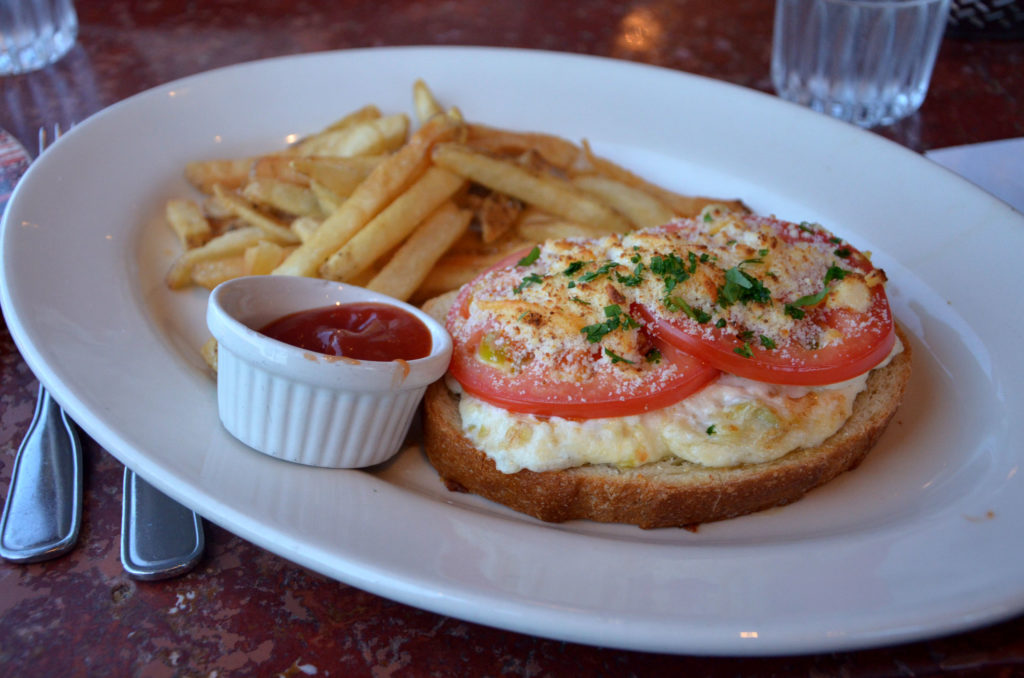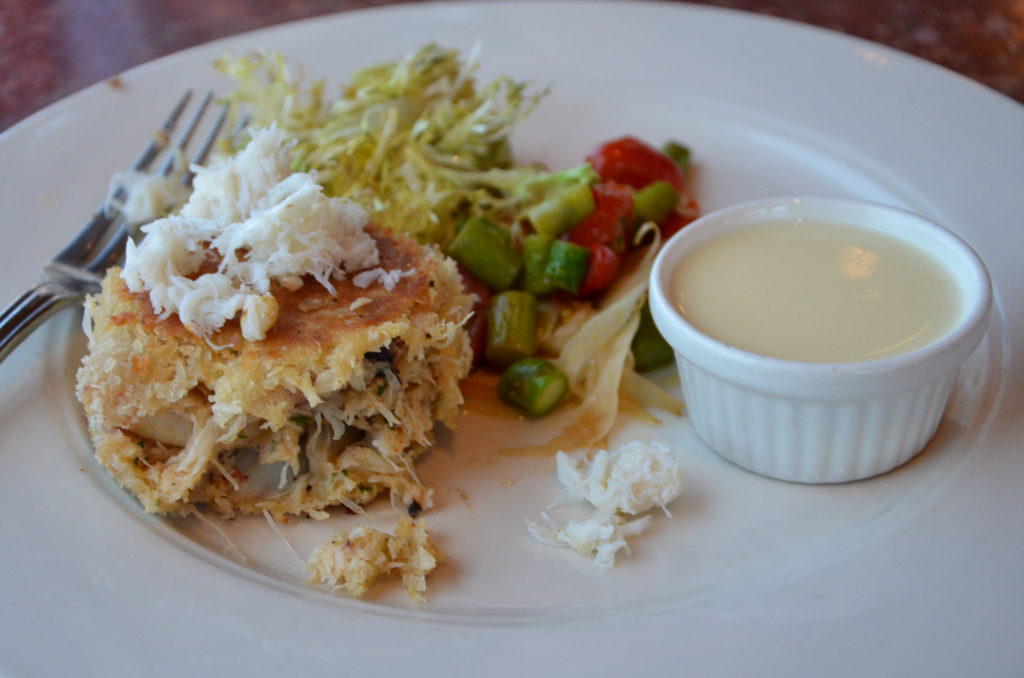 Local 360
This unique place was a treat. It has a country cottage feel, and it's quite small. Some of the tables are shared tables, though we lucked out and got our own. They also have two stories of stacked booths on one side, which gives it a quirky look. Our friendly waiter explained to us that nearly all of their food comes within a 360-mile radius of the restaurant and that their goal is to serve sustainable food. We started with the cheese and crostini; there was a rich cow and goat cheese mix, and a baby blue, both served alongside Rainier cherry sauce. Very flavorful! I got the special, which was pan-roasted ling cod over Swiss chard and roasted corn, with a little bacon mixed in. I ordered it because the waiter told me it was pretty light—it was in a broth. The cod itself didn't have a ton of flavor, but the roasted corn was sweet and delicious. It was a great healthy option. My husband got the fried chicken (a not-so-healthy option), which was served with an egg on top and grits below it. The waiter said it was one of their most popular dishes, and he really enjoyed it.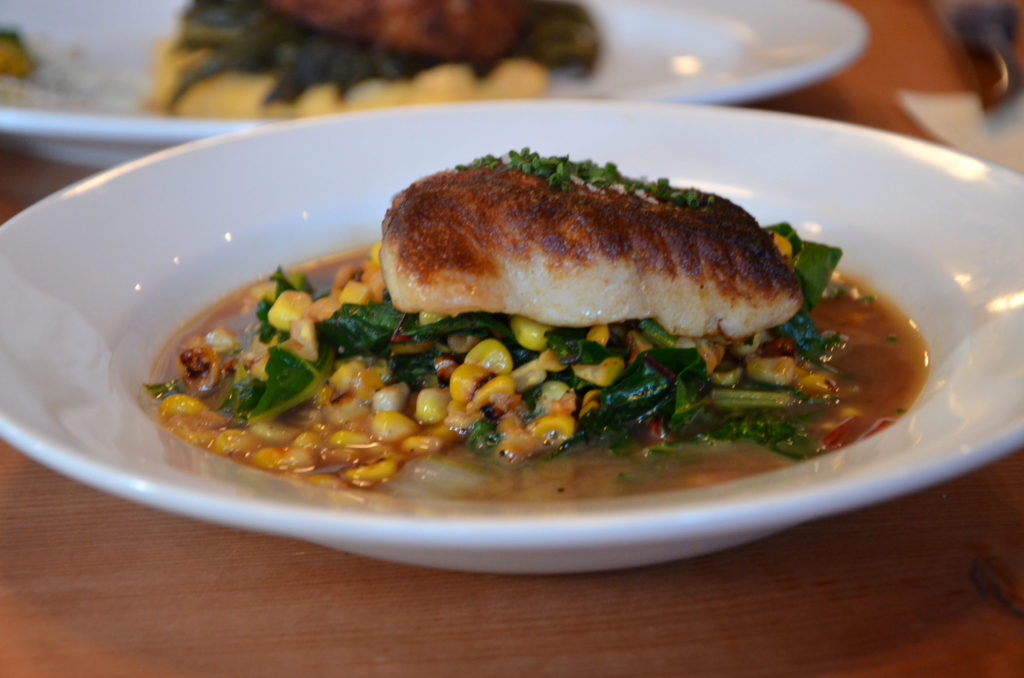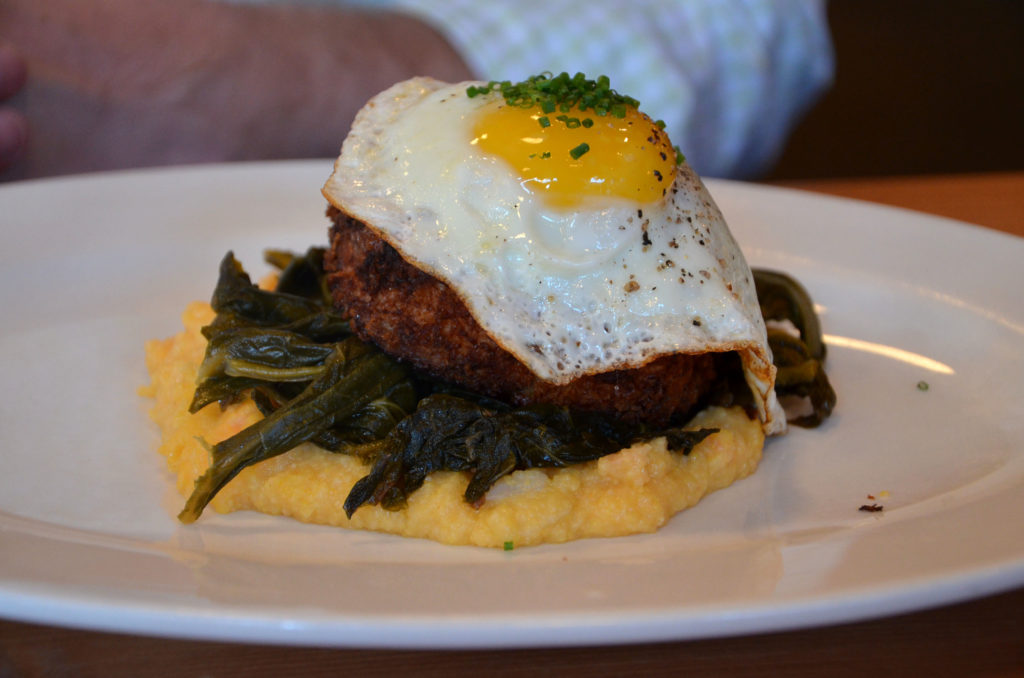 Yellow Leaf Cupcake Company
My husband and I are gluttons for cupcakes. One day we were walking back to the apartment and passed by Yellow Leaf Cupcake Company, and we couldn't resist. We saw signs that it was featured on the Food Network. We got a six-pack so that we could try several different flavors. We got Mexican wedding cake (which tasted JUST like those cookies), strawberry cheesecake, pancakes and bacon, peanut butter, red velvet, and chocolate cake with vanilla icing. The strawberry cheesecake was my favorite. Good thing we were doing so much walking…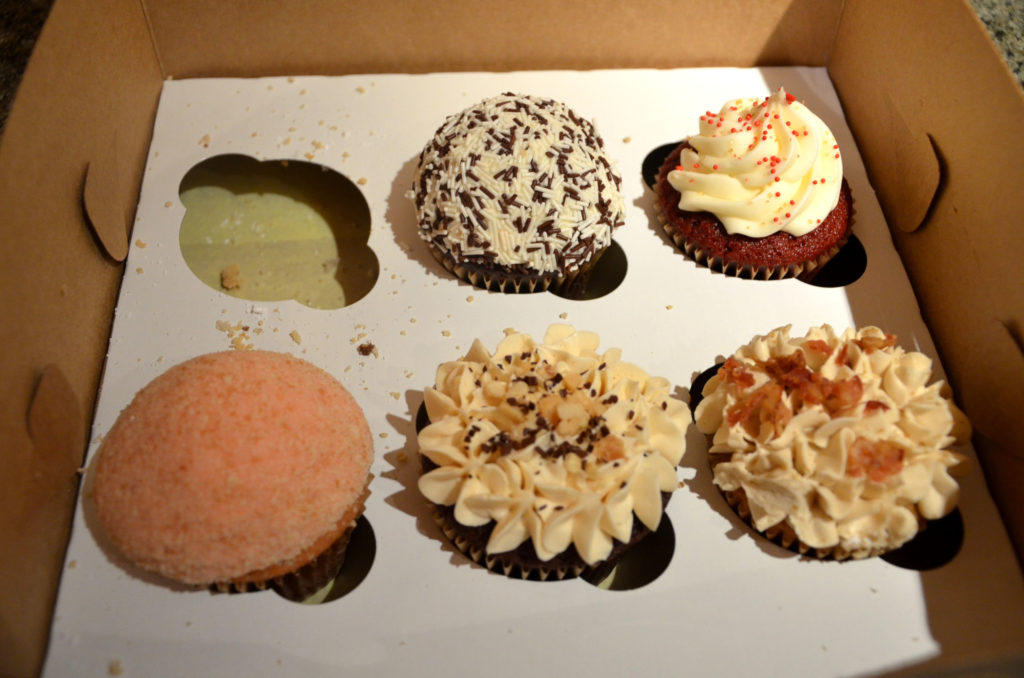 Belltown Pizza
We were staying near Belltown Pizza and walked past it many times, so when we wanted a casual and cheap dinner one night, we decided to go here (though I checked Yelp first, and it had fantastic reviews). We got the house pizza—spinach, garlic, tomatoes, cheese, and olive oil. We added meatballs. I am normally not much of a pizza eater for some reason, but this pizza was just fantastic. Simple but rich. The crust was nice and crunchy, and the middle was soft, gooey, and flavorful. It made me wonder why I don't eat pizza more often!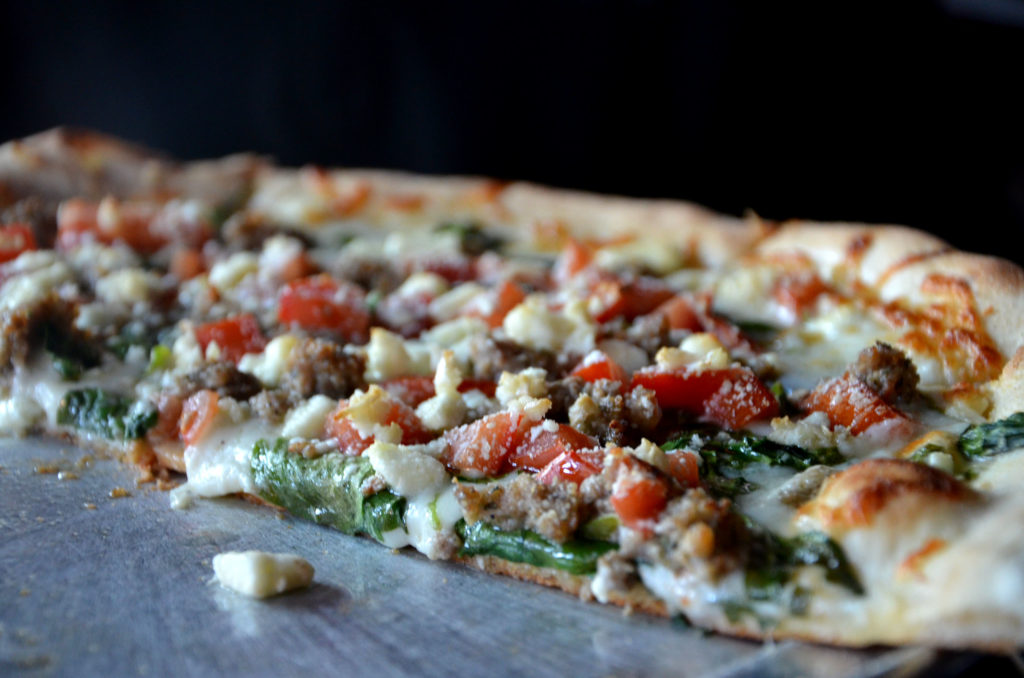 The Crab Pot
The friend whose apartment we stayed in told us we couldn't leave Seattle without having a meal here. They offer traditional seafood fare, but their specialty is their feasts. There are four to choose from, each with increasingly more ingredients (and more expensive). There is a minimum of two people for each one, and you order per person. They lay a strip of butcher paper on your table and give you bibs, in addition to wooden blocks and hammers. Our waiter came out with a massive metal bowl of food and dumped it on the butcher paper. Our feast contained corn, potatoes, sausage, shrimp, crab, oysters, mussels, clams, and some skewers with halibut and salmon. I was a little put off by the fact that the shrimp were still completely intact, eyes, antennae, and all. I was so grossed out that my husband had to peel them for me. I also had difficulty getting the meat out of the crab, even with the hammer. But the rest was delicious, and it was a very unique dining experience! The restaurant is right on the waterfront, too, so you get some nice views if you sit on the deck.
The Lucky Diner
We were staying directly across the street from this 1950s-style diner. One night we needed a late dinner, and nothing else was open, so we gave it a shot. I was craving an old-fashioned cheeseburger, and boy did I get one. I could only eat half of it, but it hit the spot, as did the mashed potatoes I got as my side. It was served with fresh homemade pickles.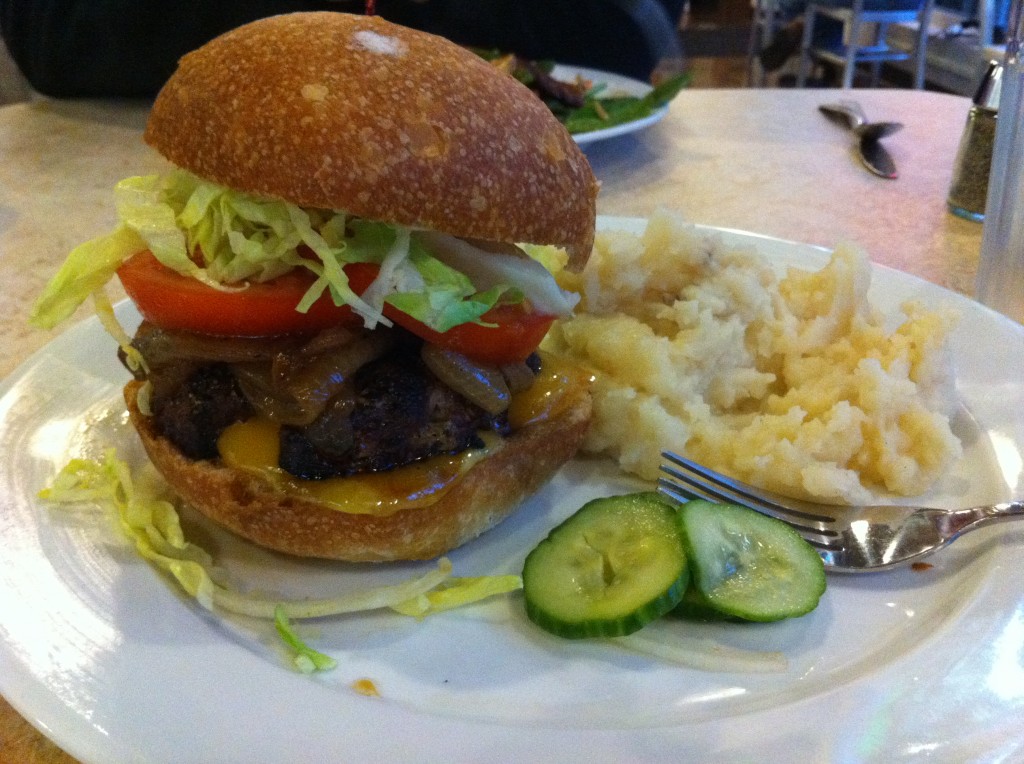 Bisato
We found this tiny chic Italian restaurant on our first night in. Needing a pick-me-up, I ordered a Coke. We were starving and noticed that you could order a lamb chop as an appetizer for only a few bucks, so we started with that. It was nice and rare, with a small dollop of whipped potatoes on the side. It made me sad we didn't order several more. For the main course, I ordered the strawberry risotto with balsamic vinegar, which they said was a dish from the Veneto region of Italy. It was phenomenal. Rich and tender, cooked to perfection. While it was a bright pink color and topped with a strawberry, it only had a hint of strawberry flavor. The portion was small, but perfect for me. My husband ordered the black olive pasta sheet with squid, raisins, and pine nuts. It was surprisingly small and not filling in the least (it looked like an appetizer), but nonetheless, he said it tasted excellent. At one point, the waiter asked me if I wanted a second Coke, and I said sure. When I got the bill, I was charged $5 for two Cokes—he never told me there was a charge for refills. That pissed me off. But overall, it was a great culinary experience. I apologize for the blurry pics; I took these with my iPhone.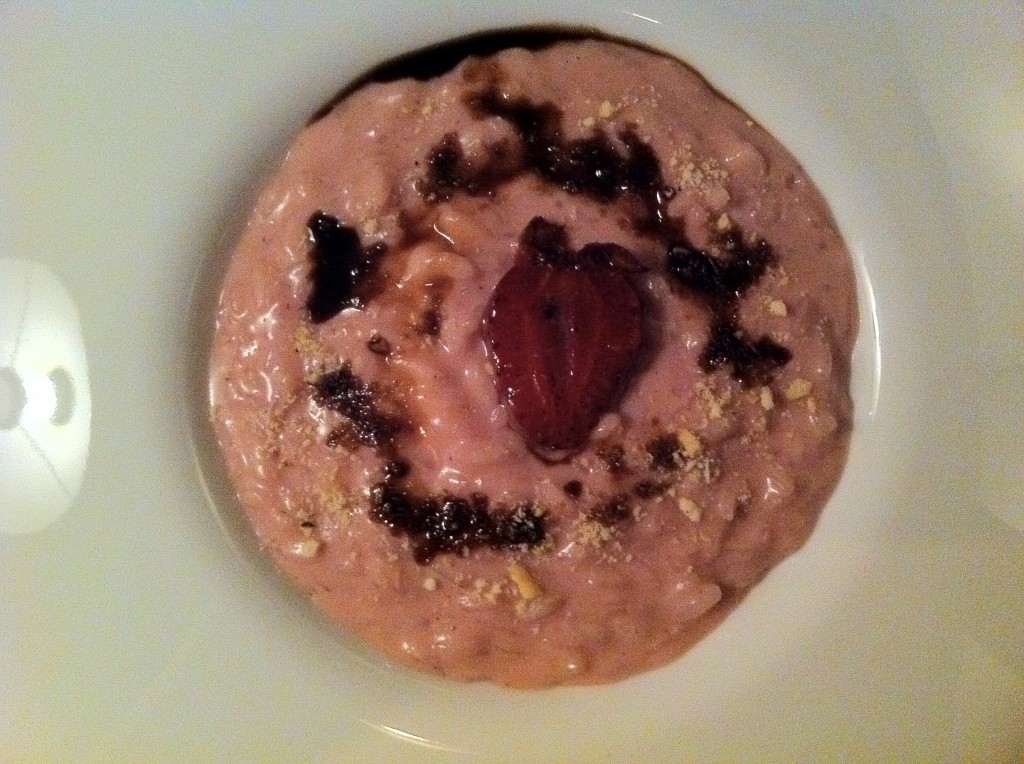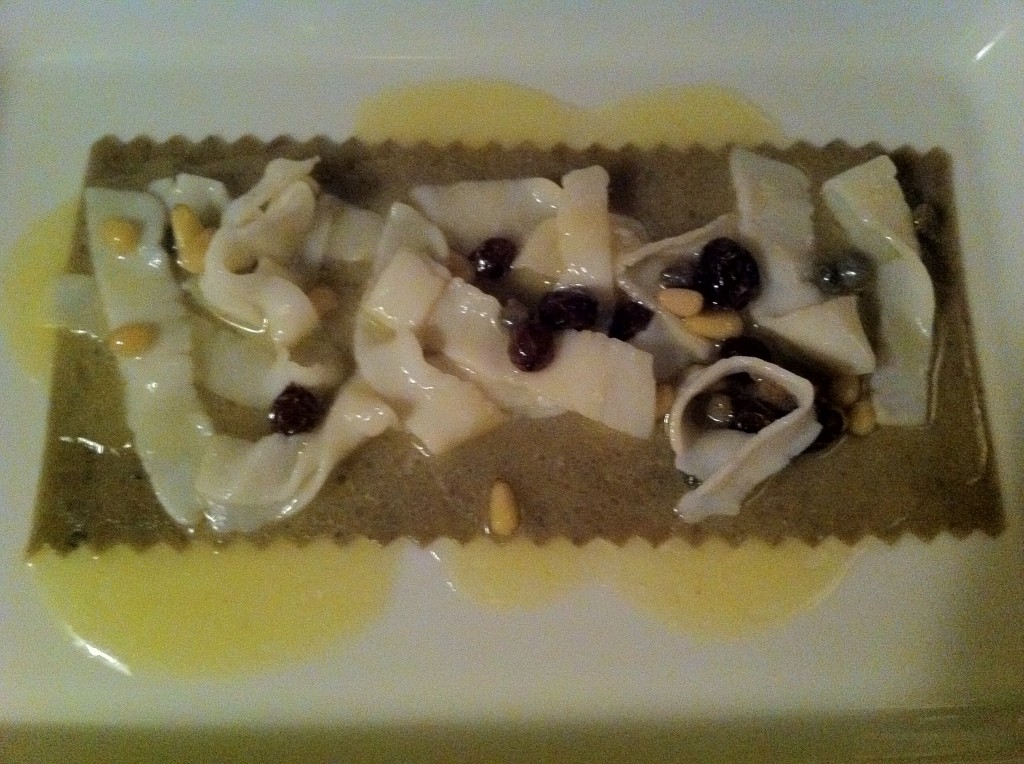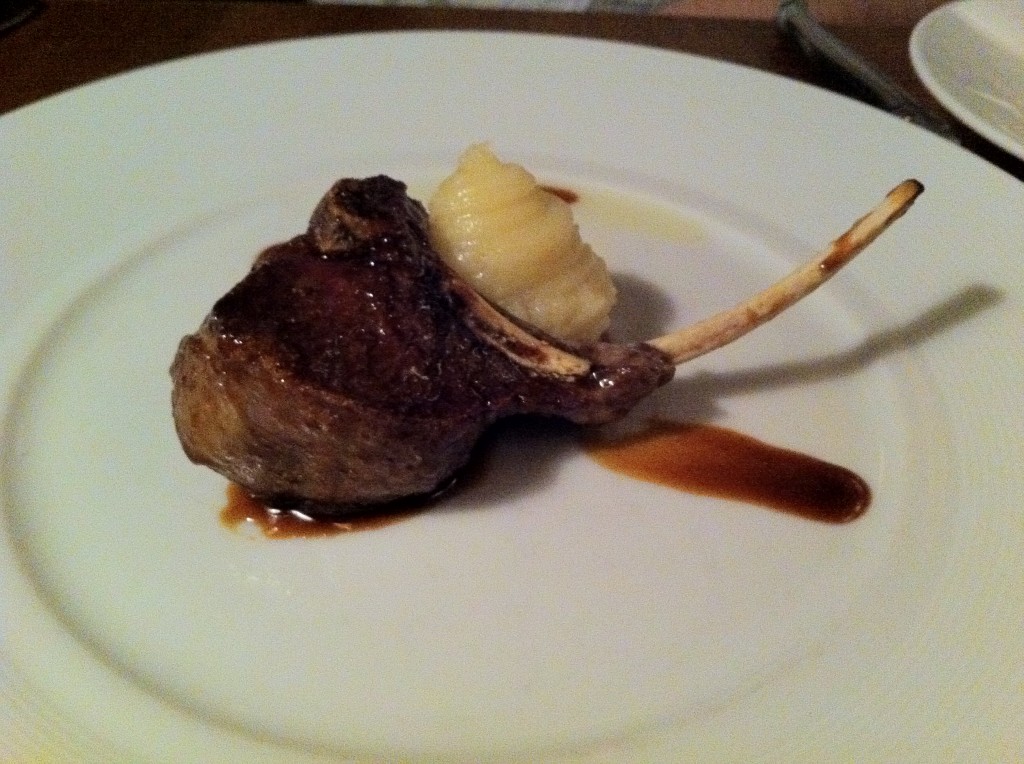 Be sure to check out my photo essay of Pike Place Market to see some of the goodies we ate there, too!
We didn't get out of the downtown or Belltown area very often–there was so much to do and see there. So I didn't get much food outside of those two areas. We also heard from so many people that parking all over town is terrible, and we didn't really get around to learning the bus system. There are actually a lot of affordable airport parking spots in Seattle (there are usually websites to help you find the best deal, like this one for Gatwick airport parking). But we passed by many pay-to-park lots around town, and they were very pricy. We were really glad that the area we were staying in was so walkable and with so many restaurants.