I returned from Las Vegas less than two weeks ago. I had never been until this trip, and though there are so many things to do in Las Vegas, the two things I looked forward to the most were the fine dining and live entertainment. Both did not disappoint! We ate most of our meals at The Palazzo and The Venetian since that's where we were staying, so this will be a bit skewed toward those, but that's totally fine since their restaurants are fabulous.
When I first arrived in town, I was ravenous and grabbed a quick bite to eat at First Food & Bar. I had their sliders, which had caramelized onions, moist bread, and perfectly-cooked, juicy squares meat. It hit the spot and was enough for me to share with a friend. The caramelized onions gave it a sweet taste that made it better than a regular burger. Sadly, I forgot to take a picture of the cute presentation.
For dinner, my friend and I went to Public House in The Venetian, which had dark decor that managed to embody a blend of old-school and chic. They presented their drink menu on an iPad and left it at the table for us to play around with. I loved that modern touch. For appetizers, we had tuna sashimi cooked in limoncello, and while I'm normally not a sashimi person, it was really flavorful, and the texture wasn't too raw for me (it is cooked through the acidity of the juices).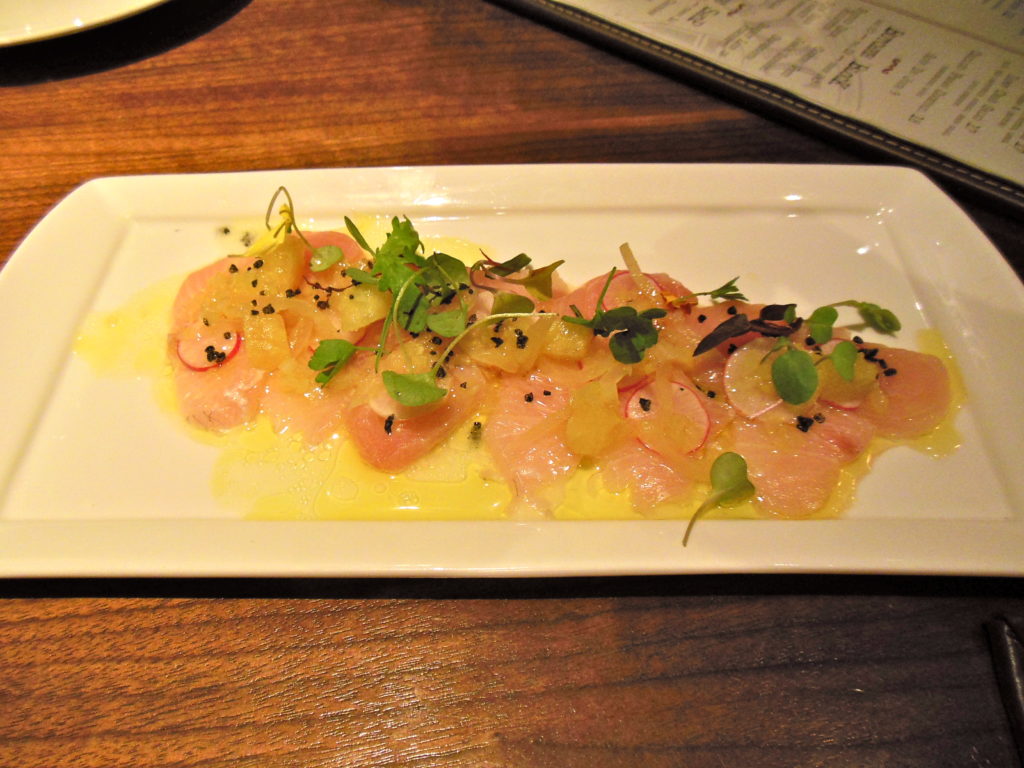 We also had flash-fried truffle risotto balls served in a cheese fondue, which was on the rich side, but so delicious.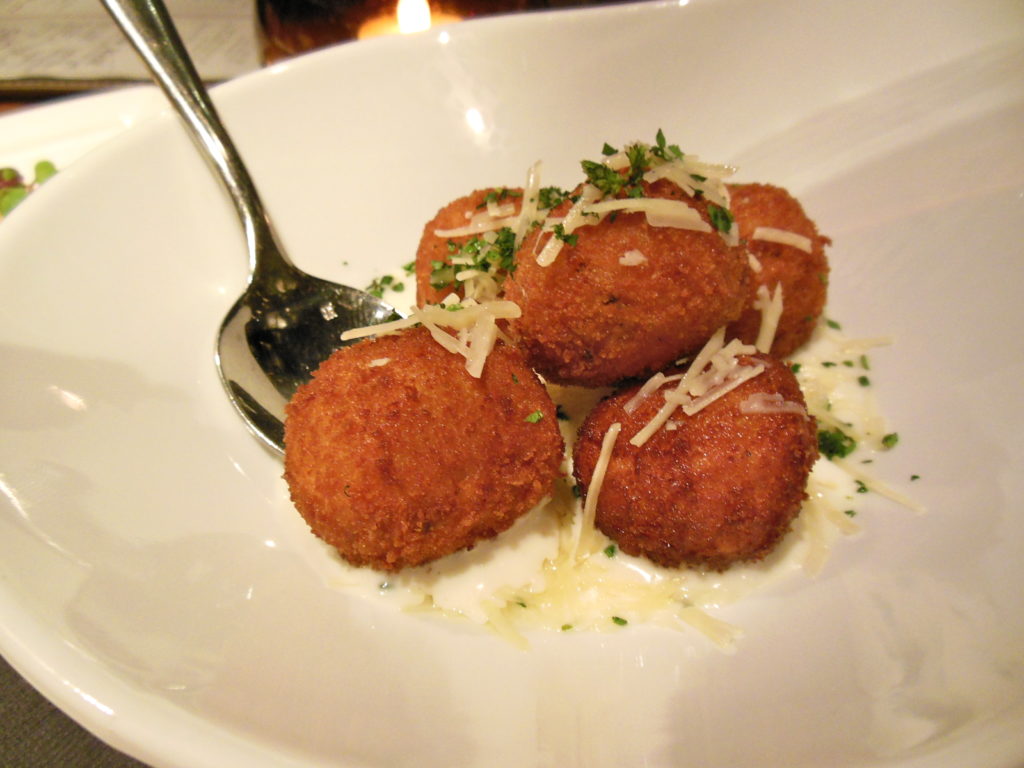 I had never eaten bone marrow, and it was on the menu as a side, so we ordered it so that I could try it. It had a weird gelatinous consistency and was served in the bone, which was a little creepy. But once you put it on the grilled bread with the bacon marmalade, ooh la la. Tasty!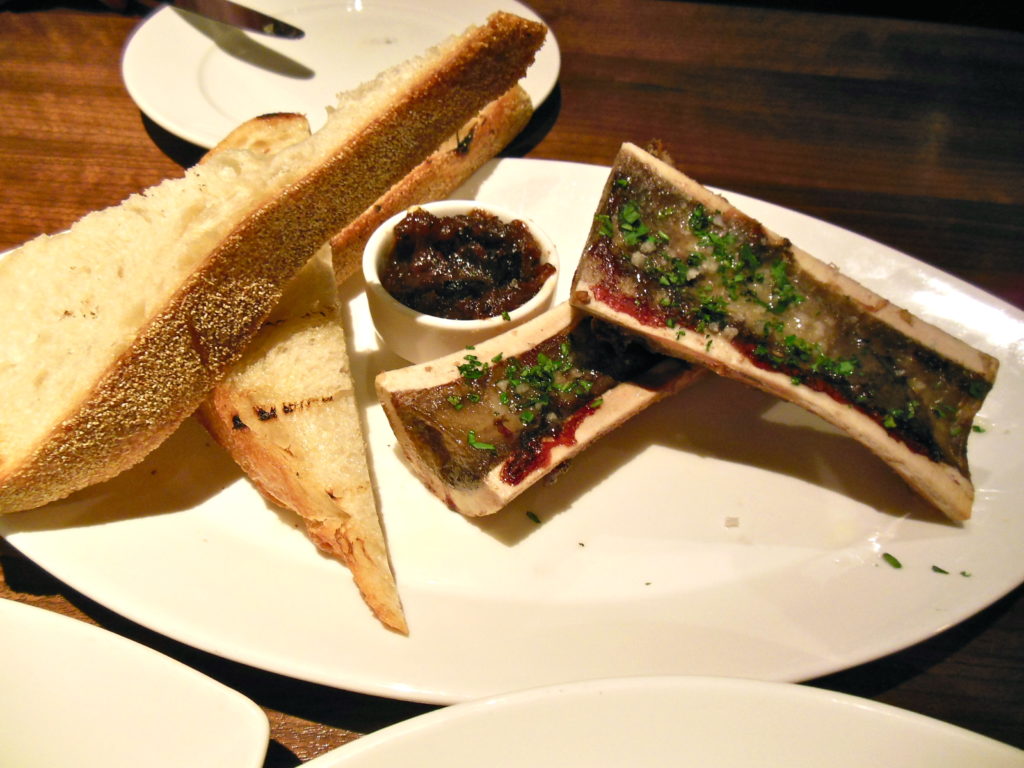 For the main course, we shared the halibut, which was nice and light.It was served with white beans in a tomato caper sauce.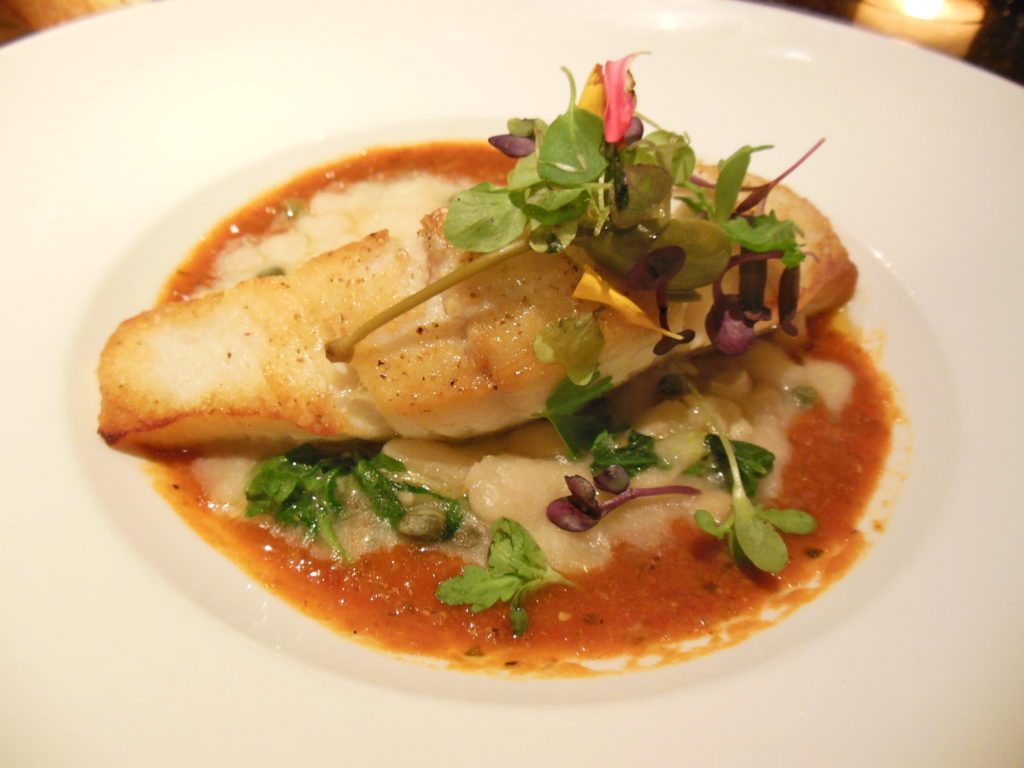 We also tried the chocolate stout cake and the raspberry coconut tart. The tart really wasn't my thing, but oh my–the chocolate stout cake was moist and sweet, topped with bacon crispies. It was an odd but cool combo!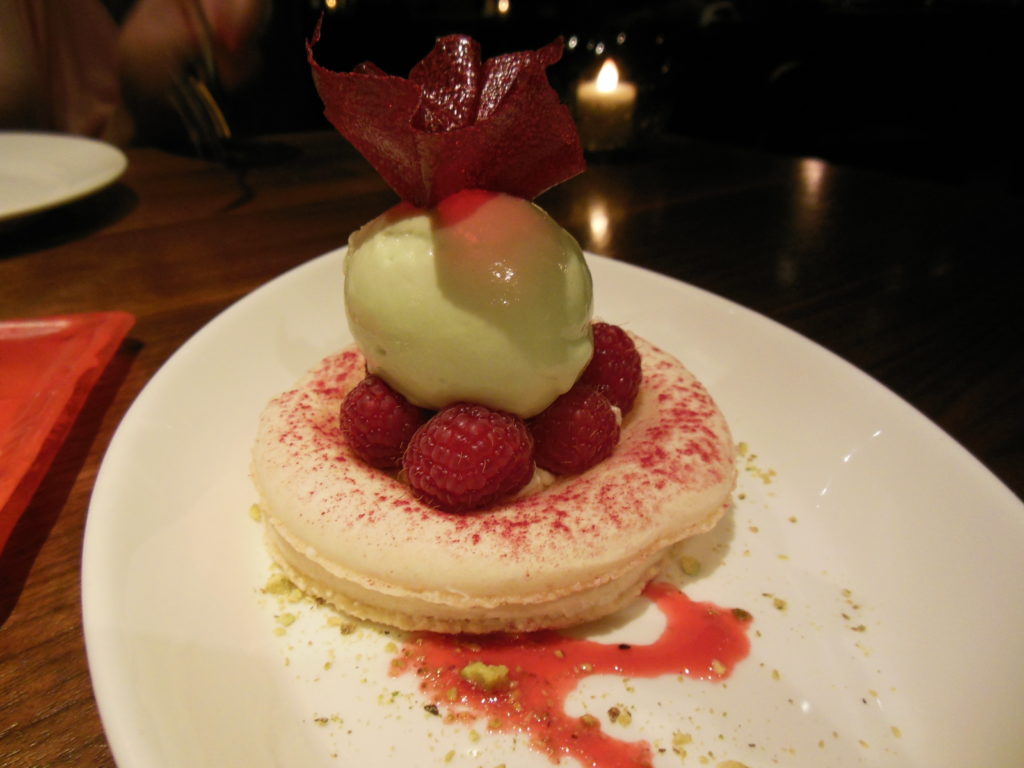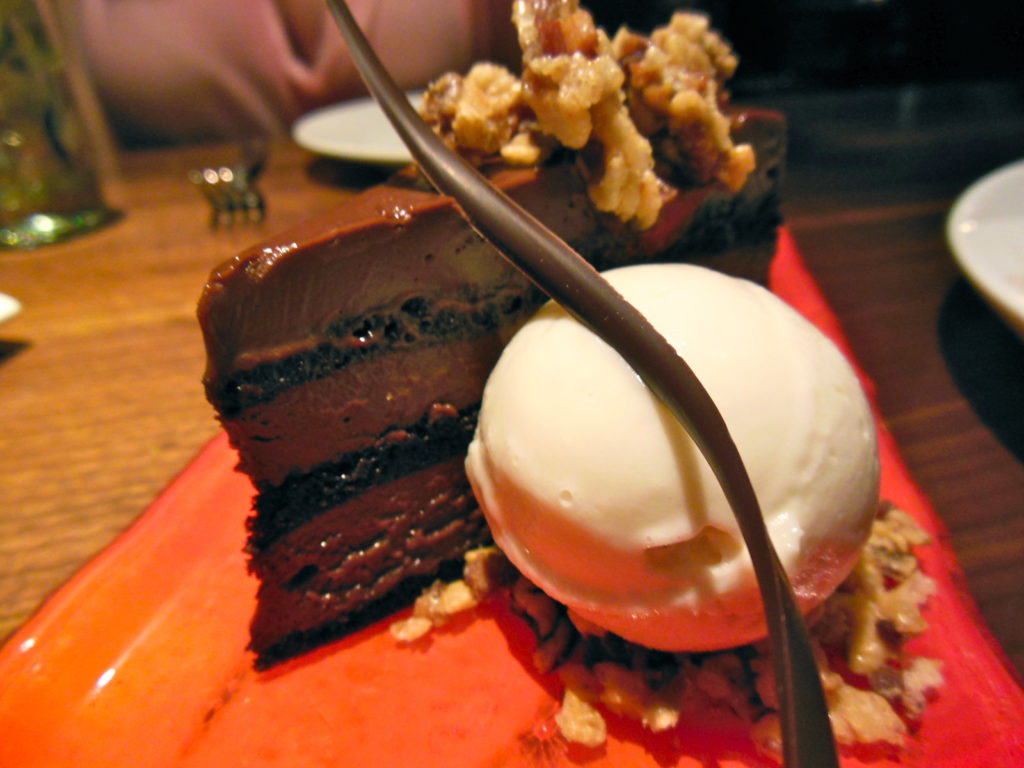 The next day, we ate lunch at the Canyon Ranch Grill in the Palazzo. The lighter, healthier fare was refreshing since so much Vegas food is rich and heavy. I had the spinach salad with blue cheese, pecans, figs, and chicken. I've never had a salad with figs in them—it was quite a treat compared to the usual cranberries in salads. My friend got the ahi tuna salad with no bun. The other picture is of one of the sandwiches that the restaurant serves. The grill also serves homemade smoothies, fresh juices, and they even make their own cola. I could eat there every day!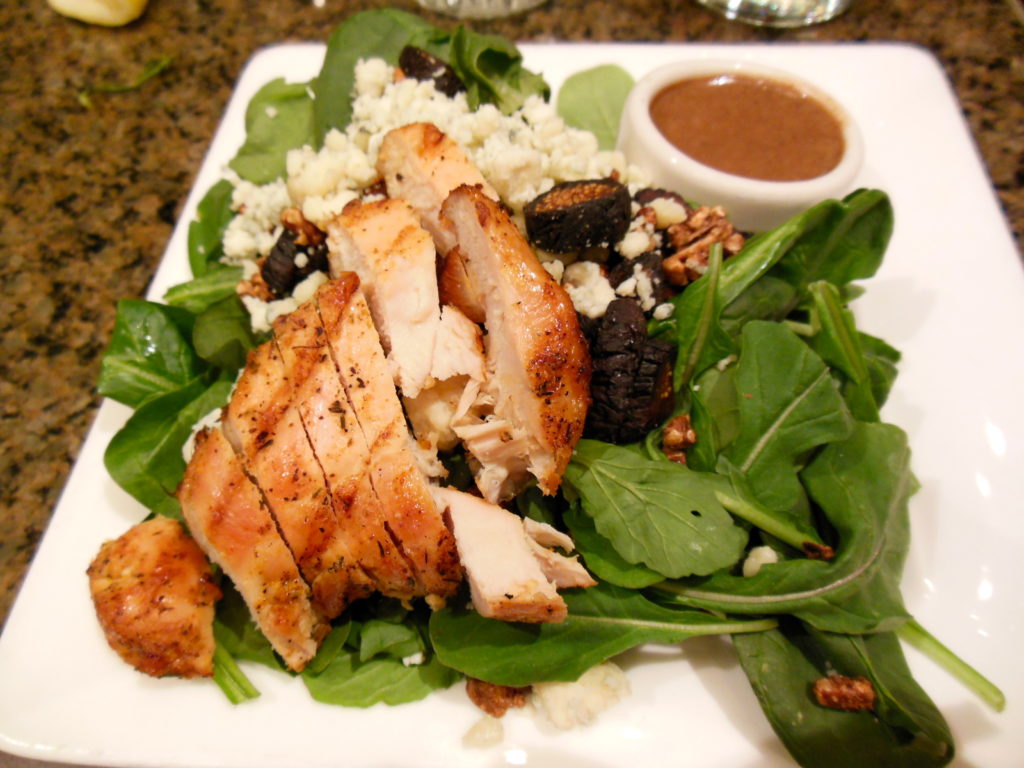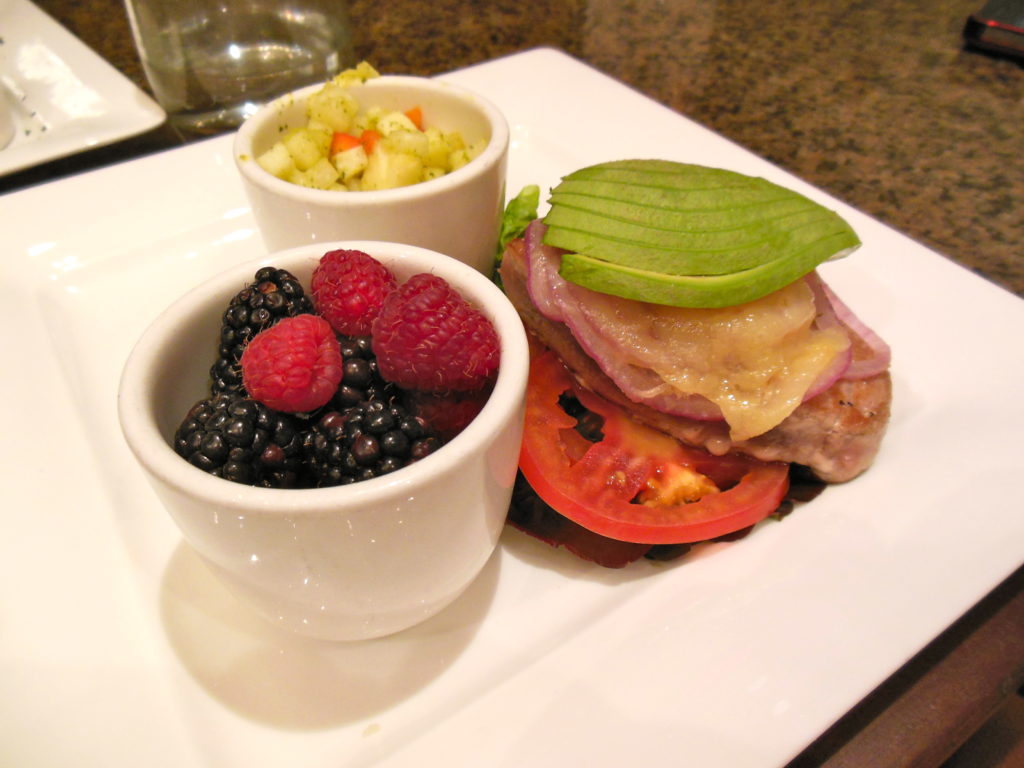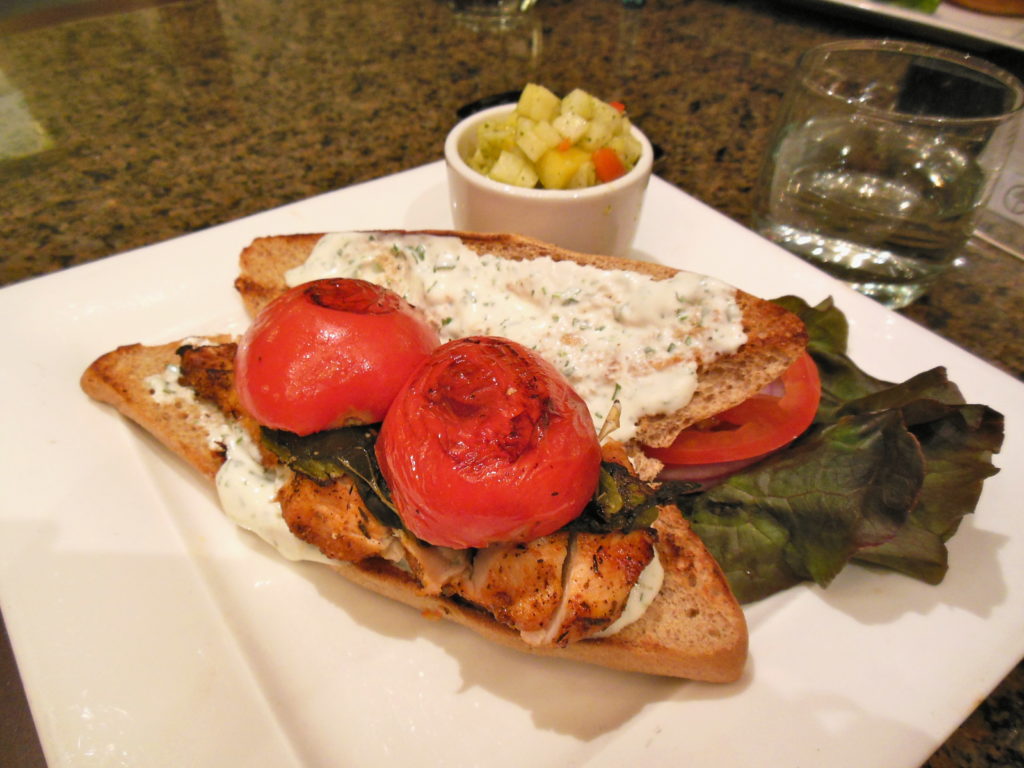 For dinner, we went to The Bellagio to eat at Michael Mina, a Michelin-rated restaurant (my first time to go to one!). It's very pricey, but that's inescapable at a gourmet Vegas restaurant with top-notch ingredients and accomplished chefs. We started with the chilled seafood platter, which had shrimp, crab, oysters, and some pieces of lobster. For our entrees, my friend ordered the famous lobster pot pie. I tried a bite, and wow. The broth was too creamy for me, but the flavor was to die for. I ordered Mary's chicken, which was so moist and tender. I normally wouldn't order chicken at a nice restaurant, but my friend ate there previously and told me it was amazing. She reminded me that chicken is actually one of the hardest meats to cook well, so when it's good, you know the place is the tops. I'm so glad I did. It also came with some turnips and carrots. Yum!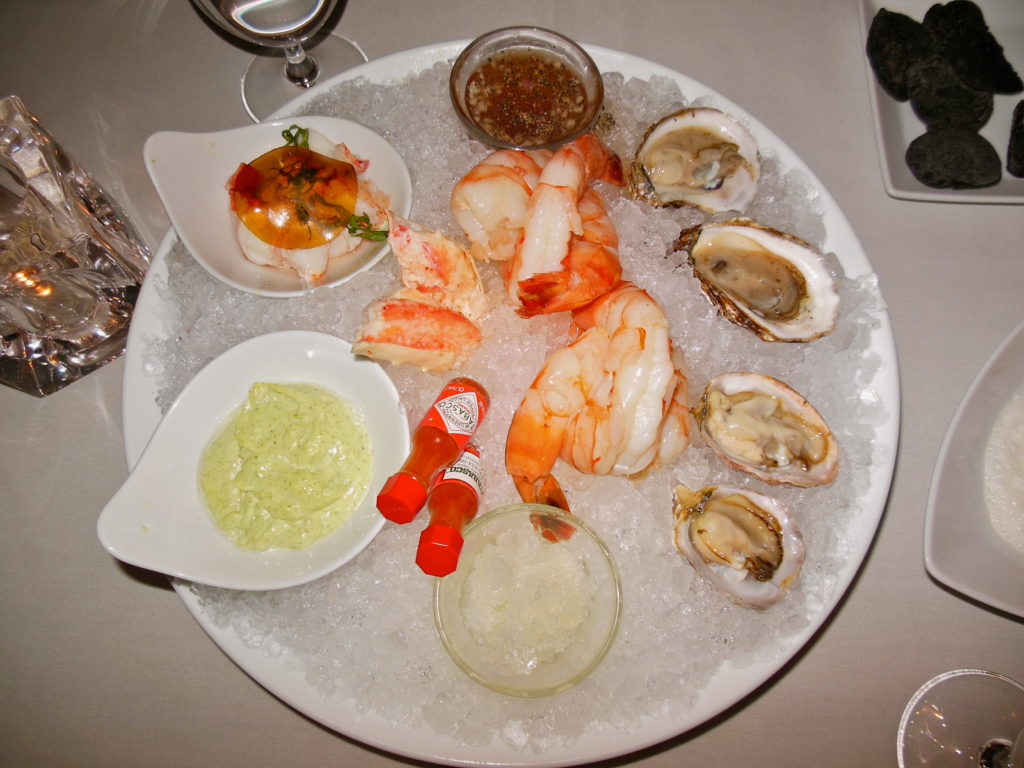 The lobster pot pie came out still in a pan. They cut off the top and poured it onto a plate.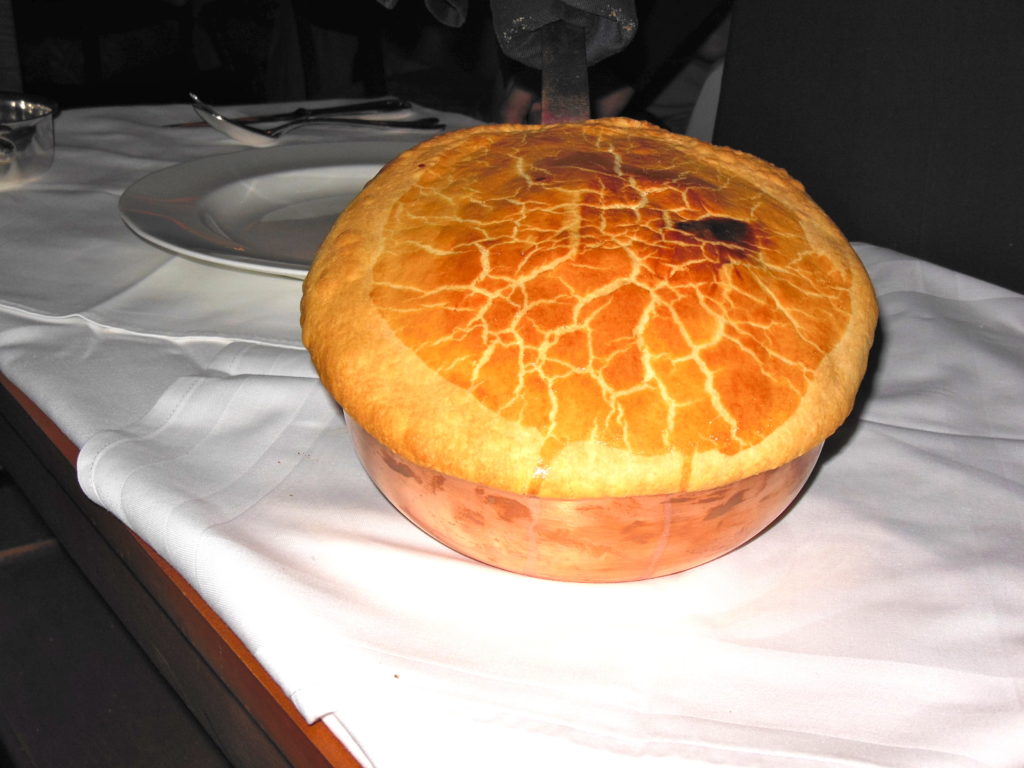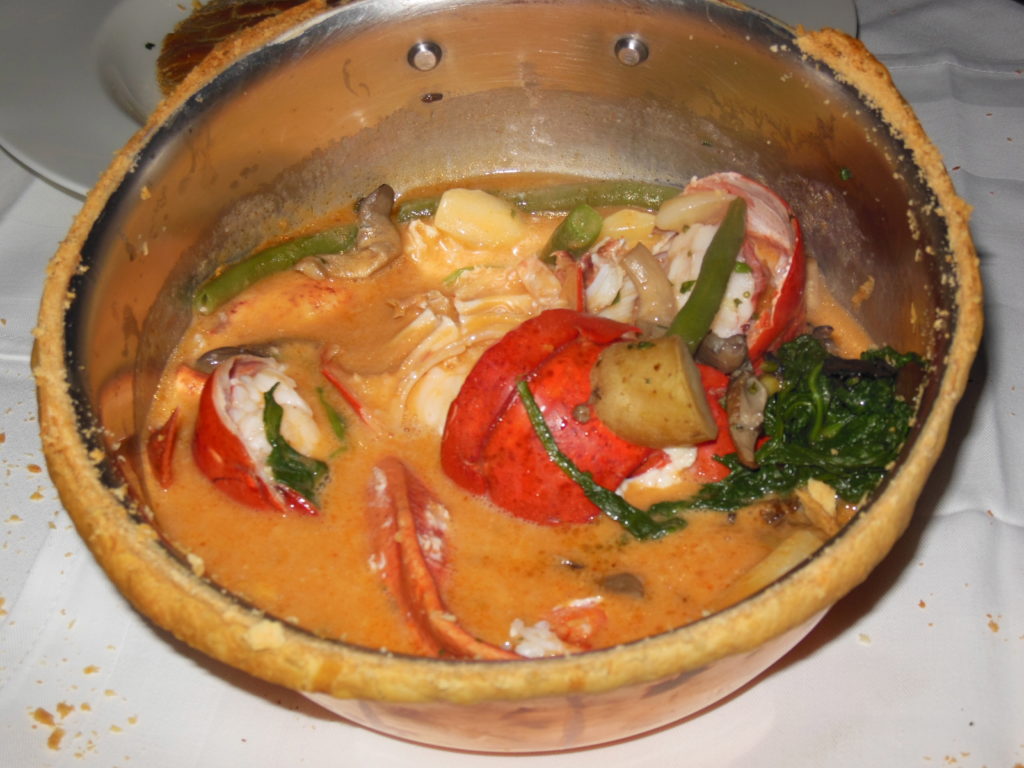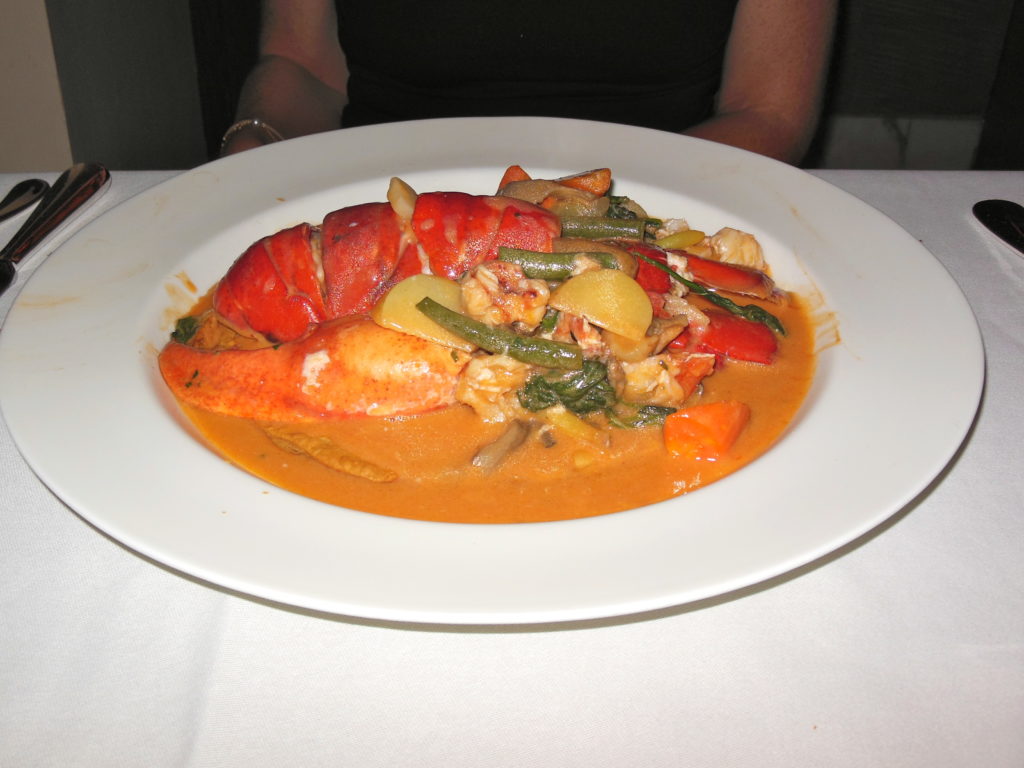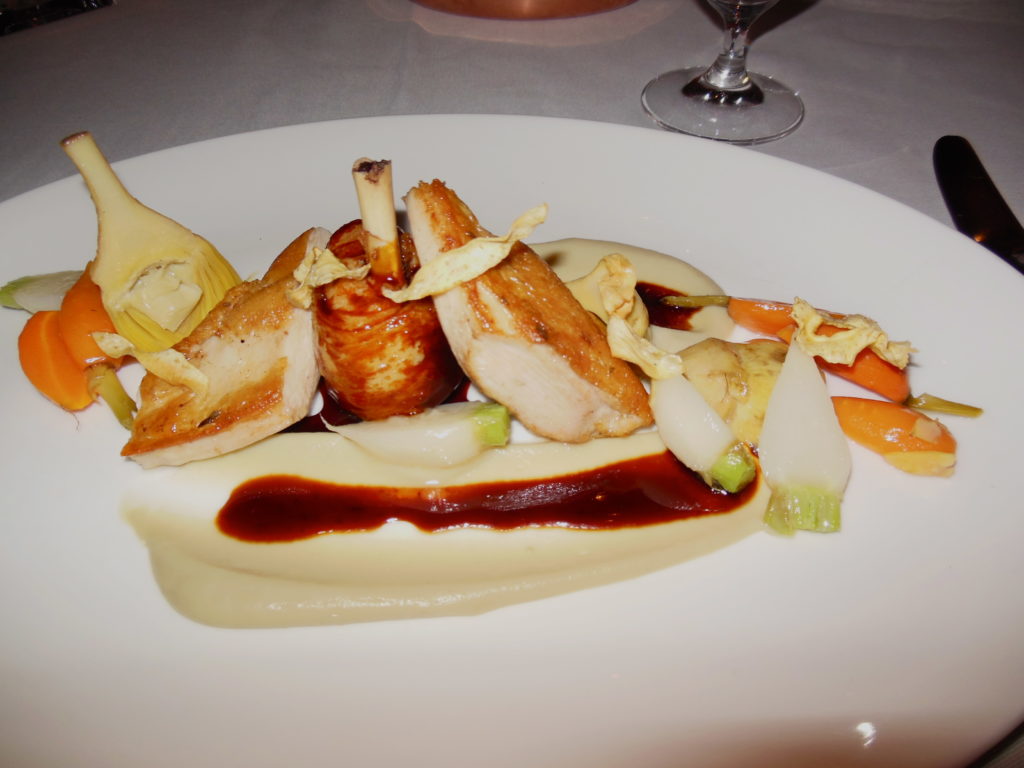 The next day, we ate lunch at Riva, a poolside Wolfgang Puck restaurant at The Venetian. My friend ordered the steak skewers and said it was delicious. I had bunless burger (I try to avoid gluten) that was large and juicy–you could tell it was high-quality meat–with thick homemade kettle chips. So good. Honestly, once you top it with cheese, tomato, lettuce, onion, and avocado, you don't miss the bread.
That evening, we actually ordered room service at The Venetian for dinner. We had a long day of being out and about and weren't in the mood to deal with more crowds. I ordered salmon and she ordered chicken, and we shared chips and guac. We were impressed by how good everything was! And the prices were actually pretty reasonable. It was fun to curl up in our comfy clothes and watch a movie and eat room service. Everyone needs to do that every once in a while.
The next day, we had lunch at Azure, a private pool area at The Palazzo. They serve their food from the Wolfgang Puck restaurants on-site, and I loved my bunless burger and homemade chips so much the previous day that I had it again. Yep, just as good! More on Azure later.
That evening, we had a delicious dinner at Spago, a Wolfgang Puck restaurant in Caesar's Place Forum Shops. We got a 20% discount there with a voucher we bought at Tickets 4 Tonight for only $3 (you can find it on the Strip right by the Venetian). We shared the tomato salad, which had balsalmic vinegar, green beans, and burrata cheese, which they make in-house. It's essentially a very young mozzarella.
I ordered the short ribs braised in red wine, which were so tender that it was like eating pot roast. I've had crappy short ribs, and let me tell you, these were incredible. It was served on a bed of handmade ricotta gnocchi. I had never had anything like it before–so creamy and soft. My friend ordered the duck, served over a white corn puree.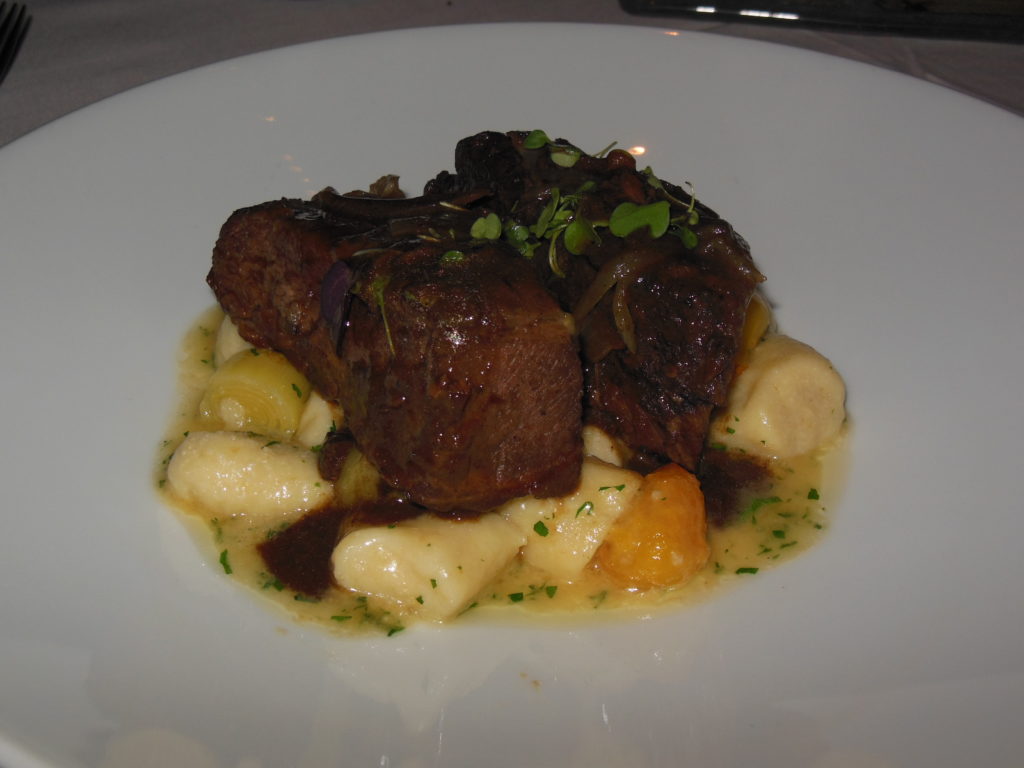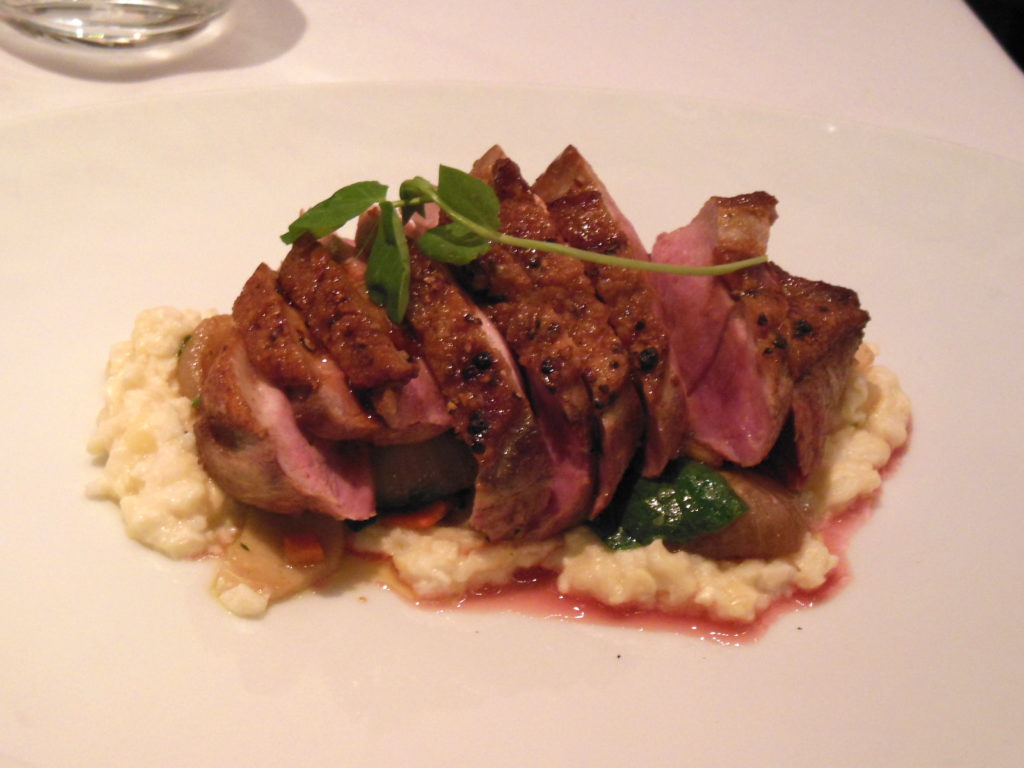 We finished with the chocolate soufflé, which was delicious beyond words. It's made to order, and it's ooey, gooey, and creamy. I also asked for a decaf coffee, and the bartender suggested instead turning it into a decaf espresso cocktail with Kahlua, among other things. It was Vegas, so why not? It was sinful!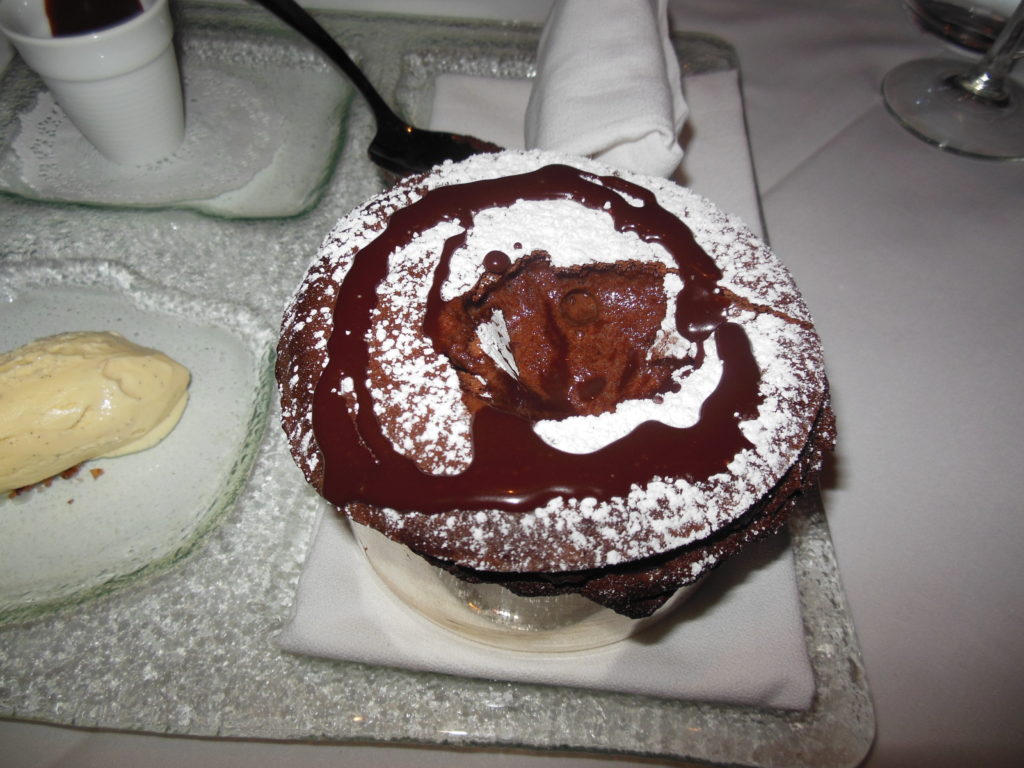 I have to say, one thing that really stood out about so many of the places where we ate was the great service and friendly staff. Here in Austin, service generally sucks since it's such a laid-back city. Our servers at Public House, Michael Mina, Azure, and Spago were so above-and-beyond awesome. They knew the dishes and drinks up and down, made great recommendations, and were really friendly and helpful. It was a breath of fresh air. I left Vegas with a full but happy stomach! I also found that getting around Vegas wasn't as hard as I thought–prior to visiting, I figured you had to totally rely on cabs, so it was nice to see that it was easy to get to restaurants all over the strip.
What are your famous Vegas restaurants? Whenever I go back, I can't wait to try some others!
Disclaimer: My meals at Public House, Canyon Ranch Grill, and Azure were complimentary for review purposes, but as always, my opinions are completely my own and no positive reviews were promised.