My recent post about dining out in Seattle was a hit on Twitter, so I decided to follow up with my tales of dining in Vancouver on the same trip. I went on my delayed honeymoon to Seattle, Vancouver, and Whistler during the first week of August, and after all of the dining out we did, let's just say it's a very good thing we did miles of walking every day!
Cactus Club Cafe
Our concierge at the Fairmont Hotel Vancouver recommended this to us as a casual lunch spot downtown. It was chic and had many sharply-dressed patrons, but we were wearing casual clothes and fit in just fine. We sat on the outdoor patio, which is a great spot for people-watching, especially of the well-dressed businessmen and women. I had the Raincoast Salad, with mixed greens, sugared pecans, strawberries, feta, and lemon-thyme vinegarette. It was supposed to come with grilled chicken, but I changed it to grilled salmon, which was moist and delicious. My husband got "The Burger"—their signature cheeseburger with fries–and said it was delish.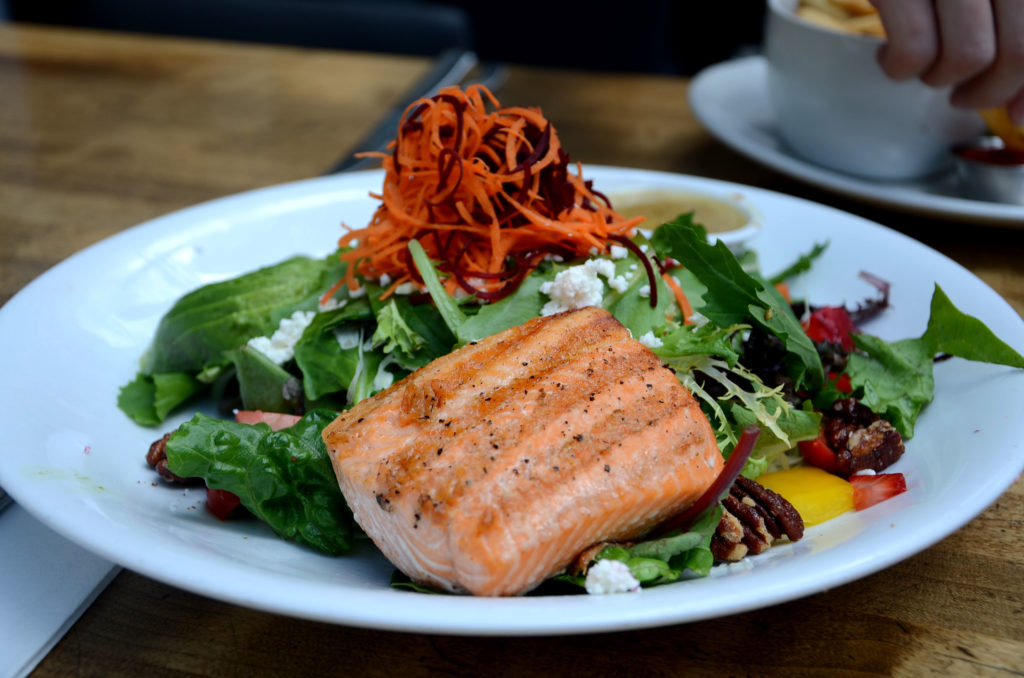 Pacifico Pizzeria & Ristorante
We were craving Italian but wanted something somewhat affordable and casual. I found Pacifico on Yelp, and I'm so glad we went! They have small plate and large plate options, which I loved–as a small woman, I can never normally finish restaurant entrees and hate overpaying for them. It was great being able to pay less for a smaller plate (though I still couldn't finish it!). They had several types of foccacia available as a starter; I got the focaccia with goat cheese and arugula. I wasn't sure if I would like it since arugula can be bitter, but it was great. For my entree, I ordered the pesto pasta and added shrimp. The waitress asked what type of pasta I wanted, and I wasn't sure. She suggested the gnocchi and said it would complement the fresh pesto very nicely. I didn't even consider gnocchi but went with it, and she was so right. The soft and puffy gnocchi, the flavorful pesto (not too basily), the perfectly-cooked shrimp, and grated Parmesan on top were the perfect combination. I squeezed the lemon wedge on the side with it, and it made it even better. My husband stole a few bites and agreed that it was fantastic.
He got the pasta with clams and shrimp, and he devoured it. We ended up spending more than we planned to (because of the appetizer and me adding shrimp), but the food was perfect, the ambiance was nice and quiet, and the waitress was so friendly and knowledgeable.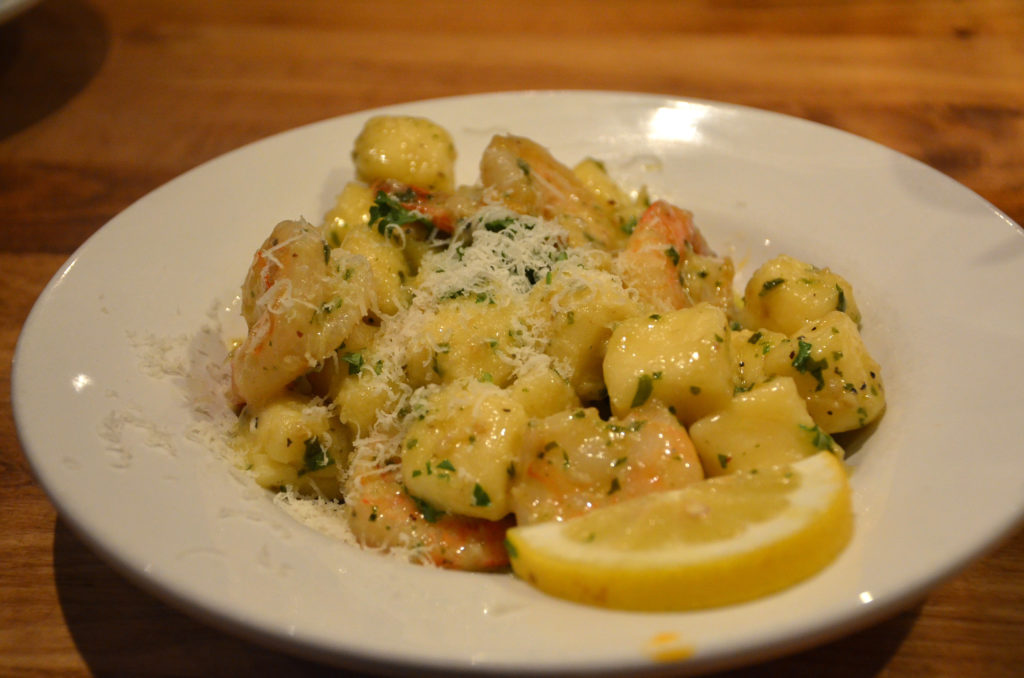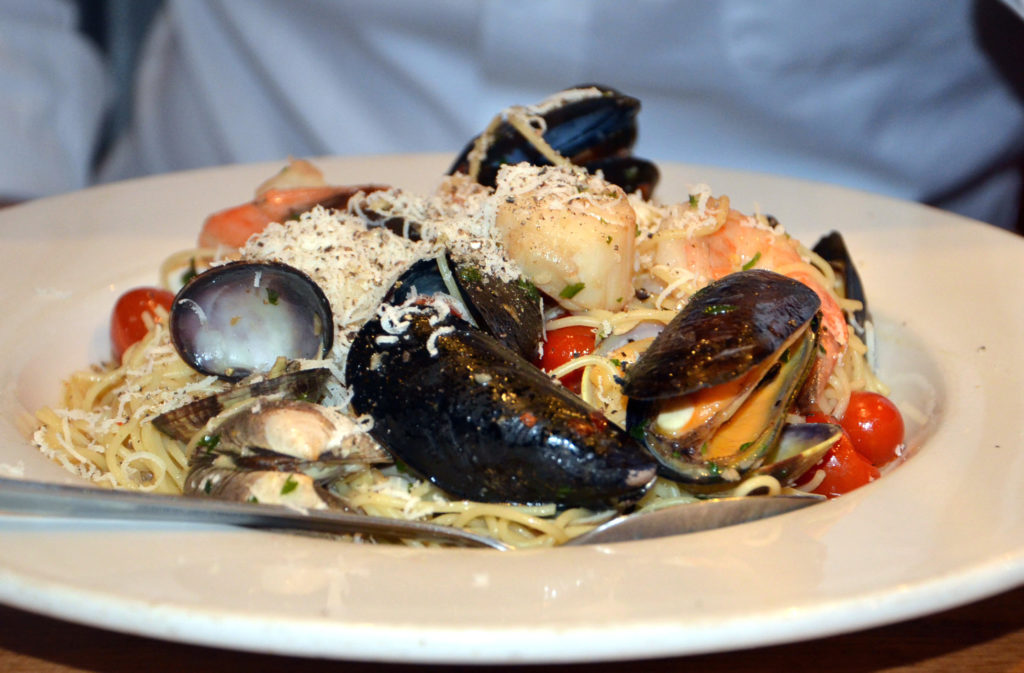 Kamei Royale
Another great find from Yelp! It was actually directly across the street from our hotel. I started with edamame, which was lukewarm—a little disappointing. But I followed up with miso soup, which was delicious, with just enough tofu and seaweed. We then ordered the salmon and cheese gyoza, which are deep-fried dumplings stuffed with baked B.C. salmon and yellow cheese (perhaps cheddar?). I had never heard of this before, and it was unusual but very flavorful. For his entrée, my husband got California rolls. For my entrée, I ordered the pork gyoza with sticky white rice (I have a dumpling obsession). I asked them to steam them instead of pan-fry them, and they were more than happy to. It took a bit longer, and they were very apologetic, but I didn't mind. It was worth it. They were nice and sticky and moist, with great flavor.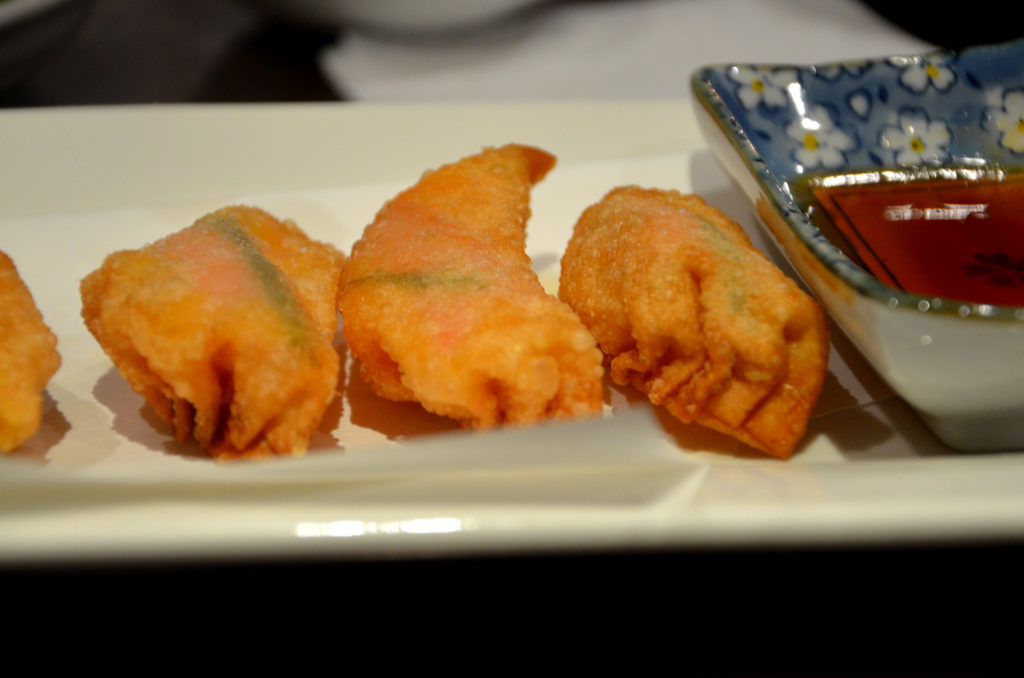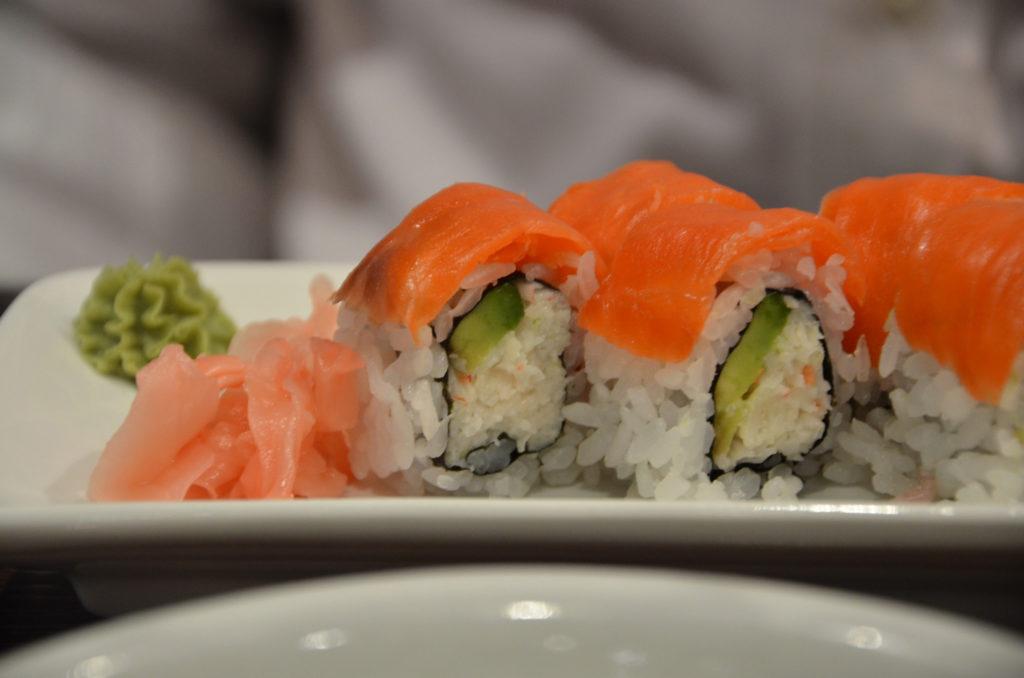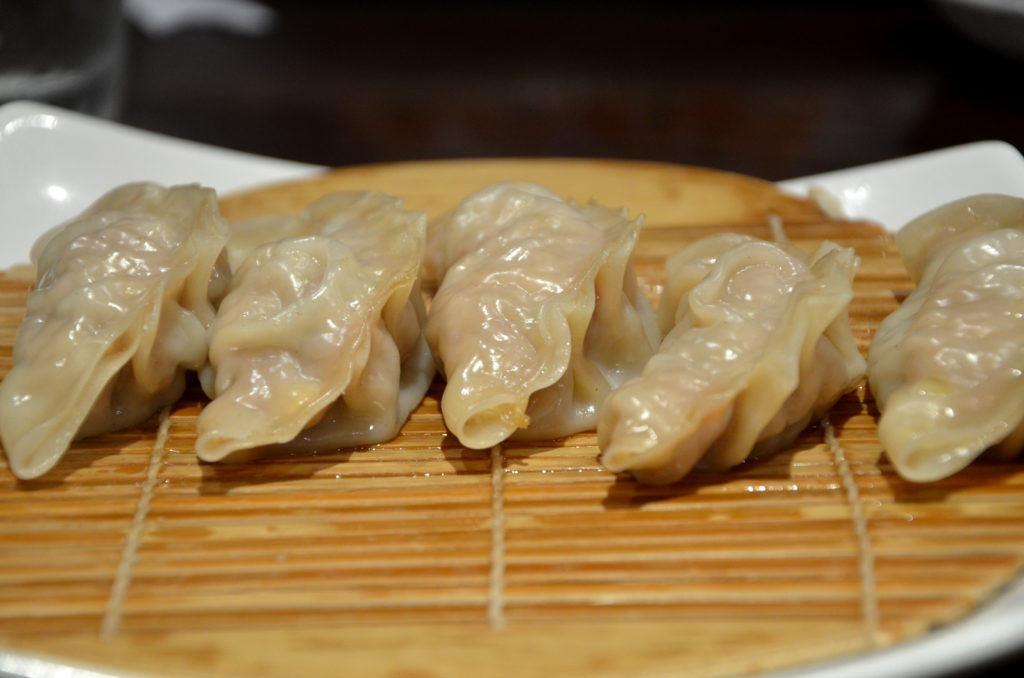 Cupcakes!
We passed by this cute pink shop a few times. I checked it out on Yelp, and it had very mediocre reviews. People said they had made better cupcakes themselves at home. But one afternoon we were craving something sweet and decided to give it a shot anyway. We got a chocolate cupcake with mint icing, a vanilla cupcake with strawberry icing, a chocolate cupcake with vanilla icing, and a Nutella cupcake. They weren't the best cupcakes we'd ever had, but they were pretty darn good and hit the spot.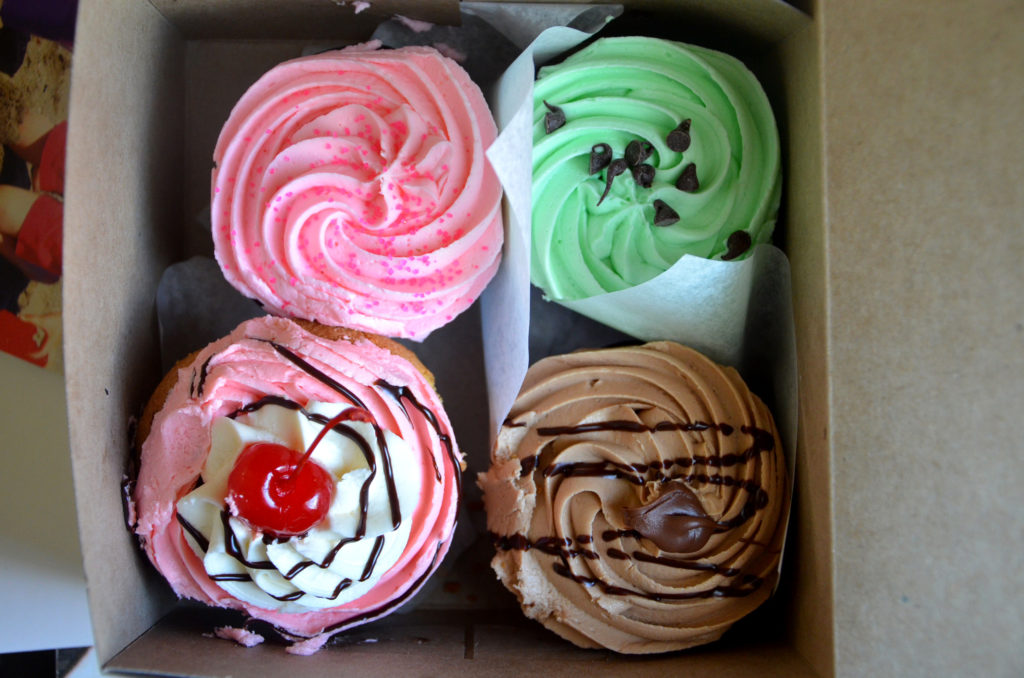 Don Guacamole's
This was a recommendation from my friend Natalie, the lovely Canadian behind the travel blog Near Afar. Everything was presented beautifully–even the free starter chips (second photo). We ordered the guacamole as an appetizer, which was cleverly served in a large martini glass. Being from Texas, we're extraordinarily picky about our guac, and it had perfect chunky texture and flavor. I ordered the grilled steak quesadilla, which used only white cheese. It was different from what I was used to, but really gooey, tender, and delicious. My husband got alambre, which is a dish similar to fajitas, and was very happy with it. We were initially skeptical about Mexican food in Canada, and we were very pleasantly surprised how wonderful it was here.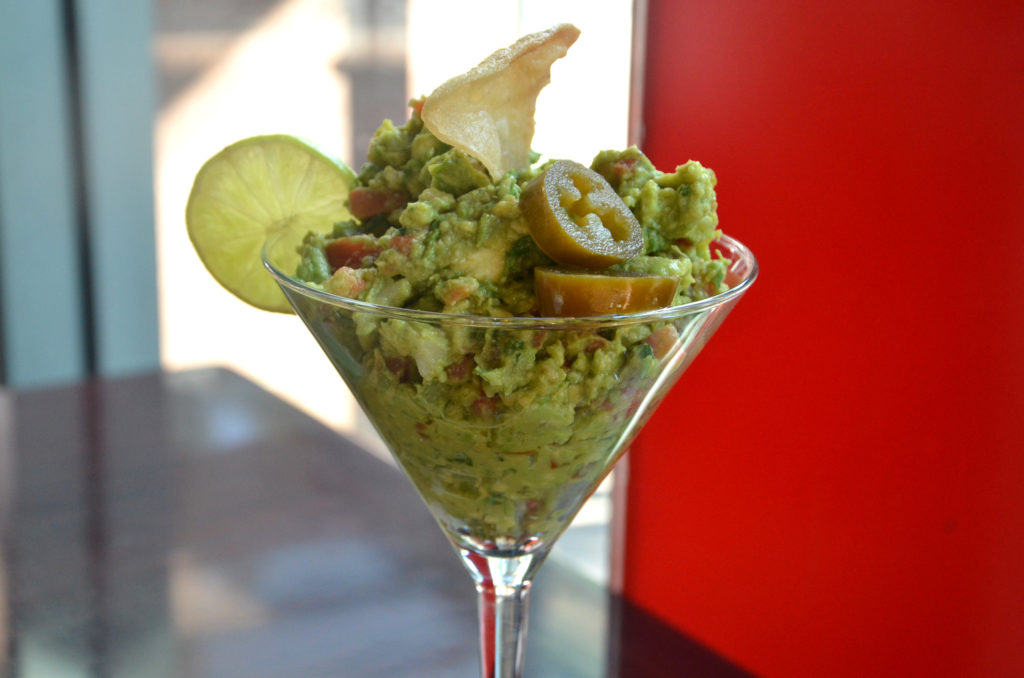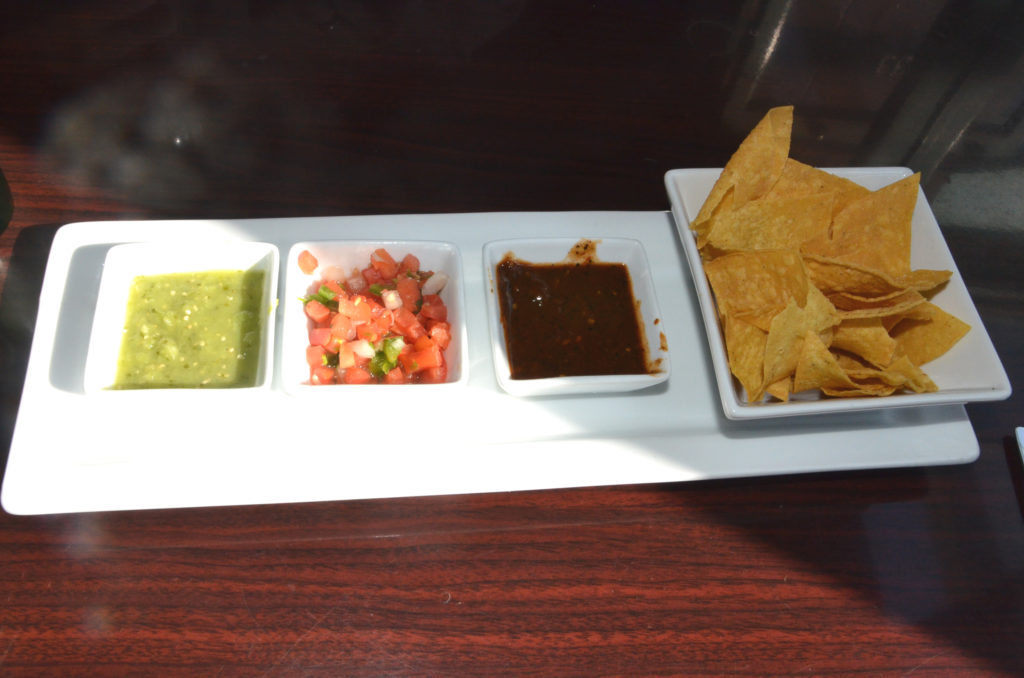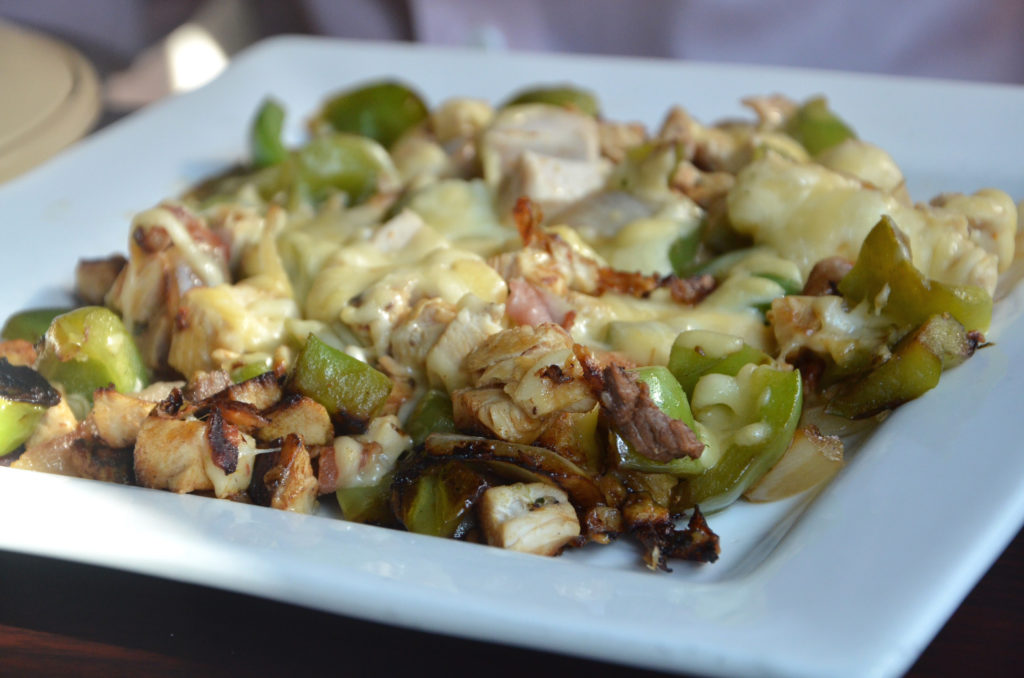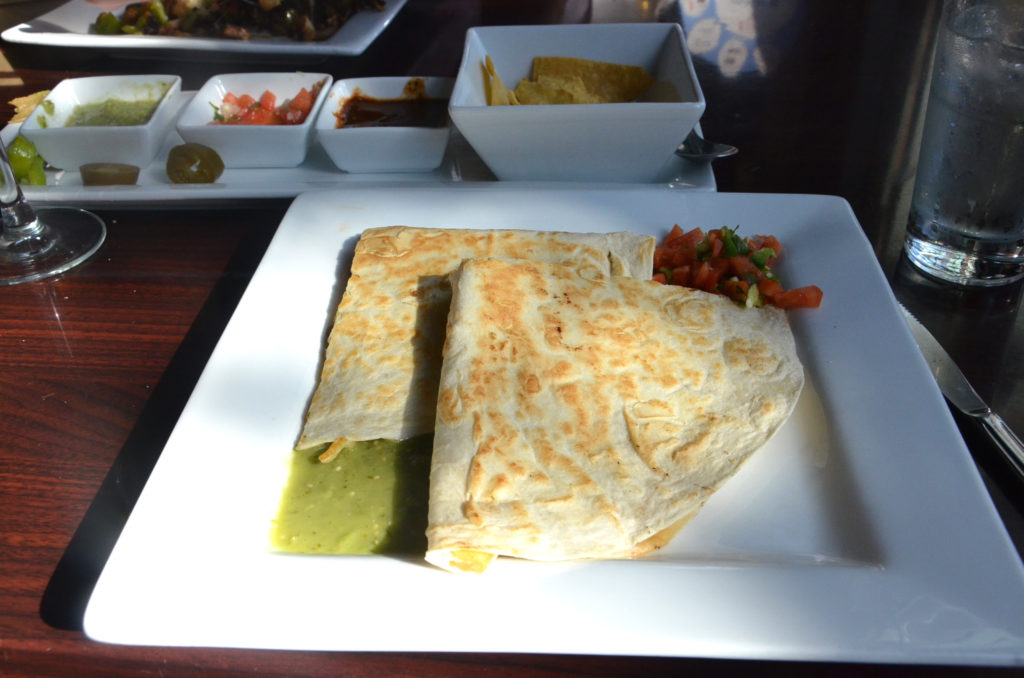 Fairmont Hotel Vancouver
The afternoon tea at the Fairmont Hotel Vancouver is quite the experience. I ordered the peppermint tea, which was piping hot and full of delicious mint flavor. The tiered trays of finger sandwiches and treats was just sinful. I couldn't finish anywhere near the amount served, so I took some back to the room with me, which is where I took the picture below. The scone below is one of the best I've ever had–so flaky and sweet. The chef's recipe is a secret. Also pictured below are lemon treats, blueberry cheesecake, and a mini eclair. You can read more about my experience at afternoon tea here.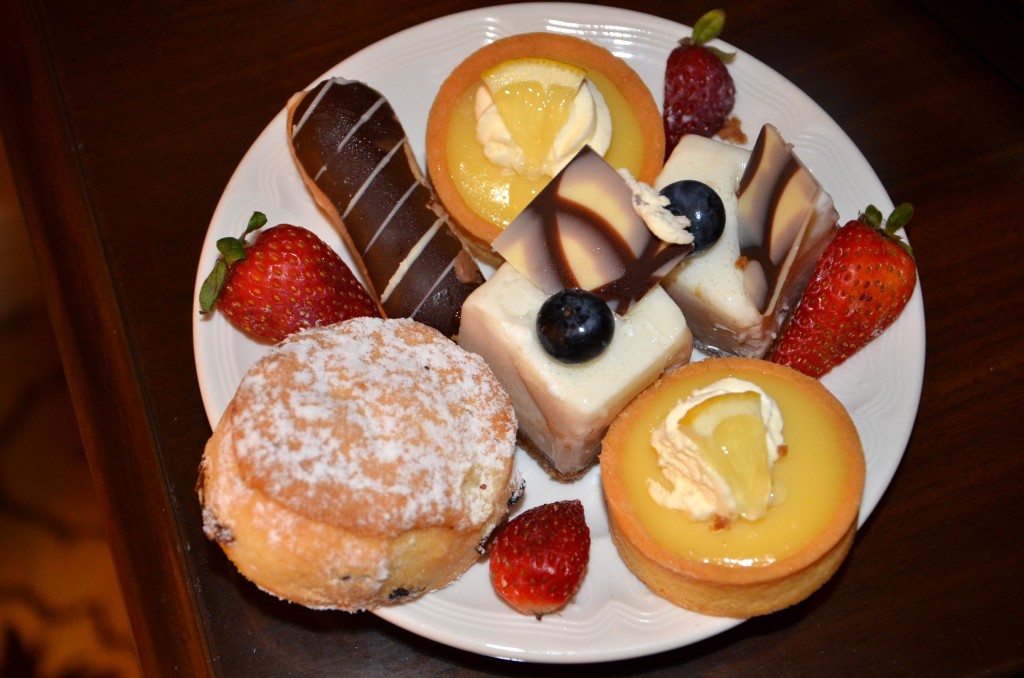 Other meals
I spaced out and forgot to take pictures of a few of my meals. Here's what we had:
The Keg
We ate lunch really late one day, so in the evening we only wanted a small meal. We stopped at this posh restaurant and bar. It was dimly lit with modern furniture. We ordered the baked goat cheese, which was coated in crushed almonds and served with a tomato basil salsa of sorts (had a balsamic taste). It was served with crunchy crostini and was oh so good. I ordered the spinach salad, which came with top-notch crumbled blue cheese, cranberries, mandarin oranges, pecans, and a wine-based vinaigrette. It hit the spot and was very flavorful. I only found out later that the restaurant was a chain–it didn't feel like one at all!
Café Crepe
We wanted a late-night snack, and this creperie was right around the corner from our hotel. I ordered dark chocolate with whipped cream. It was really just a crepe with a little melted dark chocolate in the middle (would have preferred a little more chocolate—it was so bready). They gave me a separate cup of whipped cream to dip it in. It wasn't amazing, but it was a good cheap treat. The husband got one with Nutella and bananas that he said was yummy.
Sandwich Plus
I searched on Yelp for a while for a cheap sandwich spot downtown other than Subway, and this one got rave reviews. It's located in a strange little food court with mini-restaurants of Indian, Italian, Mexican, Chinese, Japanese, Greek cuisine and more. After walking in, I wondered if it was really a good idea to eat here, but we stuck with it. The line took forever since there was just one little old lady making sandwiches, though it was worth it. We got the roast turkey sandwiches, and rather than using deli meat, they use real roasted turkey, like the kind you would eat at Thanksgiving. You can choose from dark meat, white meat, or mixed. She literally piled it on by the handful. You can add cranberry sauce, too, in addition to many other fresh ingredients. Instead of cranberry sauce, I added avocado and cheese. Between the two of us, it cost less than $15. The sandwiches were fresh and filling (I couldn't finish mine).
After several nights in Vancouver, we rented a car and went to Whistler, where we had a few other fabulous meals (that I also forgot to take pictures of). It's a beautiful two-hour ride, but if you prefer not to drive there yourself, there are plenty of Canada tours that can take you by bus. Not everyone is into them, but sightseeing tours make it easy to get from point A to point B and teach you about the area.