Being a 20-something is awesome! It's the perfect time to go cruising too. There are a variety of reasons why cruising is the best way for young people to travel. Listed below are five great reasons for people in their 20's to go on cruises.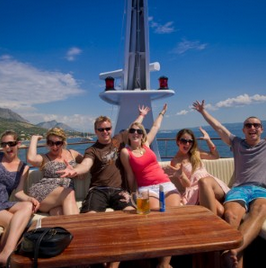 1. Everything is taken care of
2. Party atmosphere
3. Happy people are everywhere
4. Great bonding experience for friends
5. Unlimited adventures
1. Everything is Taken Care of
Cruises are the perfect care-free way to travel. The food, accommodations and entertainment are all taken care of. This is great for people who want to enjoy a care-free vacation. There's no need to schedule meals or book hotel rooms. All of the details are taken care of. This worry-free vacation is an awesome choice for anybody who wants to focus on having fun.
2. Party Atmosphere
The party atmosphere is a big hit with most people in their 20's. There is non-stop entertainment aboard the ship. Cruises usually have a variety of night clubs to choose from. It's not the same boring club every night. They may also have different themes and dance classes available. The party atmosphere isn't restricted to the evening hours either. There are always parties going on poolside. There's live music almost every day. In addition, disk jockeys are always spinning the hits.
3. Happy People are Everywhere
Nobody is unhappy on a cruise ship. Everybody is having a great time. Other travelers are friendly. The crew is friendly. The positive energy is absolutely contagious. Cruisers love making new friends everywhere they go. Young people will find so many new friends to party with. Sometimes, life-long friendships can be made aboard cruise ships. This is a great time to meet new interesting people. Worries are left at home. Nobody is worrying about their student loans or entry-level jobs. It's the perfect time to kick back and relax.
4. A Great Bonding Experience for Friends
Sea travel is such a great bonding experience for close friends too. Cruising in a group is awesome. It may be somebody's birthday celebration or bachelor party. A cruise vacation can also be scheduled for no reason at all. Most people need no extra encouragement to take a cruise. Friends will get to spend so much time together. They can party together and enjoy the nightlife.
5. Unlimited Adventures
A cruise vacation offers young travelers unlimited adventure options. There are excursions available at every port and plenty of activities to do on the ship. Some ships even offer surfing on the boat! Horseback riding on the beach is available at most ports. Snorkeling and diving are also great activities. It is fine to keep one's schedule relaxed too. Some people actually like to sit on the beach during their vacations! Many destinations offer plenty of free adventure opportunities too. Exploring an island with good friends is a blast. Destinations will offer local food, fun and culture. Hiking trails are a great inexpensive way to enjoy a new destination too.
Cruising is a fantastic way for 20-somethings to travel. Cruise ships offer unlimited possibilities for having fun in the sun. It's a great place to make new friends and enjoy the company of old friends. Between the amazing nightlife and the interesting destinations, there is never a dull moment aboard a cruise ship.
Gabriel Obadia is a freelance blogger who writes about making a film dvd for Video Express and drain unclogging for plumber Montreal.