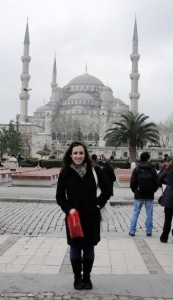 I was in Istanbul, Turkey for three nights at the very end of February. While my brief visit was not without frustration, I also had some phenomenal experiences.
I was stunned by the massive amounts of ancient history and the beautiful, ominous mosques. I also thought it was cool that Istanbul is the only city in the world to sprawl across two continents (Europe and Asia). And don't get me started on the grilled honey pancakes…
I sometimes contribute articles to TravelIntelligence.com, a wonderful UK-based travel site that focuses on boutique and luxury hotels. I wrote a guest post for their blog, which just went up today, about six of the things you absolutely MUST experience on your trip to Istanbul (in addition to two popular attractions you shouldn't waste your time on).
I hope you will take the time to check out my guest post and explore the TravelIntelligence website!
What attractions do you think shouldn't be missed in Istanbul? Any doozies you would skip next time?