This is not a sponsored post–I truly believe that Career Break Secrets rocks.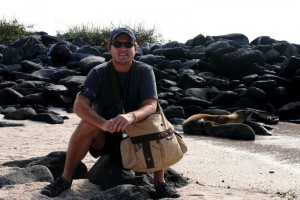 Many of us dream of taking a break from work to travel the world. We want to break free from the day-to-day grind and see what life is like elsewhere. But taking the leap is hard and goes against the norm–enough that it keeps most people from ever doing it.
I met Jeff Jung last year at the first annual Meet, Plan, Go!–a nationwide event to inspire and educate people of all ages about career breaks (also known as sabbaticals, or for the folks fresh out of college, gap years). While I won't be able to take a career break in the next few years, I hope to go on one at some point in my life, so I attended.
Jeff was the emcee. He is a former corporate consultant and marketing director who left his job in 2006 and traveled full-time from 2007 until 2009. He has been to nearly 30 countries. Jeff now runs his own company, Career Break Secrets, to encourage others to take a sabbatical and show them how its possible. The site is full of information, but its focus is a travel video series. Whether you want to volunteer abroad, work abroad, explore a new language, or discover a new culture, the videos cover it all. For anyone who is even slightly interested in taking a career break, I strongly suggest you check it out. (Learn more about Jeff and career breaks in my past Q&A with him here.)
Career Break Secrets provides video guides and advice for career breaks around the world. The first season has 14 HD downloadable videos with four episodes in each of these countries: South Africa, Spain, New Zealand, Patagonia. But currently, only the four Spain episodes are on sale–the rest are still to come. I was able to attend the premiere party in Austin, and there was so much excitement about them. The videos are vivid, colorful, fun, and jam-packed with information. Jeff travels to each of the locations and hosts all of them, and he is a great entertainer.
The Career Break Secrets videos shows some of the best ways go give back and volunteer when you travel in certain areas, how to pick up a new skill on your career break (like cooking or sailing), and interesting ways to see the country. Jeff guides you through the experiences, but he also interviews current career breakers, volunteer directors, teachers, and other experts. I absolutely love the episode all about Monkeyland in South Africa, which reveals what it's like to volunteer at this amazing monkey sanctuary. I've always been interested in working with animals in Africa, so I appreciated the opportunity to learn more about what the day-to-day is actually like.
The content is diverse and shows how unique and rewarding a career break can be. For example, just in the four episodes about Spain, one takes you to a cooking school in Seville, one takes you through a language immersion program in Madrid, one shows you what it's like walking the Camino de Santiago and how to prepare, and another explores Spain's wine country.
Some people take time off work to simply backpack around the world and wander, but I love that Jeff views career breaks as an opportunity to learn something new or develop a new skill. Many people such as myself originally had the idea that disappearing from the working world would make it hard to find a job upon returning. But one major theme at Meet, Plan, Go! was that career breaks can actually revitalize your career. As Jeff and other panelists emphasized, you will come back to the job market with more skills, a better understanding of the world and other cultures, and a unique edge that sets you apart from other job candidates. Additionally, taking time away from the rat race can put pep back in your step and often causes you to reevaluate whether you're doing something you want to return to.
I have gotten to know Jeff personally and truly believe in Career Break Secrets. The videos are high-quality, jam-packed with gorgeous imagery and actionable information. Even if you don't plan to take a career break in the immediate future, they're fun to watch and great inspiration for future travels.
The next Meet, Plan, Go! takes place nationwide on October 18, 2011. You can buy your tickets here.
Message from our partners: Parking at the airport in the United Kingdom doesn't have to cost a fortune. Check out great deals for Edinburgh airport parking, Liverpool airport parking, and Glasgow airport parking.