When ever you have to fly long haul, comfort is a big issue because you will on the plane for sometime which means that you will have to sleep. Personally for me, if I find a business class ticket at the right price I will take it straight away because I know that flying will not be a hassle, it will actually be an enjoyable experience to fly for over ten hours. It's a great feeling knowing that you will have guaranteed comfort and privacy for the whole of your journey. The last time I flew I loved every moment of it, it was only my second time up at the front of the plane and it only reinforced my belief that it is the best way to travel. Here are the three things that I enjoy most about Business class and why it is worth spending the extra money. If you haven't flown business yet then trust me when I say that you should try it at least once!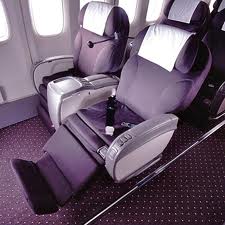 The legroom and huge recline
On average a business class seat will allow you an extra 8 inches of recline, but most flights you will actually be able to lie down horizontally when it is time to sleep. The first time that you fly business class instead of economy class it is really strange, but strange in a good way because the amount of legroom you have is absolutely amazing! It's absolute luxury to be able to stretch your legs when reading a book or watching one of the great movies on offer, then when you are tired you use the remote control to put your seat all the way back for a great night's sleep.
Luxury before you jet off
When you fly business class one of the biggest perks you will be entitled to is access to the business lounge. I actually show up at the airport earlier than planned so I can enjoy everything that these stunning lounges have to offer. In a lot of the lounges you can eat some tasty snacks, have freshly prepared coffee and juices made for you, get the mixologist to whip you up a tasty cocktail and you can even get a massage in some of the lounges. It really is the best way to start every journey, you leave the airport feeling refreshed and ready for more luxury.
In flight luxury
So after you have enjoyed the lounge, you will then receive priority boarding which is great because you get to sit waiting for take off in a comfortable seat. You will also, depending on the airline and type of aircraft you are on, be able disembark from the plane first before all of the other passengers. The other great things that you can enjoy are large television screens, power points for your electrical equipment and internet. The food of course is of the highest standard. One thing that you should know is that you get to travel with a lot more than when in economy because you get a huge baggage allowance.