I was honored to be awarded The Gift of Happiness, an initiative by the Costa Rican Tourism Board to spend one million dollars to send people to Costa Rica for a week (600 trips were awarded). It was inspired by the fact that the country is consistently near or at the top of lists of the happiest countries on earth. I was given a choice of several itineraries, and I chose the one that focused on eco-tourism and seeing an authentic side of the country. I went from May 10-17, 2012. Here is a post from my amazing trip!
When I learned that a visit to the Bribri community was on my itinerary, frankly, I was a little intimidated. I had never visited an indigenous village or gone somewhere so remote. I was especially nervous when my tour guide told me that it would be egregiously offensive if I didn't eat or drink everything they gave me (a potential nightmare for a picky eater with a sensitive stomach). He joked that iguana may even be on the menu. Gulp.
The Bribri are an indigenous tribe that are spread out in various communities throughout Costa Rica's Talamanca region. They nearly all work in local agriculture, either with cocoa or banana plantations. They all speak Spanish, and most speak the native Bribri language, though some of the youth don't know it. We learned that they are now teaching it in the schools again to ensure the language doesn't become extinct.
To get there from our hotel just outside Puerto Viejo, we took a 45-minute car ride (the majority of it on unpaved, rocky roads), then we arrived in a tiny village in the middle of nowhere. We took a short walk to the Yorkin River, where we apprehensively climbed into our boat. It was a small dugout canoe with a motor attached. The boat was wobbly, the blue paint was chipping off, and as we drifted into the river, the captain couldn't get the motor to start. I was thankful they put me in this sexy life jacket.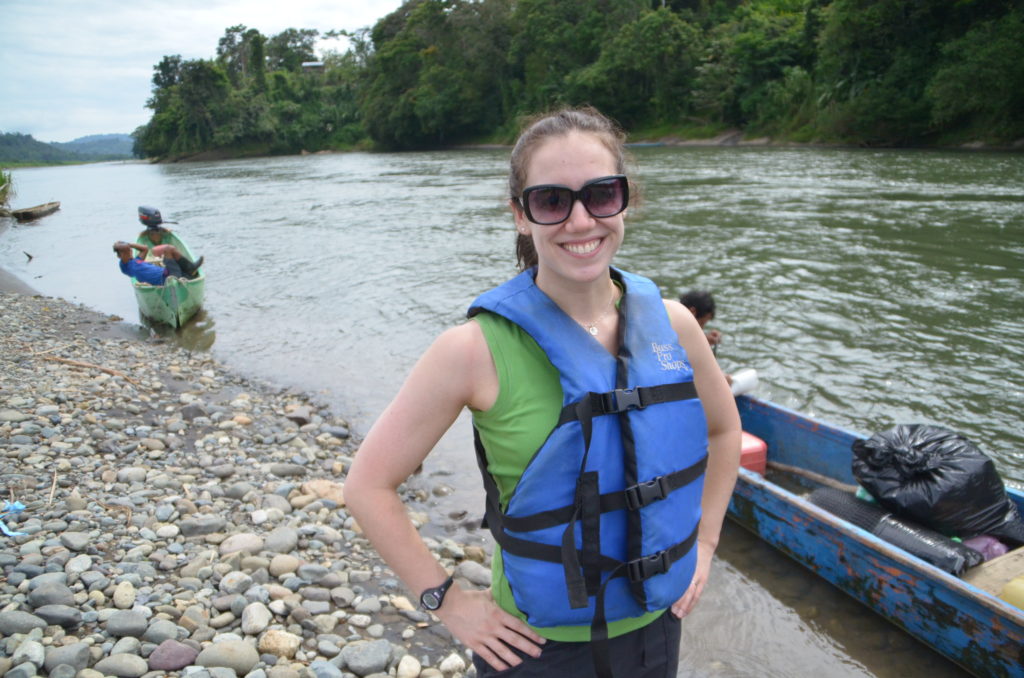 The motor eventually sputtered to a start, and we took a leisurely boat ride along the Yorkin River for an hour. It was a gorgeous and relaxing trip. On one side is Costa Rica, and the other side is Panama. They let us stop on the Panama side just so we could say we had been there.
The scenery was so stunning that we barely felt the need to speak; we were surrounded by a jungle on either side, and colorful birds kept flying past us. Our guide and translator for several days, Victor, was a nature expert and was able to tell us about all of the birds and plants around us. We passed by few other boats. It felt like our own private river in the middle of nowhere.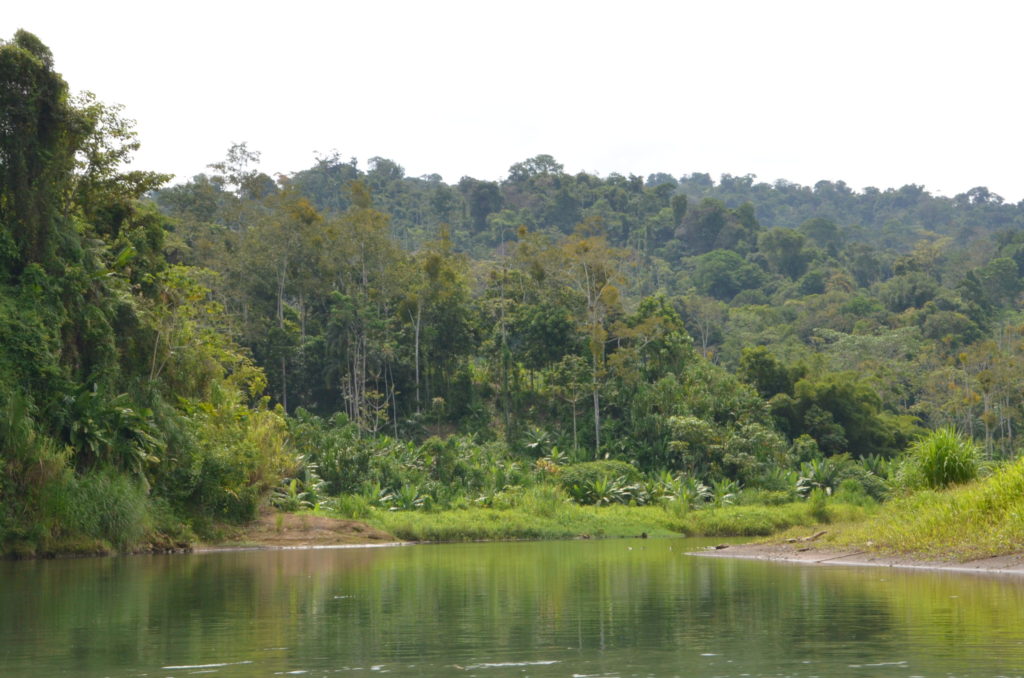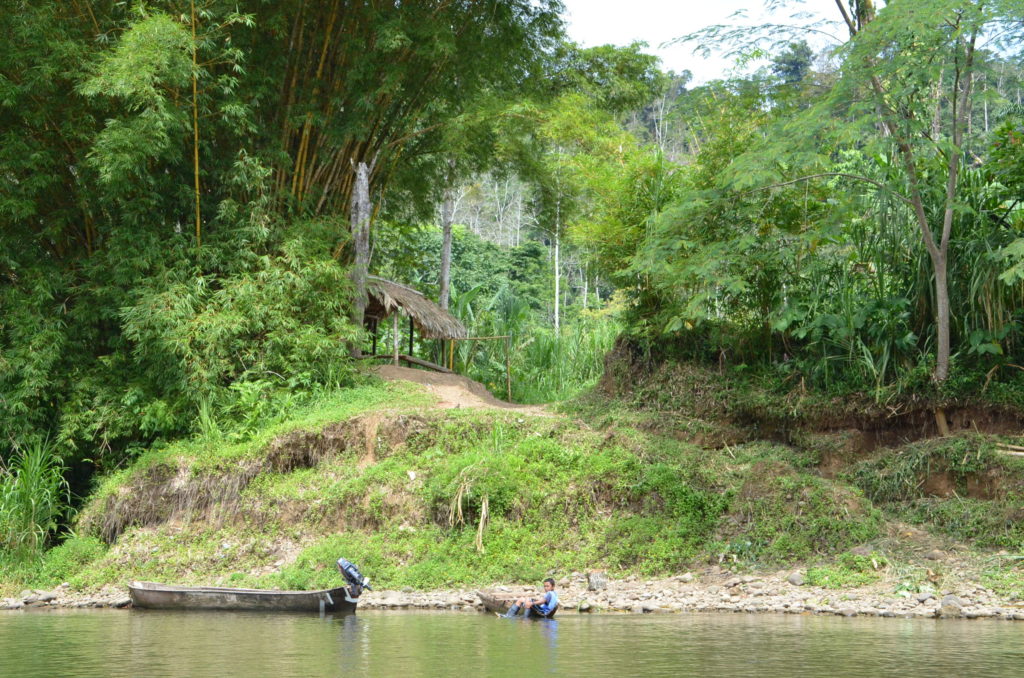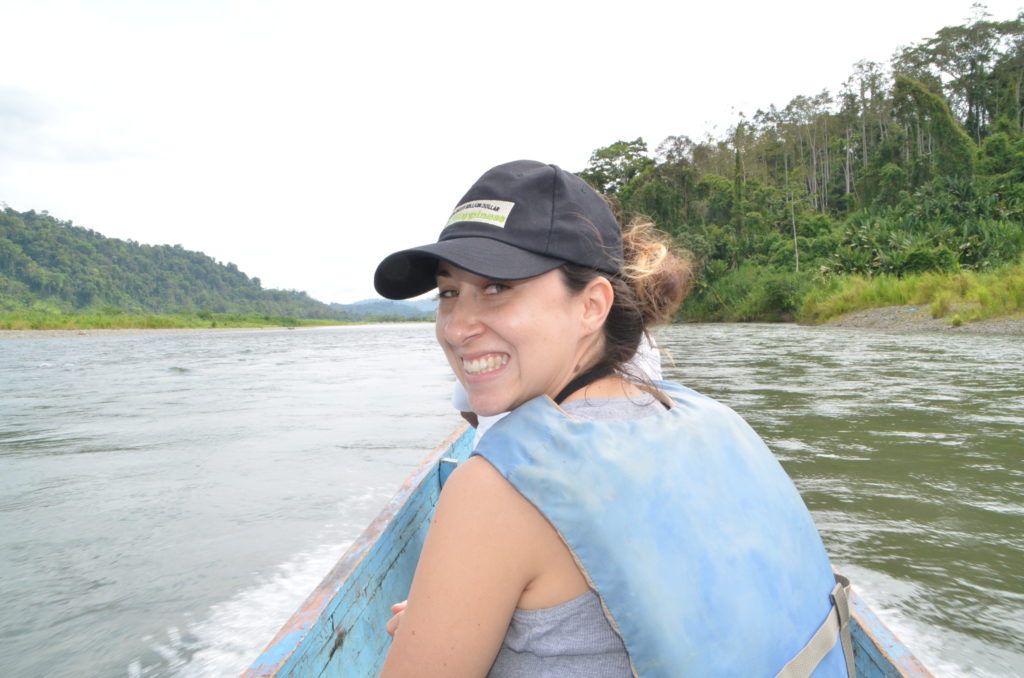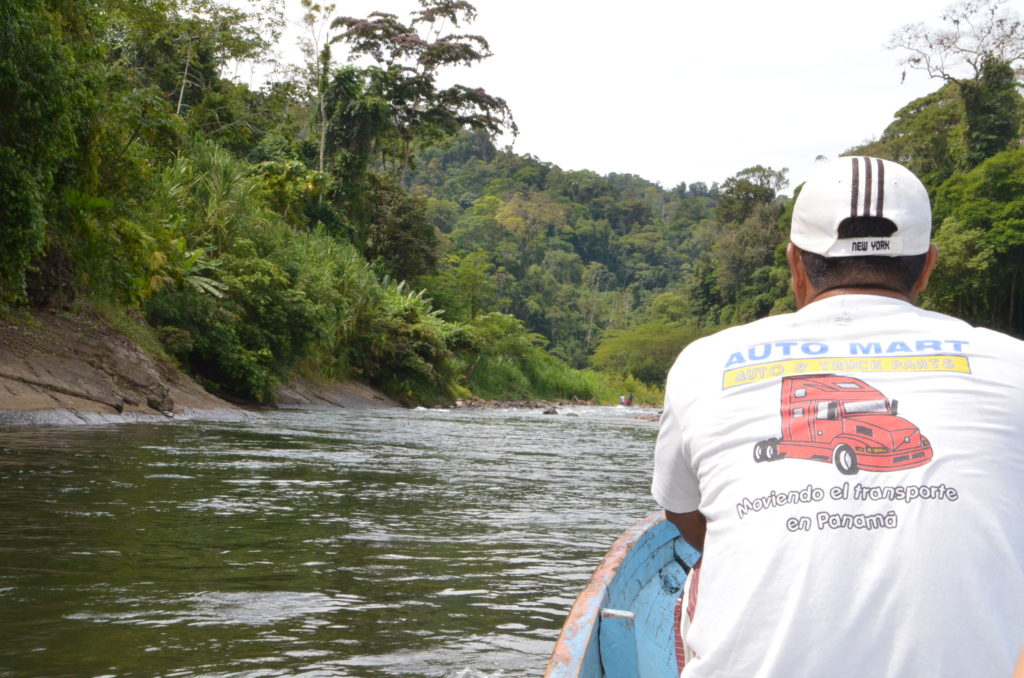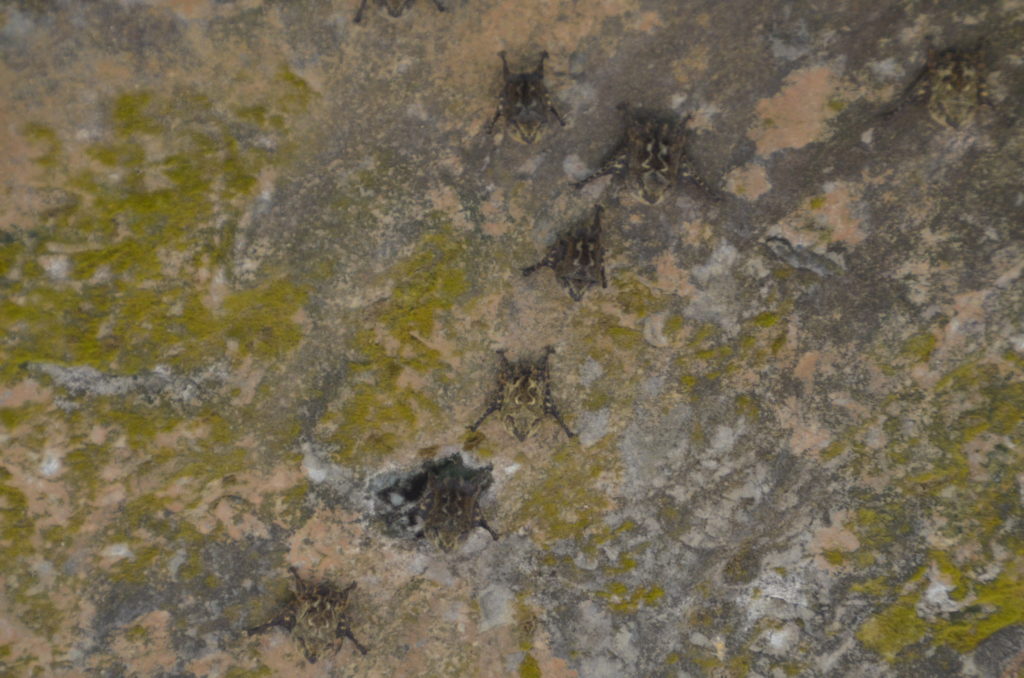 We docked and took a hike of about 30 minutes to get to the main village. We passed colorful plants and lizards. Victor and the local Bribri guide for the day took turns telling us about medicinal uses of the plants surrounding us. It's incredible how they view the jungle as their medicine cabinet. One plant they showed us is used as an insect repellant, while the other is used for upset stomachs (they had us chew on that one, and it was so bitter we had to spit it out). We also had some fun playing with leaves that recoil when touched.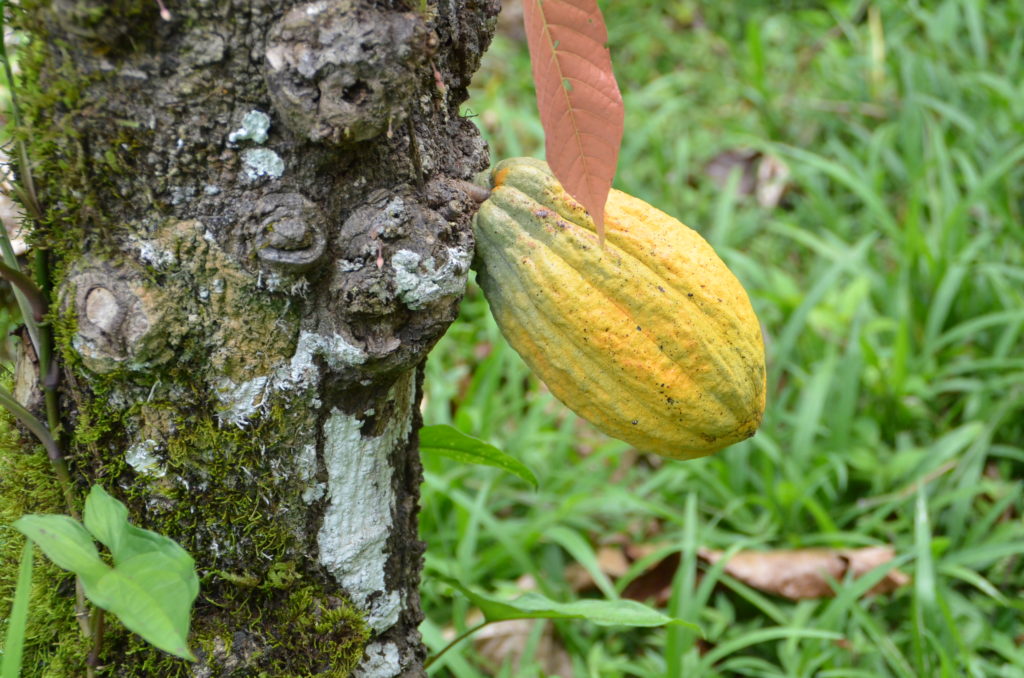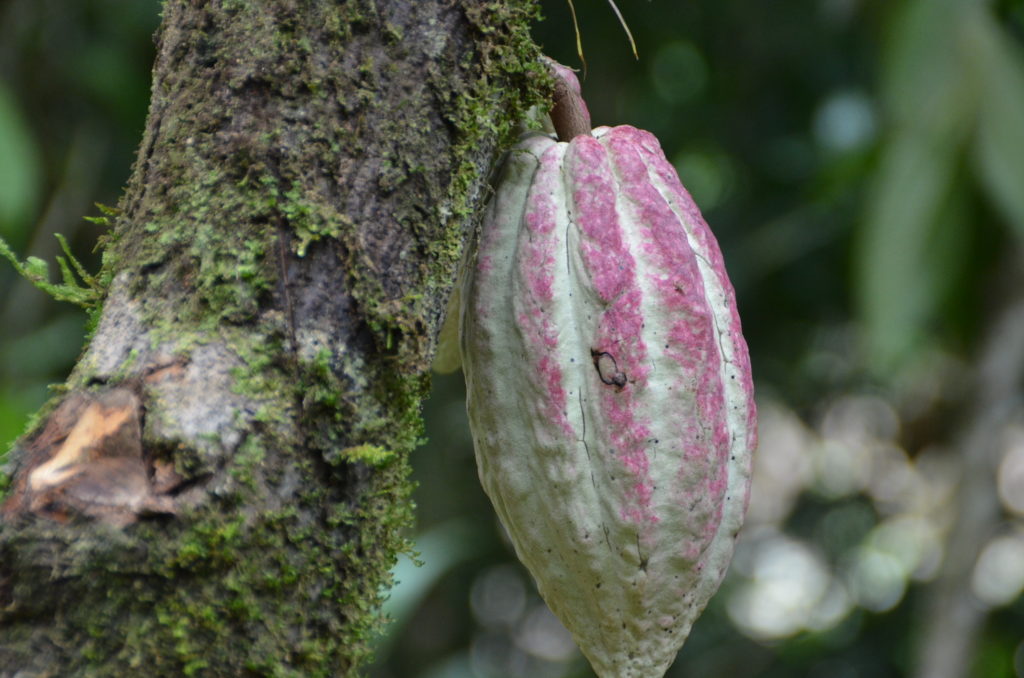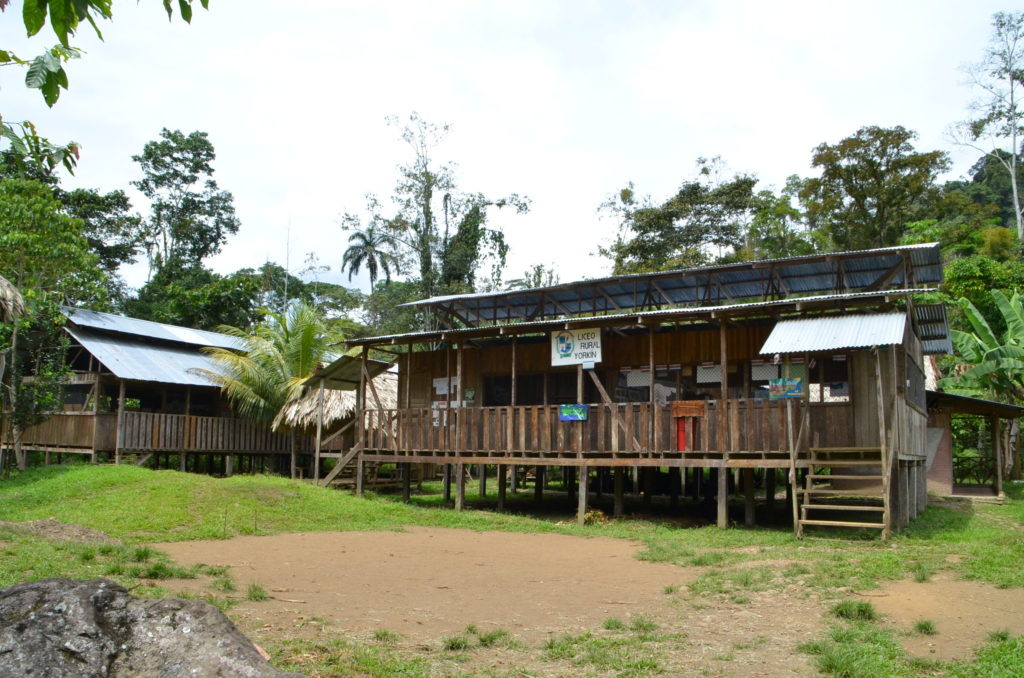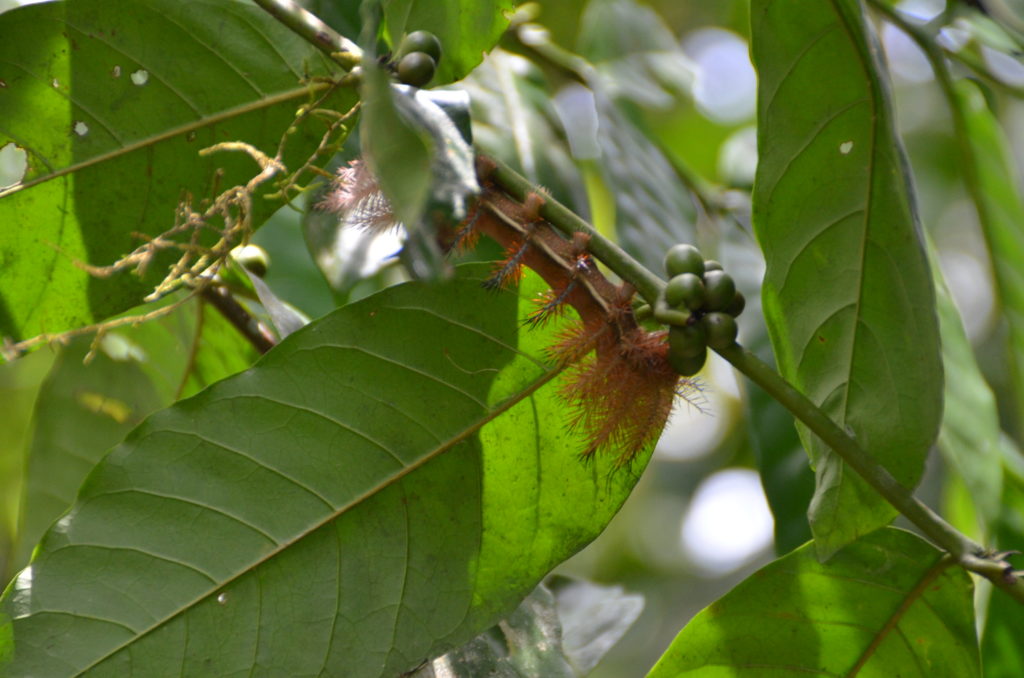 Our local guide showed us the Usure, which is their main community gathering place. This individual Bribri community we visited consists of less than 150 people.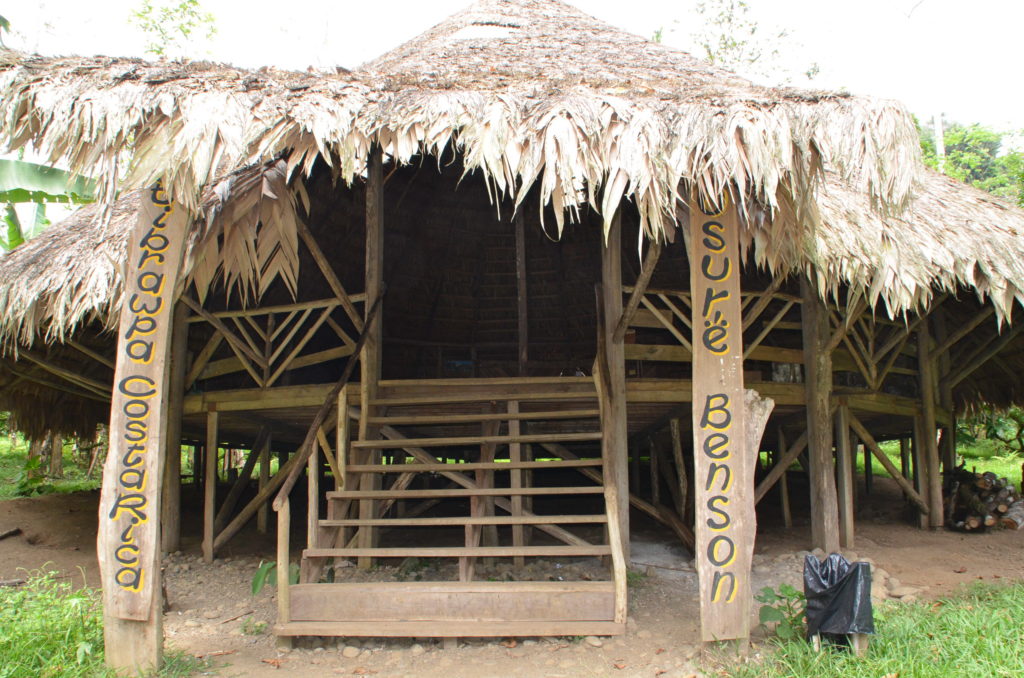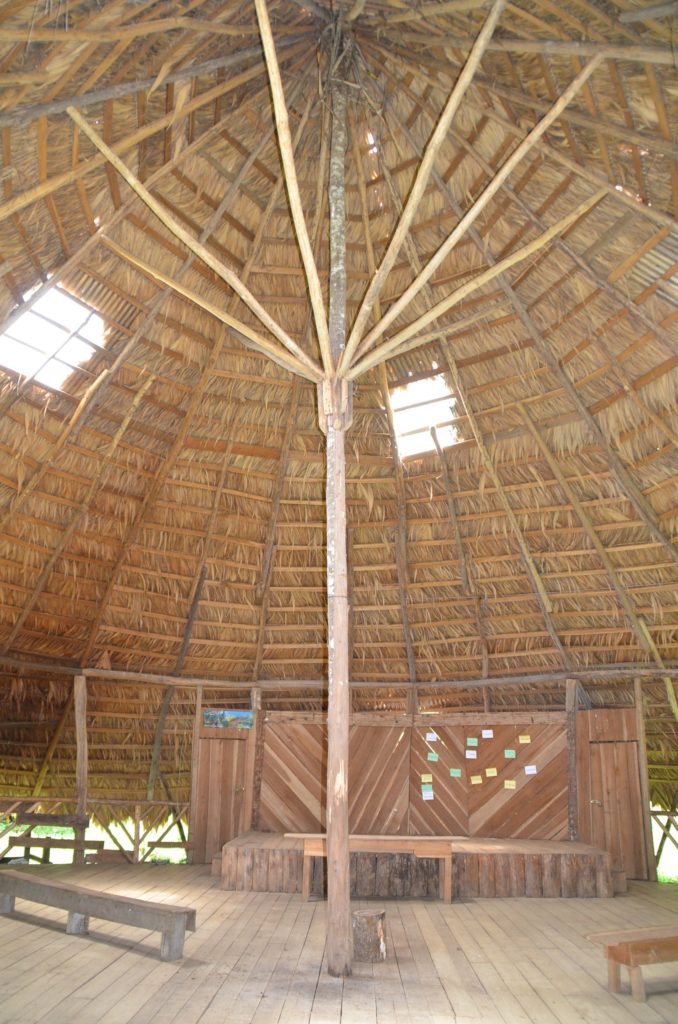 They then took us to the community center, where they fed us fresh-made bread with banana in it. It was essentially like a banana pancake, and was served on a banana leaf. It was so warm and sweet!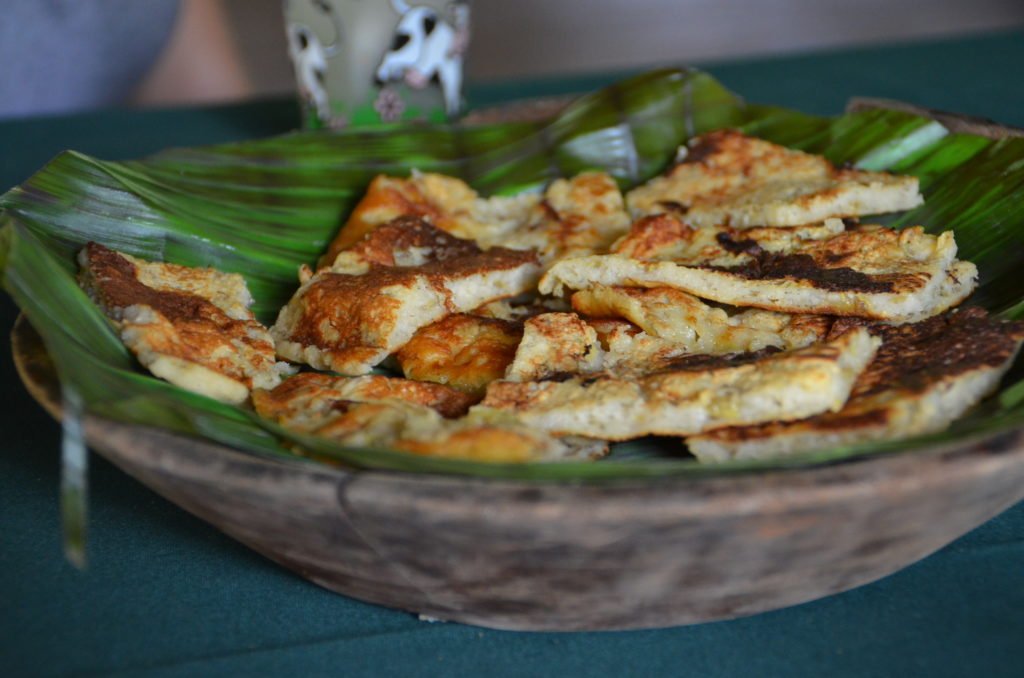 While a local woman was preparing our lunch, our Bribri guide took us around to see more and do some activities. All of the structures were open-air and made of wood, with hardly electricity and very little plumbing. We were told that they get electricity for about an hour a day. It was hot and humid and we were literally dripping in sweat, but the local guide wasn't sweating at all. A testament to how the human body can acclimate.
One strange thing I noticed was that there was hardly anyone in the village; we saw fewer than 10 people the whole time we were there. I worried that it was perhaps a fake village just for tourists, but our guide told us that it was authentic, and that people were either out working in the nearby banana plantations or were in another part of the village where tourists don't go.
They first showed us how they make their thatched roofs from the palm leaves. They let us try it, and I wasn't so great at it, so I won't post a picture of my feeble attempt at their handiwork.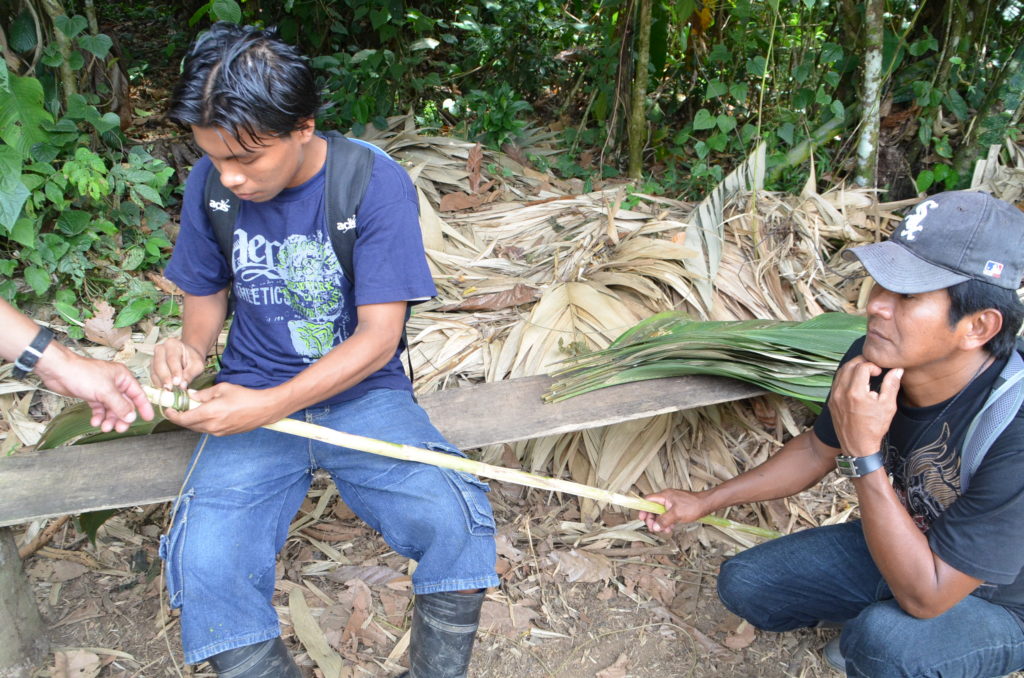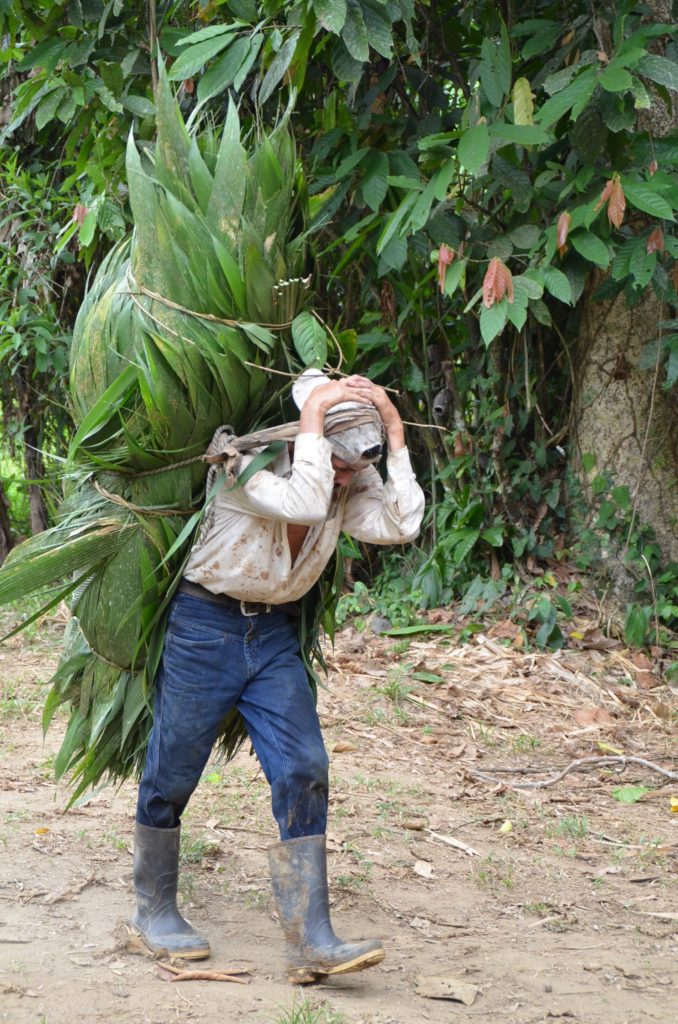 Next, it was time to learn archery! They hand-make their own bows and arrows. While they now sometimes hunt with rifles, we learned the authentic way. I did some archery when I was younger and remembered how hard it was. Yep, it was still hard. We were aiming at a big hanging fruit. I kept accidentally holding onto the rope with my fingers, so when I let go, the arrow just fell on the ground.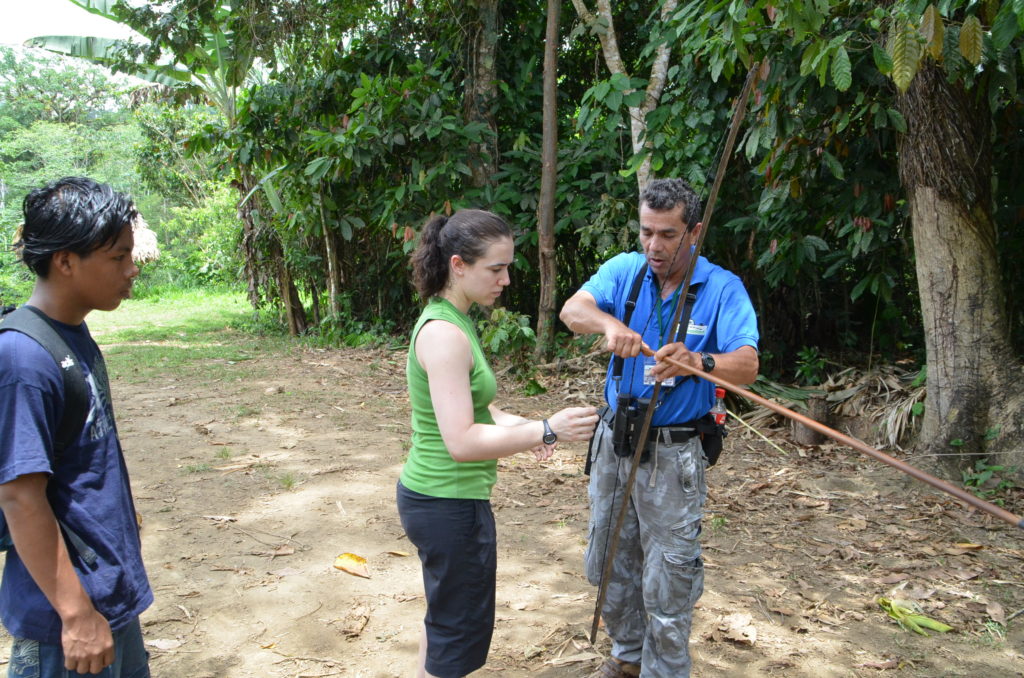 Finally, I got it! I briefly felt like the archery goddess Katniss Everdeen in The Hunger Games.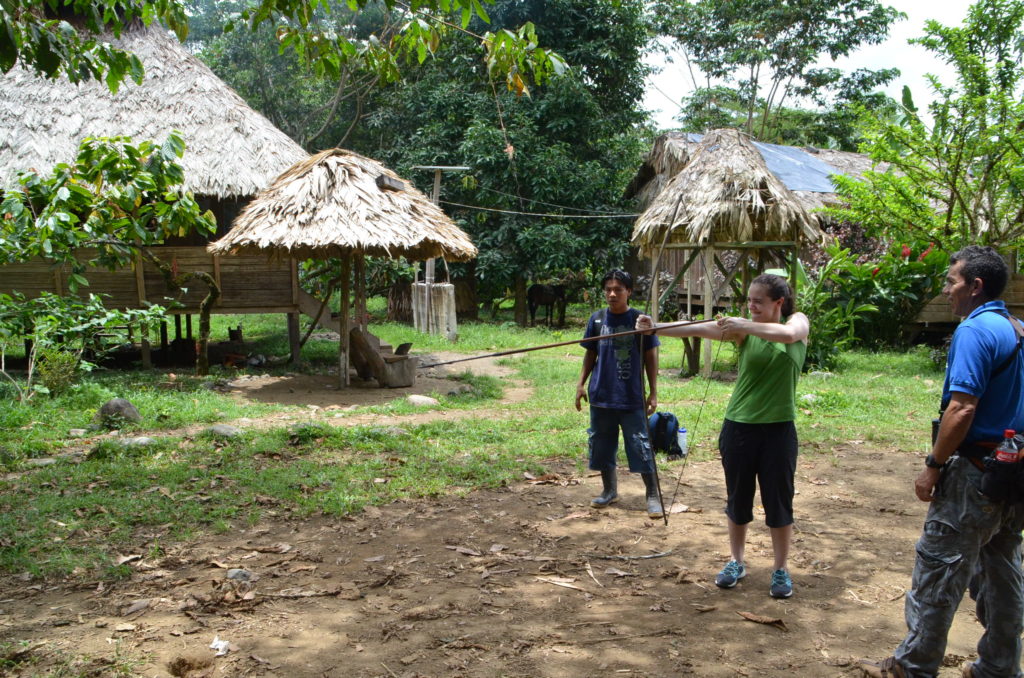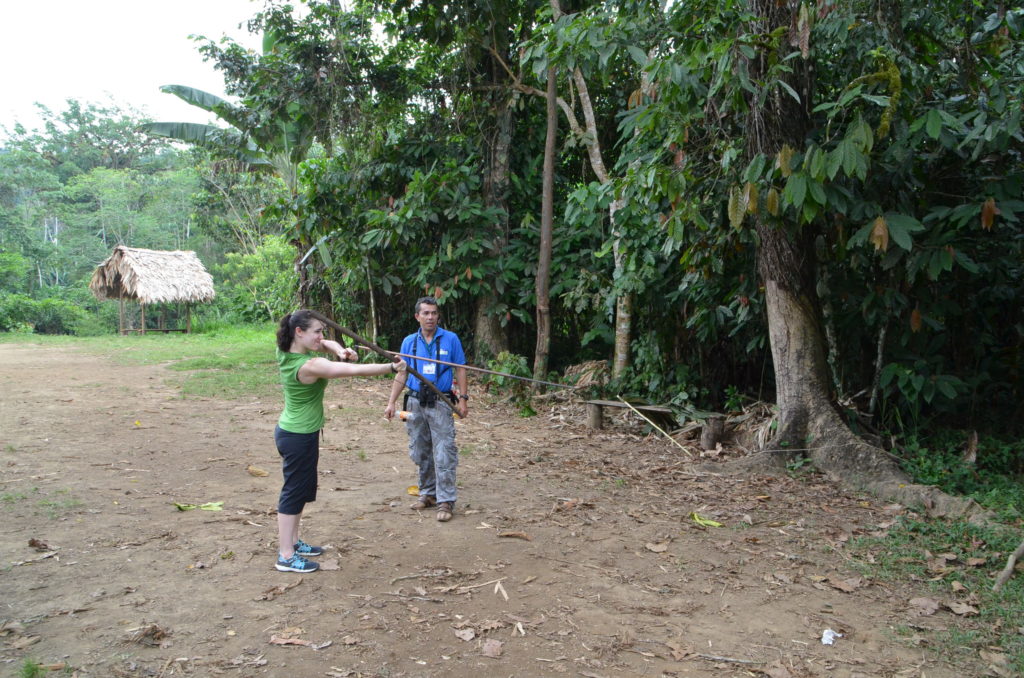 Then it was time for lunch. They grow many fresh vegetables, all of which are organic. They also raise and slaughter chickens, and occasionally eat other things they can catch, such as iguana (turns out Victor wasn't lying, and he said it tastes like chicken) or large rodents. I was so relieved that our lunch was a "normal" meal that I would genuinely enjoy instead of choking down in the name of politeness. Chicken, rice, beans, yucca, and some mixed veggies. They said that they grew all of the ingredients themselves except the carrots–they had to get those at a market–but they hope to start growing their own soon.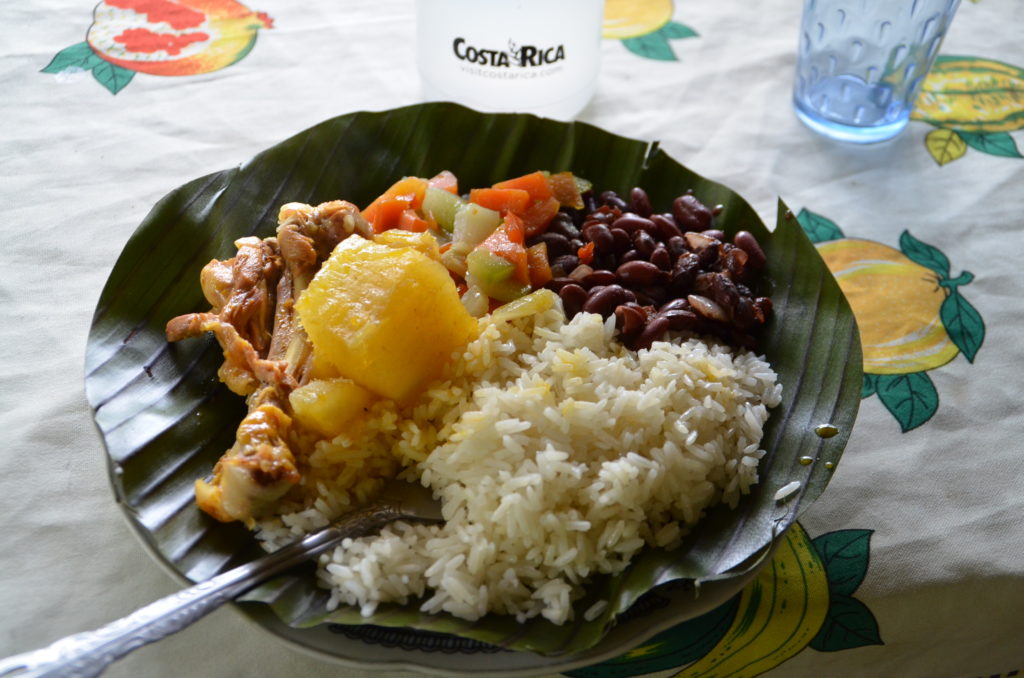 Over lunch, we asked our Bribri guide if he ever wished he had a TV. He said no–he had seen one before and thought it was boring. I asked what they did when it got dark since they have no electricity. Keep in mind that Costa Rica doesn't observe Daylight Savings Time, and the sun is usually completely down by 6 p.m. He said that some people simply go to sleep. For those who want to stay up, they light a fire and the elders tell stories. I asked what types of stories, and he said it was usually recounting their beliefs of how the world was created. The Bribri have their own mythology about that. Things were very simple here, but they seemed completely content.
Next, it was time to learn how to make chocolate. Cocoa butter, really. But that was its own adventure, so I wrote a separate post about making cocoa butter here.
They took us to a high bridge suspended over the Skui River, which was built by the Spanish government to help connect the rural communities here. After walking across the bridge, they took us down to the actual river, where we could get in if we wanted to. I just dipped my feet in. The chilly water was a refreshing treat.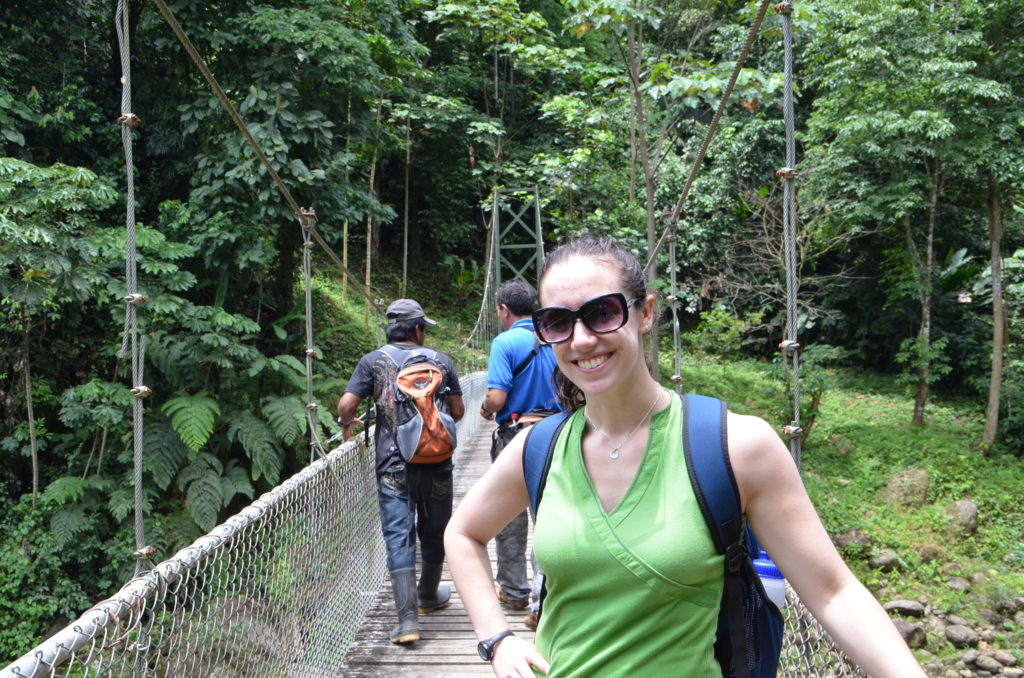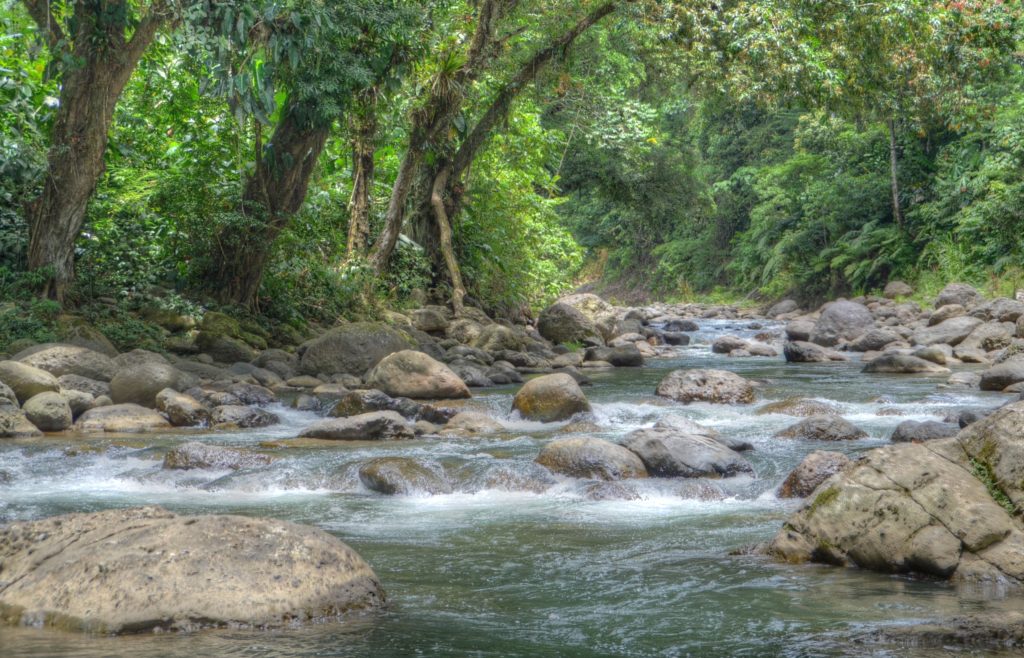 Then it was time to return to the modern world. The canoe ride back was just as peaceful and quiet. The breeze cooled our moist skin. We asked our canoe boat captain, also a native Bribri, if he ever wished he lived in a city. "Why would I want to do that?" he asked. "People have to go to the grocery store and buy food! Here, I can grow my own and not pay anybody." I never thought of it that way. That, my friends, is the beauty of travel.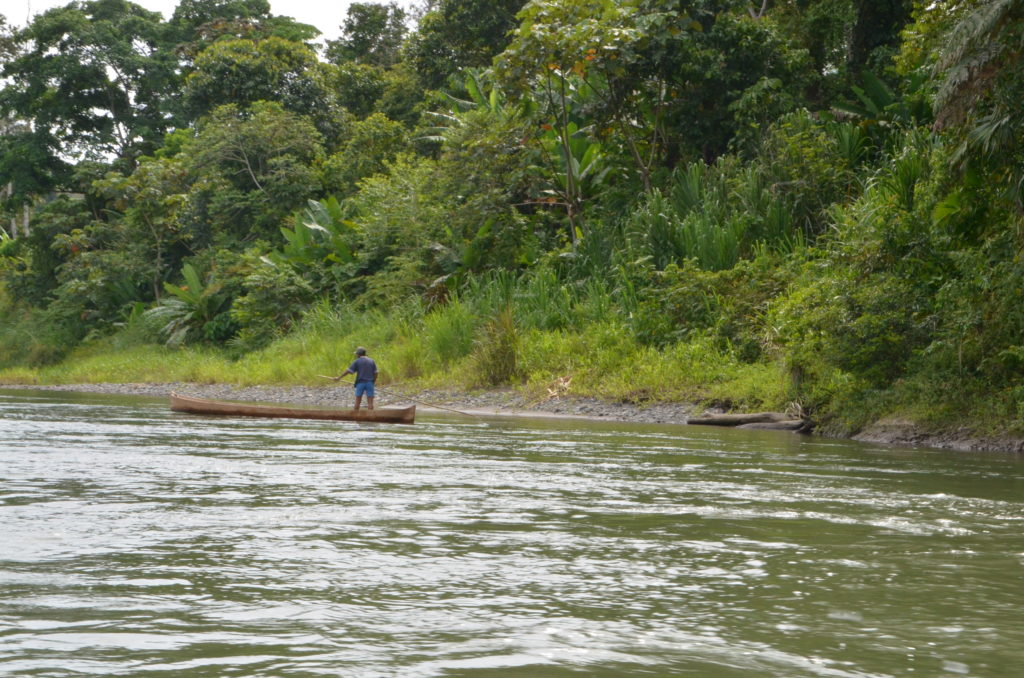 Have you ever visited an indigenous tribe before? What was it like?