In February, I spent three lovely nights in Boston with my boyfriend. Besides exploring the museums, historical sites, schools, and shops, we really enjoyed dining out in Bean Town. Here are some of the highlights of our culinary adventures.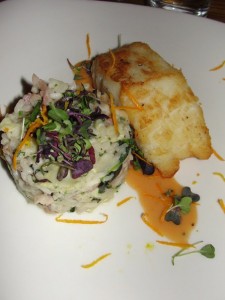 VOX populi
755 Boylston Street
We stumbled upon this modern take on an Italian restaurant near our hotel after a full day of exploring. It had dim lighting, chic furniture, and attractive young professionals. We loved the sound of the menu, and it seemed reasonably priced, so we gave it a shot. They served us puffy, warm bread with olive oil, which always wins me over. I ordered a flatbread (their version of a pizza) with spinach, tomatoes, and goat cheese. It was absolutely massive, served in a large square with a thin crust. The warm, crumbled goat cheese combined with the hot, mushy tomatoes was delicious. We enjoyed our meal so much that we came back the next night. I ordered their special — seared sea bass with blood orange sauce and artichoke risotto. The sea bass was cooked just right, and the orange sauce complemented it perfectly.
Pazzo
269 Newbury Street
I found out about this hip Italian restaurant on the popular Newbury Street through a LivingSocial deal. Always looking to save money, I purchased the deal — $15 for $30 of food. It was a bit noisy, and we were seated in a booth next to a large family with a kid who kept picking the seat, but I had them move us to a quieter, more romantic spot. They served us bread, and rather than giving us the traditional olive oil, they served a bead curd dip instead. I wasn't wild about it, but it was an interesting twist on things. I started with the Bibb lettuce salad, which was served with gorgonzola, candied walnuts, and sliced apple. It was fresh, crisp, and couldn't stop eating it. My boyfriend ordered the calamari, which was artfully served in a tall bowl that almost looked like a vase. For my entree, I had the gnocchi with tomato-basil sauce. It was on the mushy side and a little plain, but still very good and filling. My boyfriend enjoyed his spicy clam pasta.
Gourmet Dumpling House
52 Beach Street
I can't tell you how excited I was when I found out that Boston had a Chinatown. I'm a glutton for dumplings, and I insisted we go to this part of town for lunch. When we exited the Chinatown T-stop, most of the surrounding restaurants looked dirty and sketchy. We saw one dim sum restaurant and almost went in, but the menu was a little too strange. We walked around for a while, and when we were finally almost ready to settle for a Vietnamese sandwich, we stumbled upon Gourmet Dumpling House and found our winner. The tiny, authentic-feeling hole-in-the-wall only has about 10 tables in it, but it was packed, and some strangers were sharing tables. The encyclopedic menu blew my mind — I had never once been to a restaurant with that many things on the menu (at least 100), especially somewhere that small. The service was awful, but it was quite an experience. Rather than serving ice water, they served the traditional hot tea. While we were tempted to order dishes like the roasted pig ears, lamb tongue, oyster pancakes, or fried intestines, we went with the basic pork and cabbage dumplings. Heaven! I ordered a steamed bun, which was disappointing, but the dumplings were fantastic and the overall experience was worth it.
Shaw's Supermarket
We were staying down the street from a nice and modern grocery store, Shaw's Supermarket. This New England chain of grocery stores was new to us, and we drooled when we walked in and saw their vast prepared foods section (they had me at sweet potato mash). They even had a nice upstairs area overlooking the store where you could sit down and eat. It was the perfect place to pop in for a quick and cheap meal. They have several locations throughout town.
Fairmont Hotel's Oak Room
138 Saint James Avenue
Meghan from Travel Eat Love and I wanted to hang out in person, so she had me meet her at the Oak Room. It is a gorgeous, stately, old-school bar inside the ornate Fairmont Hotel. The Oak Room felt like the kind of place that used to be occupied by rich older men smoking cigars and playing cards, but was now more modern with many young professionals. We didn't order food (they had a small appetizer menu), but we both ordered the martini flight. One was some form of an apple martini, which was sweet and delicious. Another was a mint chocolate martini, and the third was a milky martini, I think with white chocolate liqueur. Most of them were too sweet for me to finish, but they were all tasty, and it was fun to try several things at once!
Have you ever been to Boston? What are some of your favorite places to eat (or drink) there?